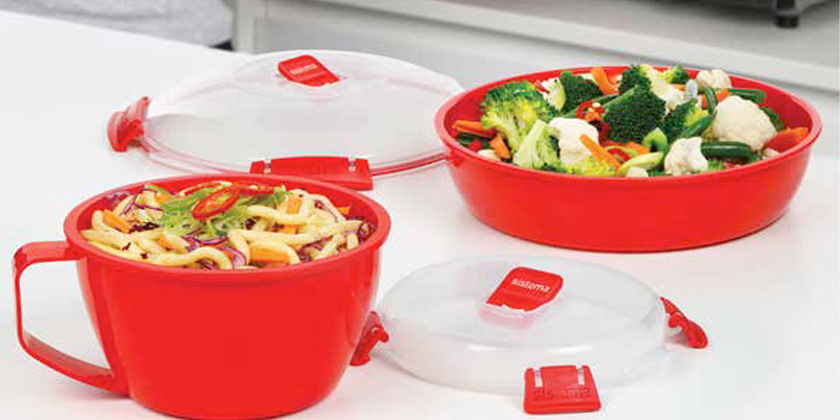 Like all Sistema products, the Microwave range is designed and made in New Zealand using BPA & lead-free virgin material. A dedicated microwave range for hassle-free cooking & reheating
Freezing
If storing the container in the fridge or freezer close the vent. Containers can become stiff after freezing. Allow the container to rest for a few minutes at room temperature or run under warm water before microwaving. Always make sure the steam vent is set to open when defrosting
Use & Care
Before microwaving, put the lid on the container to prevent food splatters and click the vent open, this releases steam during cooking.
When reheating food, microwave in short 1-2 minute intervals to avoid overheating
After removing the container from the microwave, leave the vent open while the food is hot. To avoid hot steam burning hands or face open the lid away from you.
Avoid cutting food inside the containers with sharp utensils
Do not use abrasive cleaners or scrub pads
Dishwasher safe (top rack)
To avoid staining or blistering we do not recommend heating foods like tomato-based sauces, beetroot, curries or foods with high fat or high sugar content.
Do not use for popping corn.
Do not use your Sistema Microwave product in a conventional oven, on a hot plate, under the grill, on the stovetop or in convection microwave ovens using convection settings.
Viewing 1–12 of 15 results
Sistema Microwave Breakfast Bowl 850ml (5 Colours)

$

8.99

Sistema Microwave Easy Eggs 271ml (5 Colours)

$

7.99

Sistema Microwave Medium Steamer 2.4L

$

14.99

Sistema Microwave Noodle Bowl 940ml (5 Colours)

$

8.99

Sistema Microwave Plate Medium 0.88L

$

10.99

Sistema Microwave Rectangular 1.25L

$

8.99

Sistema Microwave Rice Steamer 2.6L

$

17.99

Sistema Microwave Round 915ml

$

7.99

Sistema Microwave Round Dish 1.3L

$

12.99

Sistema Microwave Small Rectangular 525ml

$

7.99

Sistema Microwave Small Steamer 1.4L

$

12.99

Sistema Microwave Soup Mug 565ml

$

8.99