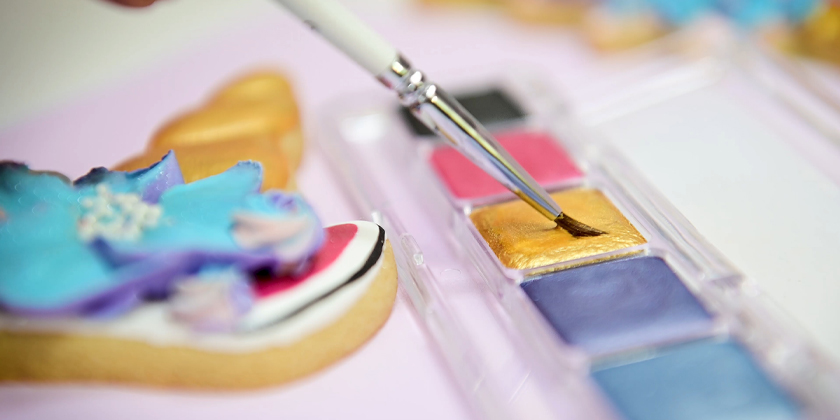 Water Activated Food Paint
Activate, Stir and Paint with Sweet Sticks Water Activated Metallic Food Paint.
A revolutionary way to decorate your cakes, desserts and cookies. With a unique blend of 100% edible ingredients, the Sweet Sticks Water Activated Food Paint can paint, dry and be rub free in a really quick time on many surfaces making decorating quicker, easier and more cost-effective!
The Water Activated range was invented specifically to cater for Vegan and Religious decorators as they are Kosher Approved, Vegan friendly and contain zero alcohol. Designed for fine lines and small detailed areas to paint on Royal Icing, Macarons, Fondant and Buttercream.
Viewing all 10 results
Sweet Sticks Water Activated Metallic Food Paint Antique Gold 5g

$

9.99

Sweet Sticks Water Activated Metallic Food Paint Doll House Mini Palette

$

30.99

Sweet Sticks Water Activated Metallic Food Paint Jungle Mini Palette

$

30.99

Sweet Sticks Water Activated Metallic Food Paint Light Silver 5g

$

9.99

Sweet Sticks Water Activated Metallic Food Paint Mermaid Mini Palette

$

30.99

Sweet Sticks Water Activated Metallic Food Paint Metallic Mini Palette

$

30.99

Sweet Sticks Water Activated Metallic Food Paint Monster Mini Palette

$

30.99

Sweet Sticks Water Activated Metallic Food Paint Rainbow Mini Palette

$

30.99

Sweet Sticks Water Activated Metallic Food Paint Rose Gold 5g

$

9.99

Sweet Sticks Water Activated Metallic Food Paint Unicorn Mini Palette

$

30.99