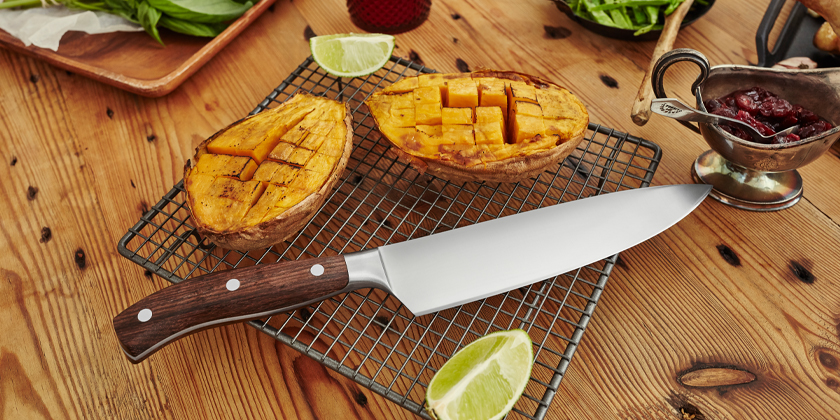 Browse Victorinox Grand Maitre Knives Collection
Amateur cooks and professional chefs alike are impressed by the perfect
Grand Maître knives with forged steel blades transition seamlessly into specially sculpted ergonomic handles, creating a knife that is perfectly balanced and simply beautiful to hold. For amateur cooks and professional chefs alike, the Grand Maître collection is all about balance. Each piece in this widely sought range is of a full tang construction, uniformly hardened and forged from a single piece. Because of this, the transition from blade to handle is sleekly seamless, with the latter ergonomically shaped for comfort even over sustained periods. The bolster thickens between the handle and the blade which provides a smooth transition and increases user safety.
This exceptional quality and timeless elegance are what make forged knives from Victorinox so special
Viewing 1–12 of 20 results
Victorinox Grand Maître Boning Knife 15cm

11% OFF


Victorinox Grand Maître Bread Knife 21cm

11% OFF


Victorinox Grand Maître Bread Knife 23cm

11% OFF


Victorinox Grand Maître Chef's 3 Piece Set

11% OFF


Victorinox Grand Maître Chefs Knife 20cm

11% OFF


Victorinox Grand Maître Chefs Knife 25cm

11% OFF


Victorinox Grand Maître Filleting Knife 20cm

11% OFF


Victorinox Grand Maître Fluted Santoku Knife 17cm

11% OFF


Victorinox Grand Maître Forged Carving Fork 15cm

11% OFF


Victorinox Grand Maître Paring Knife 10cm

11% OFF


Victorinox Grand Maître Santoku Knife 17cm

11% OFF


Victorinox Grand Maître Shaping Knife 8cm

11% OFF