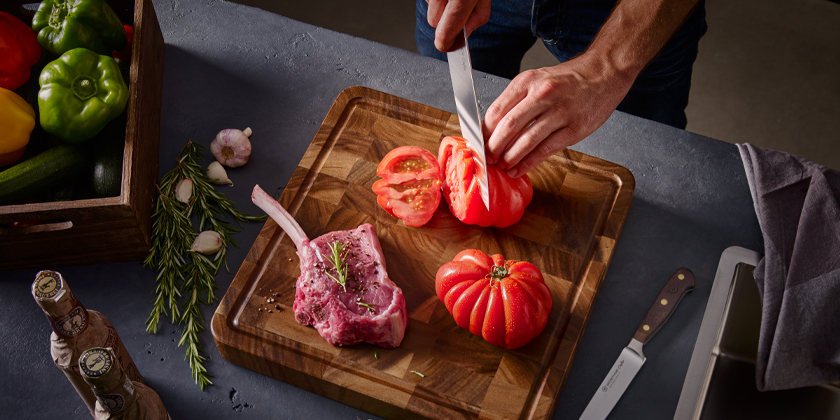 Real knife craft for real food fans
Fast-paced consumerism and carelessly produced fast food – that's not our world.
With the WÜSTHOF Crafter knife series, we offer you a high-quality product and, with the careful selection of raw materials from smoked oak, brass and stainless steel, set a conscious counterpoint to the masses. This is exactly how we create durable cooking tools for every individual kitchen craftsman. And this is exactly how the robust WÜSTHOF Crafter knife becomes your ingenious companion when preparing fresh food. Completely manufactured in Solingen, Germany.
WÜSTHOF Crafter Features:
Forged from one piece of stainless steel
Final buffing by hand
Traditional brass rivets
Handle shells made from smoked oak
Authentic trident branding
Full tang
Half bolster
The knife weighs less thanks to the slim bolster design. This allows energy-saving work. In addition, the design allows the entire blade to be used and resharpened.
Full tang
As an extension of the blade, the tang gives the forged knife reliable stability. In addition, it ensures good balance as a counterweight to the cutting blade.
Hand guard
The ergonomic knife handle sits well in the hand and curves into the hand to prevent slipping. The robust handle shells are secured with traditional brass rivets.
Handle
The handle is made of water-resistant smoked oak, which gives the knife an unmistakable character with its individual grain as well as the authentic logo.
Viewing all 8 results
WÜSTHOF Crafter Bread Knife 23cm

$

415.00

WÜSTHOF Crafter Carving Knife 16cm

$

389.00

WÜSTHOF Crafter Carving Knife 20cm

$

419.00

WÜSTHOF Crafter Cooks Knife 16cm

$

419.00

WÜSTHOF Crafter Cooks Knife 20cm

$

449.00

WÜSTHOF Crafter Paring Knife 9cm

$

299.00

WÜSTHOF Crafter Santoku Knife 17cm

$

418.00

WÜSTHOF Crafter Serrated Sausage Knife 14cm

$

384.00