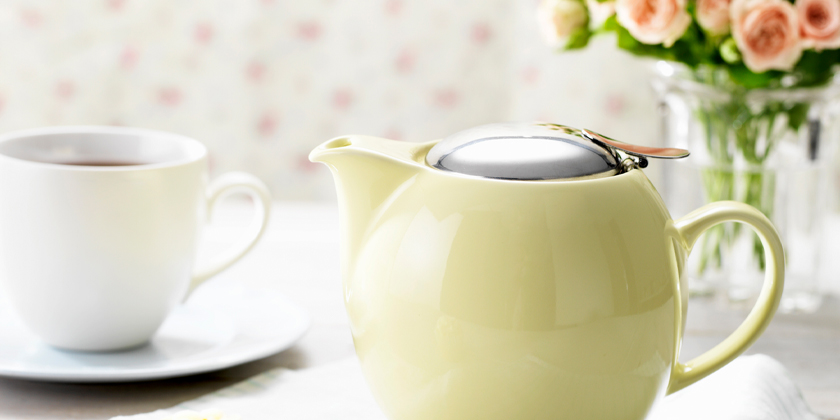 After quitting his job working as a Japanese porcelain manufacturer, Koji Inoue, with freedom in his fingers thought of creating his own range of teapots. After leaving the company his creativity ran wild and he set up a business in 1992 which is now known today as Zero Japan. In designing this business, Koji was driven by the Japanese pursuit of balance. All elements of the teapot range must work in harmony with each other. He created a teapot which blended function with creative expression, while still keeping tradition close to his heart. It started with just one… and then another, then Zero Japan was born.
The teapot has a fresh, modern design without frills. All elements are proportionally right. The round shapes soften the clear-cut lines. The eye is automatically attracted by the harmony of the teapot. Such attention to detail has gone into hand-finishing each teapot, even pouring tea becomes peaceful. When you see a long, thin stream of tea falling precisely into a cup, you won't be surprised to learn that Koji himself carefully checks every pot. The nicely shaped handle is designed in such a way that your fingers will not touch the hot teapot when lifting it or when pouring tea. The stainless steel lid gives the pot a modern image. It is clipped onto the pot so it will not fall off. Stuck with several teapots without lid, it was Inoue's mother who requested him to create a teapot of which the lid would not break. The glaze of the Zero Japan teapots is strong and smooth. It feels great to touch. The pots have been completely glazed, except for the Japanese style kikko crackle. In this style the bottom part of the pot or cup is left uncovered. The pots and cups are made of stoneware, which is baked at a much higher temperature and which is much stronger than earthenware. Except for the pots with a crackle glaze, all products can be washed in a dishwasher. Zero Japan teapots enhance the art of brewing beautiful tea by incorporating the science of design.
With an abundance of colours and a range of shapes and finishes to choose from – there's room for you to express your own style.
Viewing 1–12 of 35 results
Zero Japan Antique Gold 450ml Teapot

$

59.99

Zero Japan Antique Green Teapot (2 Sizes)

$

59.99 –

$

89.99

Zero Japan Aqua Mist Teapot (2 Sizes)

$

52.50 –

$

59.99

Zero Japan Artichoke Teapot 350ml

$

52.50

Zero Japan Black Teapot (5 Sizes)

$

52.50 –

$

89.99

Zero Japan Bowl 260ml (3 Colours)

$

27.99

Zero Japan Carrot Teapot (2 Sizes)

$

52.50 –

$

59.99

Zero Japan Cherry Teapot (2 Sizes)

$

52.50 –

$

59.99

Zero Japan Crackle Artisan Blue 450ml Teapot

$

69.99

Zero Japan Crackle Artisan Brown 450ml Teapot

$

69.99

Zero Japan Crackle Artisan Green 450ml Teapot

$

69.99

Zero Japan Crackle Green 450ml Teapot

$

69.99