Bakemaster offers a range of premium bakeware that will last you for years to come.
Lightweight and durable, Anodised Aluminium has long been recognised for its exceptional baking qualities. The unique surface provides superior heat distribution and will heat and cool quickly to prevent overbaking. The smooth and seamless surface has non-stick properties that make it easy to release food and easy to clean. Ideal for birthday and wedding cakes, the straight sides and tight corners will help create the perfect tiered cakes and layered desserts. Available in a variety of shapes and sizes, this collection will help you create a perfect bake every time.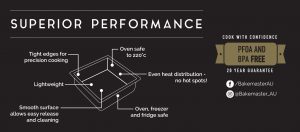 A premium box sided loaf pan ideal for baking homemade bread including banana bread and meat loaf.
25x10x7.5cm