Out of stock
Want to be notified when this product is back in stock?
Bee's Wrap™ is the perfect alternative to plastic wrap. Wrap your baguette from the market or your own homemade.
Secured Payment
|
Free shipping over $100 (excludes bulky products)
View On Mobile Open your camera and Scan the QR code to view on your mobile.
WRAP A SANDWICH, CHEESE, VEGETABLES OR COVER A BOWL!
Say Goodbye to those pesky plastic bags. Handmade in Vermont USA since 2012, Bee's Wrap is made of GOTS-certified organic cotton muslin, sustainably harvested beeswax, organic jojoba oil, and tree resin. This combination of ingredients creates the highest quality, industry-leading beeswax wraps that can be used again and again. They are the perfect alternative to plastic wrap with the added advantage that it breathes, keeping food fresher for longer. Use them as fire starters at end of life or pop them into your compost for their next phase of use.
Extra-large and long wrap for storing a baguette or to cover the top of a large bowl or casserole. Keep your baguette from the market or your homemade one fresh! Dimensions: 35.5cm x 66cm
How To Use:
Use the warmth of your hands to mould the Bee's Wrap to create a seal around the top of a bowl, half a lemon, the end of a crusty loaf of bread, or wrap a piece of cheese. When cool the wrap stiffens holding its shape and seal.
Can I Use Bee's Wrap In The Freezer?
Yes! Bee's Wrap keeps food fresh in the freezer for 2-3 weeks. Since your wraps are naturally breathable, we recommend you check on your food after this time to ensure its freshness. Great for freezing pizza dough and baked goods.
How Long Does Bee's Wrap Last?
Bee's Wrap lasts for up to a year with proper care and regular usage. You'll know your wrap has reached the end of its useful life in the kitchen when it has worn thin and soft and has trouble sticking to itself. At this time, you can cut your wrap into strips and add to your compost pile, or use as a natural and effective fire starter. You can also reapply wax with the Honeywrap DIY Wraps Wax Block.
Does Bee's Wrap Have A Scent?
Yes. When you first open your package of Bee's Wrap you will smell the beeswax. The scent will fade after the first few uses and washes until you can no longer detect it. The beeswax scent will change with the season in which it was harvested. Beeswax carries the scent of the flowers from which the bees harvested pollen. Most of us enjoy the scent, but there are a few people who are more sensitive to beeswax and do not prefer it.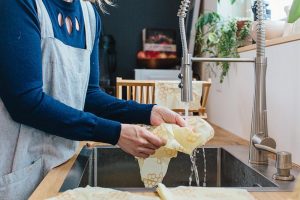 Use &
Caring Instructions:
Wash Bee's Wrap in COOL water with a mild dish soap.
Do not subject to heat!
Air dry, fold and store in a drawer or in a basket on the counter.
The beeswax and jojoba oil have antibacterial qualities that help to keep your food fresh and allow you to use the Bee's Wrap again and again.
Note: not for storage of meat products. As this product can't be heated, germs from meat cannot be cleaned thoroughly.
Only logged in customers who have purchased this product may write a review.