Honeywrap is proudly handmade in NZ with 100% organic cotton blended with beeswax, tree resin and jojoba oil. This perfect combination makes the organic cotton cloth tacky which can then be shaped over your food and dishes to allow your food to breathe and therefore last longer. It looks and smells amazing and can be used again and again. Honeywrap is great for wrapping cheeses, lunches, leftovers, salads, snacks on the run and much more… and most importantly it reduces waste, so is good for our planet. Each Honeywrap saves up to 75m of plastic going into landfills or our oceans. By firmly pressing the Honeywrap around your food or bowl, the warmth of your hands activates the mixture and the cloth will stick to itself.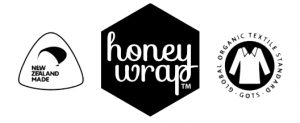 Sizes:
Small – 20 x 17cm Pack of 2
Medium – 31 x 27cm
Large – 35 x 33cm
Extra Large – 45 x 40cm
3 Pack – one of each size; small, medium and large
Tips:
Wait for your food to cool before using your Honeywrap.
Honeywraps don't like the heat, so do not put in the oven, dishwasher or microwave. They will create a small mess!
Honeywraps are made from all-natural ingredients; a number of them by-products.
They are free of toxins.
Honeywraps can be put in the compost when their use is finished.
When stored in the fridge the beeswax will harden further, retaining the shape and sealing in the goodness.
Wash with cold water and mild soap.
Some oils and sauces will stain your Honeywrap, but your food will stay fresh.
Do not use for covering raw meats.
Your Honeywrap will last for up to one year following these simple steps.