The Strucket is the world's first Strainer meet Bucket.
An innovative system set to modernise the way you soak and drain. Invented by Sunshine Coast Mother of 3, Kelly Lavery, the idea was spawned from a single moment of desperation.
After the birth of her third child, Kelly was soaking everything you can imagine, nappies, bibs, clothes, toys not to mention her own sheets, towels and fruit and veg (pesticides are a problem)! The soaking part was simple, Kelly would fill a bucket and let her items marinate as the stains, dirt, and grime slowly dissolved, however, it was the aftermath that she returned to that made her want to cry!
On a good day, Kelly would have enough time left to get back to her soaking items and remember to drain them, on a not so good day it would continue to sit there and fester for anywhere up to a week! To be honest the problem she confronted was there if she made it back the same day or a different one – no matter the time, no matter the item, it was guaranteed that when Kelly returned to her soaking it would be there staring her down… a bucket full of unhygienic, chemical-laden toxic mess – a bucket that she had to put her hand in to get out her now un-stained, un-grimed items and drain.
It was this bucket of grime that pretty much made Kelly many times simply refuse to finish the job, leaving it for her unsuspecting and sweet husband Al …. and then eventually (after much frustration) it is what lead to her biggest breakthrough…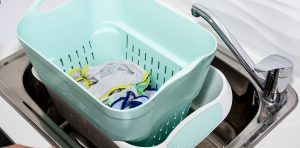 "Putting my hand in a bucket of soaking nappies was like putting it in a dirty toilet! I hated it and wanted a better way… when there wasn't one, I created the Strucket!" – Kelly Lavery, Founder
Looking for a solution to this mess (literally), Kelly searched high and low for a bucket that would stop her from having to come into physical contact with the dirty water in the bottom. When she could not find a solution, she decided that it was up to her to create one thus came The Strucket – the world's first strainer meet bucket soaking solution.
The Strucket is your all-in-one soaking solution. It allows you to soak, separate and drain without ever having to touch dirty, soiled, chemical-filled, unhygienic water again. It is the perfect solution for sensitive skin and supports sustainability through reduced landfill with items such as disposable nappies.
With endless possibilities of uses, (See the Strucket Bucket List if you don't believe us!) the Strucket, takes the strain out of soaking giving you back more time to spend doing things that make you feel good… like playing with the kids or showering in peace (cause we all know this is what Mums really dream of)!