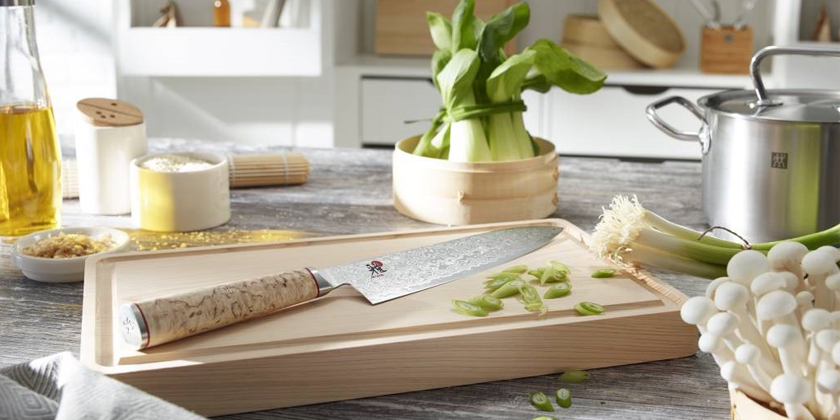 Grace, elegance and sophistication feature highly in Japanese culture. They are also synonymous with the Miyabi brand by Zwilling J.A. Henckels.
The knives are crafted in the tradition of the ancient masters, who once produced the finest Japanese swords. Miyabi merges the treasured traits of samurai swords – exceptional sharpness, tradition, craftsmanship, and performance – with contemporary design for the ultimate kitchen knives.
It takes more than 100 steps and 42 days to make one knife worthy of the Miyabi brand. Each authentic knife is crafted true to Japanese tradition by skilled artisans and forged from premium steels and modern state-of-the-art technology. Miyabi knives are manufactured in the Zwilling J.A.Henckels factory based in Seki (Japan).
Miyabi – "The Beauty of Sharpness".
Viewing 1–12 of 30 results
Miyabi Toishi Pro Sharpening Stone 1000-Grit

$

269.00

Miyabi 2-Stage Diamond/Ceramic Handheld Knife Sharpener

$

99.00

Miyabi Birchwood (Chutoh) Chefs Knife 16cm

$

549.00

Miyabi Birchwood (Gyutoh & Shotoh) 2 Piece Gift Set

26% OFF


Miyabi Birchwood (Gyutoh) Chefs Knife 20cm

$

649.00

Miyabi Birchwood (Gyutoh) Chefs Knife 24cm

$

749.00

Miyabi Birchwood (Santoku & Shotoh) 2 Piece Gift Set

$

1,028.00

Miyabi Birchwood (Shotoh) Paring Knife 9cm

$

399.00

Miyabi Birchwood (Shotoh) Utility Knife 13cm

$

429.00

Miyabi Birchwood (Sujihiki) Slicing Knife 24cm

$

699.00

Miyabi Birchwood 2-Piece Knife Set

24% OFF


Miyabi Birchwood 3-Piece Knife Set

29% OFF