Main Ingredient: Roast Vegetables
Recipe by: Mon's Flavors
This delectable vegetable korma recipe is loaded with all winter vegetables and is a comforting meal for sure, especially in winter as it fits in beautifully by all means when it comes to a recipe being nourishing and flavoursome at the same time. I have to be honest I am not a korma lover and the recipe requires an effort too if you are making it in a traditional authentic way so I never attempted to make it, while doing markets people often ask me can we make korma recipe from any of your blends, that got me motivated to make this recipe, as I knew I have all those ingredients in my blends to make this it was just the matter of giving it a try and put my 100% into the recipe, So finally here is your popular recipe vegetable korma made in the simplest way but keeping all the authentic flavours intact, as I am very fussy to please when it comes to creating my own traditional recipes. All I can say is I nailed it! I ate it 3 times after I made this and so did my family. I must be converted to a Korma gang now! You will thoroughly enjoy making this recipe for your family and friends. I will be uploading a video on Instagram too. Enjoy watching!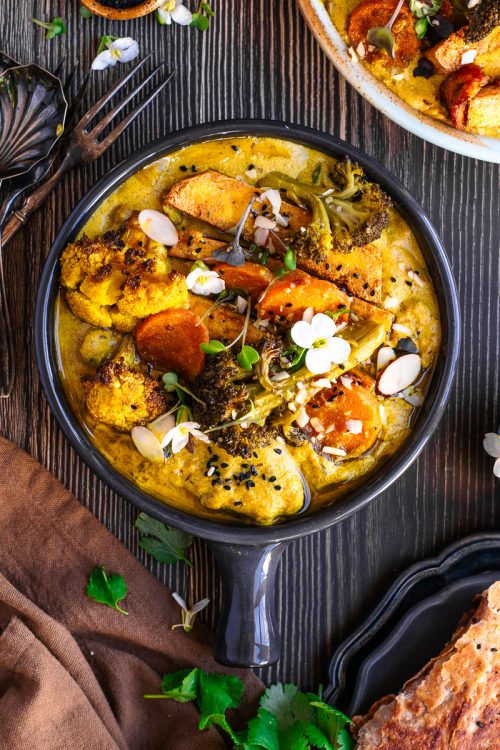 Method:
Soak almonds, desiccated coconut, poppy seeds, and dates in 1/2 cup of water for an hour before preparing this dish. I prefer soaking it one day prior to making this dish as the results are creamier while making the paste. If you see the water is completely soaked just coconut milk when blending.
Place cauliflower, sliced potatoes, broccoli, pumpkin, and carrots onto the prepared baking sheet, sprinkle turmeric powder, dish delicious blend, season it with salt and pepper, drizzle some olive oil, and gently toss to combine. Bake for 10 – 15 minutes or until tender. Once done keep aside until you prepare the sauce
On a low medium heat in a large skillet add olive oil /ghee, add cumin seeds let them splutter, then add minced garlic, finely chopped garlic, sauté for a few seconds and then add finely chopped onion, sauté until 2, 3 minutes on very low medium heat adding 1/ 2 teaspoon of salt to it. Let onions cook until they turn pink in colour. Once you see onions are slightly brown in colour, add turmeric powder, dish delicious, garam masala and give a good mix. Then add korma paste and mix well. At this stage, you might find the paste is very thick, time to add coconut milk and coconut sugar at the same time. If you want this gravy to be runny then add more coconut milk and water, if you like your gravy to be thick then add less milk. The choice is yours. Even if you see gravy is very runny, don't stress it will become thicker eventually. Adjust salt and pepper accordingly.
Add roasted vegetables and mix well in the sauce. I used paneer as it goes now while adding vegetables, no roasting needed fresh is great. It becomes soft when it soaks all the juice of the gravy. Close the lid and cook for a few minutes so that sauce gets into the paneer and vegetables making it flavourful.
If using tofu, squeeze the moisture out by wrapping it in a kitchen paper napkin for 15 minutes or a muslin cloth should work, then pan-fry it with salt and pepper until slightly golden brown as every tofu is different when it comes to taste and texture, pan fry gives a nice flavour to tofu and you won't find it bland if you are not a tofu fan.
In the end when everything is mixed together add raisins, chopped almonds/ cashew nuts and serve it hot with rice or naan bread
Notes:
Poppy seeds are easily available at any Indian store but if you don't have one you can make this recipe without it too, but traditionally korma recipe has white poppy seeds.
I added almonds instead of cashew nuts as my hubby is allergic to cashew nuts. Traditionally cashew nuts are added to korma recipes
You can add chicken to make this recipe non-vegetarian but the timing may vary but the cooking method will be the same, make sure chicken is cooked before and when added to the sauce make sure you add 1/2 cup water and 1/2 cup coconut milk to it and then add in your pre-cooked chicken and cook until it gets all the flavours from the sauce, cover with the lid and cook on low medium heat. In the end, add coconut cream and adjust it with salt and pepper according to your taste. With vegetable korma, you don't have to do anything additional
I like to roast my vegetables instead of boiling in this way you get the flavours from the spices on the vegetables and they don't get overcooked and lose their nutrition as compared to boiling. You can choose to boil vegetables instead (7,8 minutes) in boiling water with 1/2 teaspoon of salt and then strain it.
Don't skip adding raisins in this recipe, that's the highlight of the recipe.
I added dates to the mixture to keep the dish low in sugar and added coconut sugar but it's up to you to add whatever suits you the best.
You can buy yellow colour raisins from an Indian store that's what is used in korma recipes. Very addictive I must say
You can choose to add normal cream if you want.