Since 1734.
Arcos is considered as the first Spanish Cutlery-knife making company while being one of the most internationally recognised companies all around the world.
Almost three centuries of research and continuous improvement of products, make Arcos an international reference in a sector as specific as is the cutlery. From the beginning they have always been concerned with working to improve the quality of their products, taking care of every last detail. Arcos is present in more than 70 countries around the world. They distribute their unique pieces manufactured entirely in Spain. Every year they manufacture some 11,000,000 knives, more than 50,000 a day!
10-Year Warranty across the ranges.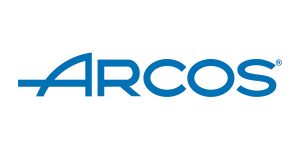 Viewing 1–12 of 45 results
Arcos Clásica Boning Knife 14cm

$

127.99

Arcos Clásica Boning Knife Flexible 16cm

$

104.99

Arcos Clásica Bread Knife 18cm

$

119.99

Arcos Clásica Carving Fork Flat 16cm

$

129.99

Arcos Clásica Chef's Knife 16cm

$

119.00

Arcos Clásica Chef's Knife 21cm

$

139.00

Arcos Clásica Chef's Knife 23cm

$

159.00

Arcos Clásica Chef's Knife 26cm

$

169.00

Arcos Clásica Fillet Knife 16cm

$

94.99

Arcos Clásica Fillet Knife 21cm

$

129.99

Arcos Clásica Filleting Knife Flexible 25cm

$

119.00

Arcos Clásica Paring Knife 10cm

$

74.00