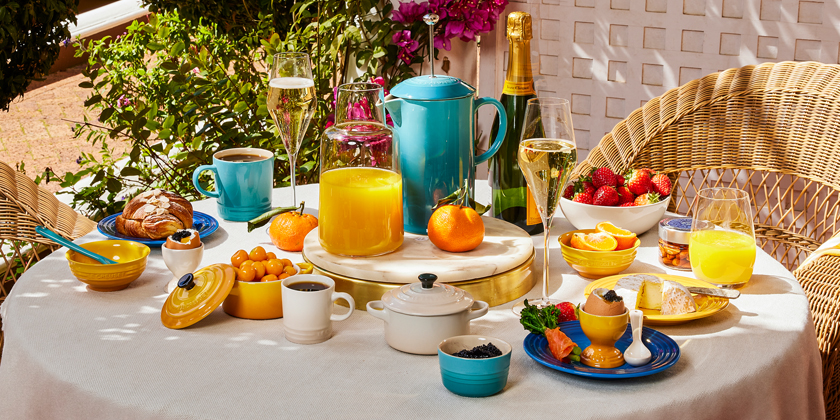 Bring the joie de vivre of southern France to your kitchen
Life in the French Riviera is warm, effortless, and enduring – a spirit perfectly captured in the new Le Creuset stoneware gifting collection.
Inspired by the sun-kissed region that hugs the Mediterranean Sea, the Riviera Collection is unmistakably joyful and the perfect gift for travel and adventure lovers. Evoking sunsets throwing shadows over the warm balmy dinner table, the bright, clean colours of the Riviera Collection give a sense of relaxation and an unrivalled summer feeling. Featuring the fashionable Meringue, two recent colours of Nectar and Caribbean Blue as well as the exclusive to this collection in New Zealand, Azure Blue, the fresh palette cannot help but conjure holidays in the sun and the region's rich culinary heritage. Even for those who are miles away from the glamourous French playground, the Riviera Collection provides the perfect opportunity to capture its essence in the home. Featuring multiple sets in beautifully illustrated keepsake boxes, each piece is crafted from glazed stoneware and can be used in the oven, microwave, fridge, and freezer.
Viewing all 10 results
Le Creuset Riviera Collection Appetiser Plates 17cm Set of 4

$

125.00

Le Creuset Riviera Collection Cappuccino Mug 200ml Set of 4

$

120.00

Le Creuset Riviera Collection Cereal Bowls 16cm Set of 4

$

125.00

Le Creuset Riviera Collection Dip Bowls 11cm Set of 4

$

95.00

Le Creuset Riviera Collection Egg Cup Set of 4

$

70.00

Le Creuset Riviera Collection Espresso Mug 100ml Set of 4

$

90.00

Le Creuset Riviera Collection Mini Casseroles 250ml Set of 4

$

190.00

Le Creuset Riviera Collection Mini Ramekins 100ml Set of 4

$

60.00

Le Creuset Riviera Collection Mug 350ml Set of 4

$

135.00

Le Creuset Riviera Collection Spoons Set of 4

$

55.00