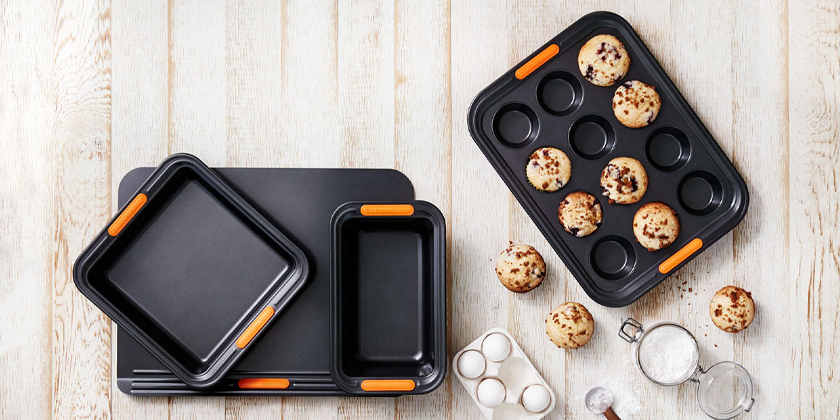 Le Creuset Toughened Non-Stick Bakeware
Whether you are an experienced home-baker or baking for the very first time, the Toughened Non-Stick Bakeware range from Le Creuset will help you to enjoy the delights of home baking.
Le Creuset Toughened Non-Stick Bakeware is made from heavy-gauge carbon steel, perfect for all types of baking as heat spreads gently and efficiently for an even bake without burning. Each tin has an ultra-smooth and slippery non-stick surface so that even the most delicate or sticky mixture slides out with ease. Their ultimate non-stick coating is produced without the use of PFOA and is tough, durable and metal-utensil safe. Each tin is oven-safe to 240˚C/Gas Mark 9 and is covered by a reassuring Lifetime Guarantee; a truly worthy investment.
Viewing 1–12 of 24 results
Le Creuset Toughened Non-Stick 12 Cup Cannelé Tray

$

80.00

Le Creuset Toughened Non-Stick Bundt Tin

$

100.00

Le Creuset Toughened Non-Stick Cooling Rack

$

59.00

Le Creuset Toughened Non-Stick Flower Tray 12 Hole

$

80.00

Le Creuset Toughened Non-Stick Fluted Tart Tin with Loose Base

$

75.00

Le Creuset Toughened Non-Stick Fluted Tart Tray 6 Hole

$

75.00

Le Creuset Toughened Non-Stick Heart Tray 12 Hole

$

75.00

Le Creuset Toughened Non-Stick Insulated Cookie Sheet

$

75.00

Le Creuset Toughened Non-Stick Loaf Tin

$

65.00

Le Creuset Toughened Non-Stick Madeleine 12 Hole

$

75.00

Le Creuset Toughened Non-Stick Mini Bundt Pan 12 Hole

$

80.00

Le Creuset Toughened Non-Stick Mini Loaves 8 Tray

$

80.00