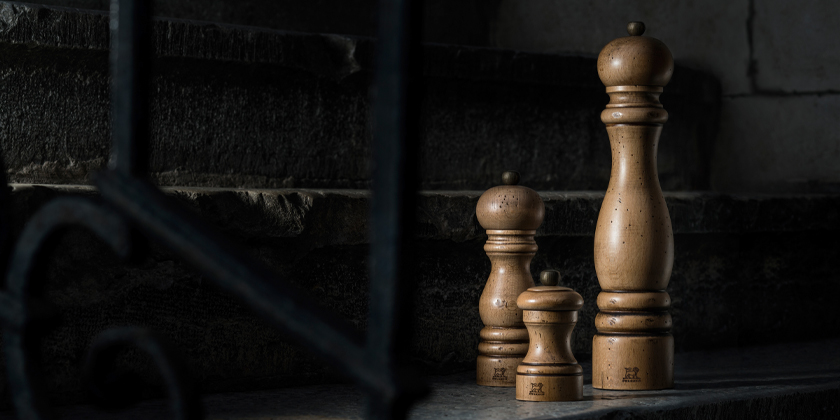 Iconic Mills by Peugeot
The Peugeot adventure began in the 19th Century with a flurry of inventions, including the first Peugeot pepper mill. To this day, Peugeot salt and pepper mills set the standards for gourmets and great chefs alike. Since 1950, the lion logo has epitomized Peugeot products…the strength of their teeth, the flexibility of their blades and their fast cutting capacity. With its distinctive heritage and French roots, Peugeot combines the best of design and technology. Peugeot grinding mechanisms carry a lifetime warranty
Iconic mills, works of tableware art
Within iconic collections exhibiting rare elegance, genuine works of art, the iconic mills fully embody Peugeot's desire to conceive tableware at the crossroads between sophistication and expertise. Ever since Peugeot Mills started making inroads into kitchens in 1874 and ushering in the art of grinding, Peugeot mills have been a key part of the brand's longstanding expertise. Featuring both classical and timeless designs, Peugeot mills have forged a reputation over time as The Benchmark for leading chefs and fine-dining enthusiasts in search of the perfect seasoning. Celebrated for their rugged build, ingenuity and elegance, Peugeot mills are acclaimed for the quality and precision of their grind mechanisms. Manual or electric, pepper or salt, Peugeot mills are available in several colours, sizes and materials and can be purchased individually or as a set.
Viewing 1–12 of 64 results
Peugeot Bali Cast Iron Spice Palace Gift Set

$

249.99

Peugeot Bali Fonte Cast Iron Black 8cm Pepper Mill

$

129.99

Peugeot Bali Fonte Cast Iron Blue 8cm Pepper Mill

$

129.99

Peugeot Bali Fonte Cast Iron Chocolate Brown 8cm Pepper Mill

$

129.99

Peugeot Bali Fonte Cast Iron Orange 8cm Pepper Mill

$

129.99

Peugeot Bistro Antique 10cm Pepper Mill

$

79.99

Peugeot Bistro Antique 10cm Salt Mill

$

79.99

Peugeot Bistro Stainless Steel 10cm Pepper Mill

$

69.99

Peugeot Bistro Stainless Steel 10cm Salt Mill

$

69.99

Peugeot Clermont Dark Wood 14cm Pepper Mill

$

49.99

Peugeot Clermont Dark Wood 14cm Salt Mill

$

49.99

Peugeot Clermont Dark Wood 24cm Pepper Mill

$

72.99