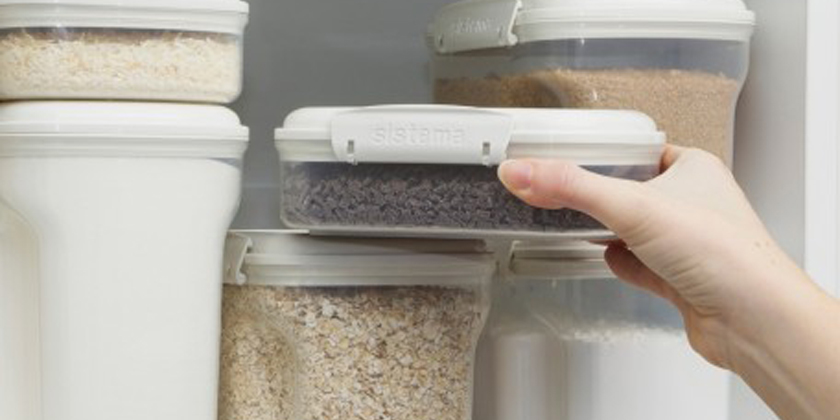 Stackable, versatile, storage for all your baking needs. Building on the success of the KLIP IT stacking system, Sistema have developed the most unique baking storage system, with containers specifically designed to store all bakeware ingredients. Features an extended skirt seal around the lid for more secure sealing and sculptured hand grips for comfort. Crafted with the baker in mind, the sizes are specific to most ingredient bag sizes. Efficient easy opening locking clips plus rubberised seal ensures food stays fresh longer.
Freezer, microwave (without lid) and dishwasher safe (top rack only)
Stackable
Use & Care
Remove all labels & packaging before use
Made of materials that are safe for normal household dishwashers (top rack only). Be sure the containers are secured on the top rack so that they do not come in contact with the dishwasher element to avoid melting. They can also be washed by hand in warm soapy water.
Made of materials that are safe for freezer use. Please note that plastics are less flexible when cold or frozen and may break if dropped. Also note that water expands when frozen, so when filled to capacity the container could expand or crack.
Do not use utensils with sharp edges in the container, as they could scratch or scuff the container surface
Do not use abrasive cleaners or scrubbers since they may dull the finish
Microwave
CAUTION: Remove the lid when microwaving to avoid dangerous steam buildup. Do not use in a conventional oven, on a hot plate, under the grill, on the stovetop or in convection microwave ovens using convection settings. Use care when handling a container with hot contents or after reheating in the microwave.
Made of microwave-safe materials that can be used to reheat precooked foods to the proper recommended temperature. These containers are not intended for cooking
Excessive reheating time in the microwave may damage the container. Maximum temperature of 74°C for less than 30 seconds. An increase in time or temperature is considered cooking and is not the intended use of these containers
Reheating and/or melting butter or foods high in salt, oil, fat or sugar content eg. chocolate, candies, syrup, could lead to severe damage and potentially melt the container
These containers may stain when reheating containing tomato-based products or curry seasoned with the herb turmeric
When microwaving, remove the lid to allow steam to vent. To prevent splattering, cover with a paper towel or the lid may be placed loosely on top at a 1/4 turn. Sealing plastic lids while heating may create extra pressure causing the lid to warp or create a dangerous steam build-up
Avoid using plastic wrap on or inside the container during microwave use. The plastic wrap could heat, melt and adhere to the container walls
Viewing all 7 results
Sistema Bake It 9 Piece Pack

$

46.99

Sistema Bake It Bakery Box 1.56L

$

10.99

Sistema Bake It Bakery Box 2.4L

$

12.99

Sistema Bake It Bakery Box 3.25L

$

14.99

Sistema Bake It Bakery Box 685ml

$

6.50

Sistema Bake It Bakery Box Split 630ml

$

6.99

Sistema Bake It Cake Box 8.8L

$

22.99