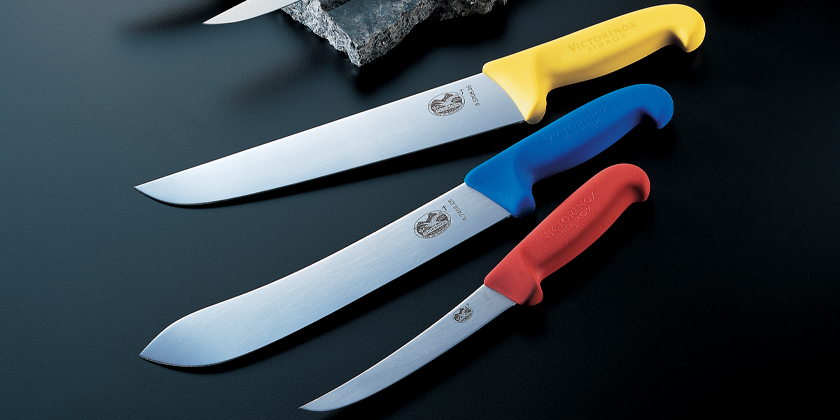 The Fibrox collection by Victorinox is a series that has been designed by professionals, for professionals.
While being the perfect companion in any chef's kitchen, these knives are just as prized by home cooks. Slice, dice and chop your way through your food with this colorful collection of high-quality pieces that combine comfortable, non-slip, ergonomic handles with easy-to-sharpen blades and a long service life.
Fibrox knives combine all the features that are important for
professional use. The product line will also appeal to the growing
number of amateur cooks who value high-quality equipment.
Viewing 1–12 of 43 results
Victorinox Fibrox Bait-Rabbit Boning Knife Black 10cm

21% OFF


Victorinox Fibrox Boning Knife Black 15cm

21% OFF


Victorinox Fibrox Boning Knife Curved Black 15cm

21% OFF


Victorinox Fibrox Boning Knife Rear Curved Black 15cm

21% OFF


Victorinox Fibrox Boning Knife Rear Curved Narrow Black 15cm

21% OFF


Victorinox Fibrox Boning Knife Red 15cm

21% OFF


Victorinox Fibrox Boning Knife White 15cm

21% OFF


Victorinox Fibrox Boning Knife Yellow 15cm

21% OFF


Victorinox Fibrox Bread Knife Black 21cm

21% OFF


Victorinox Fibrox Butchers Knife Black 25cm

21% OFF


Victorinox Fibrox Butchers Knife Black 31cm

21% OFF


Victorinox Fibrox Butchers Knife Red 25cm

21% OFF