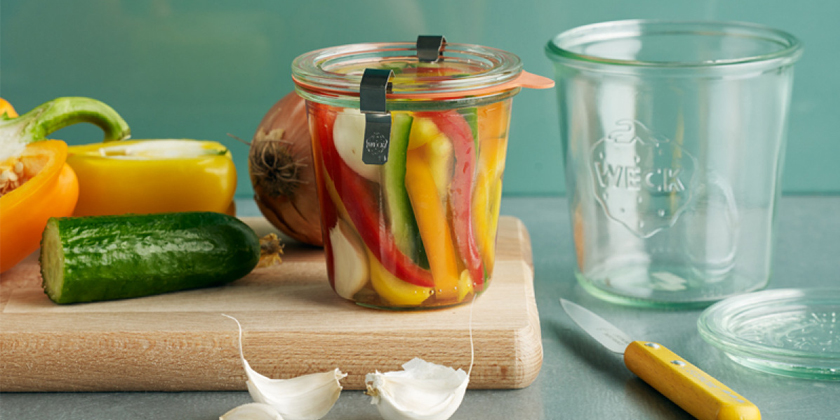 Welcome to Weck's War on Waste.
When it comes to preserving, Weck has been known around the world for decades. Since the beginning of the last century, Weck jars from Germany have been taking the world by storm by introducing to us the art of glass home canning. And with the recent trend towards real food and beautifully old-fashioned pastimes such as preserving, it's fair to say Weck jars are at the heart of a great movement.  
Not only experts in the field of home canning research, this long-standing company are also doing the environment a great favour. At home, they are helping us Kiwis to eat better while reducing waste with their products.  
But a Weck jar is much more than a simple preserving jar. These products are now super-popular in gifting, as serveware und pantry storage. Used by a myriad of cafés for anything from smoothies and juices through to miniature salt and pepper containers, Weck's war on waste is going strong, all the while looking pretty and homely.  
Whether you've rolled up your sleeves to get bottling the summer's bounty; whether you're after a sweet gift idea for that special someone (or for a whole wedding party) – Chef's Complements stocks your Weck wants and needs. For our hospitality clients we can supply bulk orders of Weck jars, so do get in touch! 
Viewing 1–12 of 13 results
Weck Barrel Jar 3L

$

39.99

Weck Bowl Jar 300ml

$

11.99

Weck Cylindrical Jar (4 Sizes)

$

9.50 –

$

17.99

Weck Deco Jar (3 Sizes)

$

9.50 –

$

13.50

Weck Glass Lids/Dunking Weights for Preserving Jars (3 Sizes)

$

5.50

Weck Gugelhupf Jar (4 Sizes)

$

9.99 –

$

20.99

Weck Juice Jar (3 Sizes)

$

9.99 –

$

13.99

Weck Keep Fresh Lids (5 Sizes)

$

1.99 –

$

4.99

Weck Mold Jar (10 Sizes)

$

6.99 –

$

12.99

Weck Rubber Ring Seal (5 Sizes)

$

0.50 –

$

1.20

Weck Tulip Jar (4 Sizes)

$

8.50 –

$

11.99