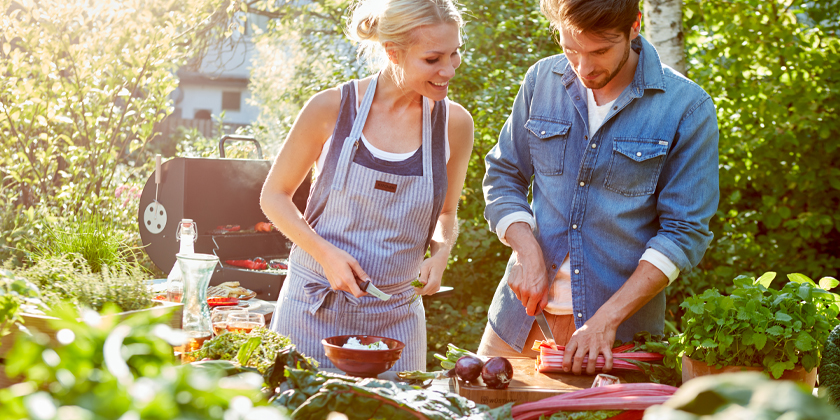 Sustainable tools for environmentally aware trendsetters – Manufactured entirely in Solingen, Germany.
Urban Farmer combines the natural beauty of rustic crafting tools with the high-tech precision of knives made with the latest materials and techniques. The blade is made from stainless steel with a high carbon content. Its long-lasting sharpness is ensured by a Rockwell hardness of 56 and the solid tang gives it very high edge stability. Made from sustainably grown and thermo treated beech wood, the handle is extremely robust and water-resistant. Combined with the non-slip bolster, it provides a secure grip. All the knives are well-balanced, easy to use and efficient tools that are ideal for cutting vegetables and meat or, like the unique pruning knife, for picking vegetables, fruit or herbs straight from your own garden or window box.
Features:
Blades cut with precision laser
Perfectly suited for harvesting herbs and vegetables
For use indoors and outdoors
Handle
The handle made from smoked beech features a natural texture that is smooth to touch. Like all high-quality knives, this knife must be washed by hand.
Non-Slip Bolster
Always maintain a firm hold of the knife – the non-slip bolster is made from high-performance special synthetic material. This way it offers absolutely secure grip, even when working with wet hands.
Viewing all 8 results
WÜSTHOF Urban Farmer Bread Knife 23cm

$

234.00

WÜSTHOF Urban Farmer Cooks Knife 16cm

$

199.00

WÜSTHOF Urban Farmer Cooks Knife 20cm

$

234.00

WÜSTHOF Urban Farmer Machete 18cm

$

234.00

WÜSTHOF Urban Farmer Paring Knife 10cm

$

199.00

WÜSTHOF Urban Farmer Pruning Knife 8cm

$

179.00

WÜSTHOF Urban Farmer Santoku Knife 17cm

$

234.00

WÜSTHOF Urban Farmer Serrated Utility Knife 14cm

$

169.00