Chef'sChoice Diamond Hone EdgeSelect Knife Sharpener Model 120 White
Easily sharpen straight-edge and serrated knives with a 20-degree edge
Secured Payment
|
Free shipping over $100 (excludes bulky products)
View On Mobile Open your camera and Scan the QR code to view on your mobile.
Engineered To Perform
Create the world's best knife sharpener, that was Chef'sChoice's goal back in 1985. Since then, Chef'sChoice sharpeners have become synonymous with unparalleled quality, and premier technology. Today, they continue to only offer pinnacle products for those passionate about the kitchen.
Over time, a knife's edge dulls under the stress of cutting. The overall performance can be significantly improved if sharpened and maintained correctly. Good sharpening systems shape the knife edge with a coarse abrasive and polish with a finer abrasive.

Apply an ultra-sharp edge to 20-degree knives
This lightning-fast professional home sharpener creates, in seconds, the novel Trizor-Plus edge which can be customized to suit each cutting task! It sharpens straight-edge and serrated knives and is so easy to use, anyone can put astonishingly sharp, long-lasting edges on knives in seconds. You can select extremely sharp hair-splitting edges that slide smoothly and effortlessly through delicate foods like smoked salmon and prosciutto … or alternately, edges with varying amounts of "bite" for more demanding jobs, like cutting tough fibrous foods and meats. 100% fine diamond-coated conical disks in Stage 1 and Stage 2 form the first and second bevels of a durable, arch-shaped edge.
In Stage 3, a revolutionary flexible stropping disk creates an ultrasharp polished third bevel and cutting tip while polishing the first two bevels to form sharp cutting flutes that enhance the cutting action on both sides of the edge. Built-in high-precision elastomeric angle guides eliminate guesswork and ensure hair-splitting sharpness time after time. It's ruggedly built and backed by a limited 3-year warranty. The unit is compact (approximately 25cm long x 10cm x 10cm). Resilient elastomer feet hold the unit securely to the work surface. The Chef'sChoice Diamond Hone EdgeSelect Plus Model 120 requires no sharpening oils or liquids. Engineered and assembled in the U.S.A.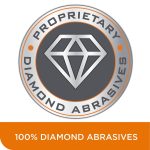 Utilizing the hardest natural substance on earth, the Chef'sChoice proprietary diamond abrasives sharpen edges faster and easier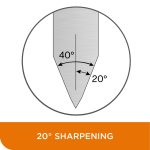 Applies a traditional 20° knife-edge for everyday cutting and slicing.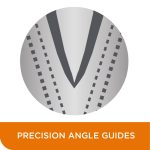 Ensures accurate sharpening throughout the entire edge and eliminates any guesswork
Trizor Engineered – 3 distinct facets set at different angles that form a longer-lasting, arch-shaped edge
UltraStrop – Patented stropping disks deliver an unparalleled polished knife-edge in the finishing stage
Sharpener Capabilities:
Triple Bevel
20-Degree Edge
Single-Sided
Sharpens straight edge and serrated knives

Knife Guide
Can Sharpen:
Chef's Knives
Santoku Knives
Bread Knives
Hunting Knives
Filet Knives
Pocket Knives
Can't Sharpen
Scissors
Ceramic knives
Machete / Axe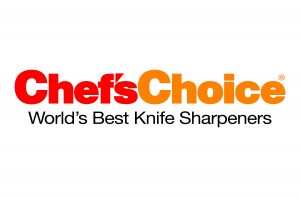 Only logged in customers who have purchased this product may write a review.