Chef'sChoice Diamond Hone Knife Sharpener AngleSelect Model 4633
Professional manual 3-Stage sharpener for super sharp edges on all your knives, 15 and 20-degree as well as serrated.
Secured Payment
|
Free shipping over $100 (excludes bulky products)
View On Mobile Open your camera and Scan the QR code to view on your mobile.
Engineered To Perform
Create the world's best knife sharpener, that was Chef'sChoice's goal back in 1985. Since then, Chef'sChoice sharpeners have become synonymous with unparalleled quality, and premier technology. Today, they continue to only offer pinnacle products for those passionate about the kitchen.
Over time, a knife's edge dulls under the stress of cutting. The overall performance can be significantly improved if sharpened and maintained correctly. Good sharpening systems shape the knife edge with a coarse abrasive and polish with a finer abrasive.
The Chef'sChoice AngleSelect Model 4633 Diamond Hone Manual Sharpener will apply either a 15 degree or 20-degree edge. Professional manual 3-Stage sharpener for super sharp edges on all your knives—15 and 20-degree class. Separate sharpening and honing stages for razor-sharp edges. Creates double-bevel edges that last longer. 100% diamond abrasives in all three stages—diamonds sharpen faster than any other abrasive, create stronger edges and never detemper the knife edge. Sharpens the entire blade length, from tip to bolster or handle.
Elegantly styled with a compact footprint, this professional manual three-stage sharpener applies a super sharp edge on all quality knives including straight edge kitchen and household knives, Santoku knives, sports and pocket knives and serrated knives. It will quickly and easily restore the 20-degree edge on traditional European and American style knives and a 15-degree edge for Asian style knives and modern Euro/American style knives. Using 100% diamond abrasives, precise angle control and an advanced sharpening system, it creates a super sharp, double-bevelled edge that is stronger and more durable.
The Angle Select M4633 sharpens the entire blade length, from tip to bolster, with no guesswork! Featuring an ergonomic handle to fit all hands, it can be used right or left-handed. The slip-resistant rubber feet hold fast to the work surface. Designed and Assembled in the U.S.A.
Sharpener Capabilities:
Double Bevel
15-Degree Edge
20-Degree Edge
Sharpens straight edge and serrated knives
Knife Guide
Can Sharpen:
Chef's Knives
Santoku Knives
Bread Knives
Hunting Knives
Filet Knives
Pocket Knives
Can't Sharpen
Scissors
Ceramic knives
Machete / Axe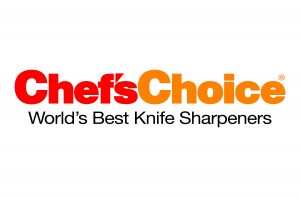 Only logged in customers who have purchased this product may write a review.