NZ Casings 'Sizzle & Pop' Natural Sheep Sausage Casings 10m
The hidden super-hero of every sausage. Featuring an amazing 'semipermeable' wall that breathes
Secured Payment
|
Free shipping over $100 (excludes bulky products)
View On Mobile Open your camera and Scan the QR code to view on your mobile.
100% natural sausage casings from New Zealand Sheep & Hog
Proudly family-owned and based in Whakatu, Hawkes Bay, New Zealand. Luke & Tracy Kavanagh set out to make the best sausage casings in the world for butchers and craft sausage makers who care about where their food comes from, which is why they produce ONLY natural casings and ONLY supply 'A-Grade' products. Let's rid the world of mass-produced, inferior sausages and casings! Every single product is quality checked so you can guarantee the quality is top-notch, they even have a 'no shorts' guarantee*. Luke is seriously passionate about the age-old craft of making natural casings and is also a fanatical sausage maker – so he knows his sausage stuff. All their hog comes from New Zealand pigs and their sheep casings are sourced from New Zealand farms, where the animals are grass-fed and free to roam on rolling green hills. NZ Casings Co. supply some of the best butchers and boutique sausage makers around the globe, including some very fussy sausage making Charcuterie's in France!

Mother Nature does it best – These sausage casings are naturally and perfectly made by Mother Nature, not invented in a science lab. When Mother Nature does it best, why would you mess with it?
Honour the whole animal – Sausages have been made since Ancient Roman times as a way to honour and utilise the whole animal they are sourced from. Less waste, more deliciousness. Now that's smart.
Never trust a straight sausage! – Your sausage should always "smile", and only sausages made with natural sausage casings smile. Don't get tricked by those straight collagen casings. They're the wurst!
Casings – the hidden super-hero of every sausage
These natural sausage casings are all pre-tubed for easy transfer and no annoying tangles. They have an amazing 'semipermeable' wall that breathes, meaning none of your special sausage juices escape but all of the beautiful BBQ/cooking flavours are absorbed resulting in more juicy, more flavoursome sausages. They're also nice and looooooong (min 8m) which makes sausage making much faster, and less mess! A benefit of natural casings is they have a delicate 'bite', the best sausage 'pop' and the trademark "smile" that you can only get from a natural sausage.
No Shorts Guarantee!*
'Shorts' are any short off-cuts of sausage casings that could be as short as 2ft. There are a number of manufacturers out there who cheekily package and sell these off to unsuspecting sossie makers. What that means for you is more time, more waste, more mess and poor value for money.
Sheep casings – The way to go
Slim, tender & juicy
Sheep casings are the best eating casings you can get, they are more tender & less prone to chewiness than their hog counterpart. Kids love their smaller size and juiciness. They're also only about 3 cents more per sausage. NZ Casings Co. makes all their sheep casings in New Zealand following traditional techniques, adding only water and salt. They follow externally audited quality protocols to ensure they produce consistently high-quality products that will make your sausages sizzle.
All the sheep casings are sourced from New Zealand farms, where the animals are grass-fed and free to roam our rolling green hills. They are also free of artificial additives and growth hormones and are fully traceable from the farm gate to your plate. With so much natural goodness, it's little wonder our lamb and sheep products are regarded as the best in the world. All these sheep casings are processed in NZ Casings dedicated, Halal certified sheep casings facility in Hawkes Bay, New Zealand by their team of passionate sausage casing specialists and experts.
Sheep casings make slim sausages so are traditionally used for breakfast sausages, frankfurters, hot dogs, landjaegar, makanek, chipolatas, cabanossi (kabana), bockwurst, Nurnberger, chicken, pork, venison or halal sausages. Both the sheep and hog casings are suitable for fresh or cured sausages and smoking.
Sausage Calculator: As a guide, with this 10m product you can make a total of approximately 3kg of sausages or approx 52 x 60g sausages. Check out the NZ Casings Co. Sausage Making Calculator
Halal: All the sheep casings are independently audited and certified Halal by the New Zealand Islamic Development Trust. NZCC. have a dedicated facility that only processes sheep casings. Their hog casings are processed in a separate facility.
What is a natural sausage casing?
Natural sausage casings are made from the small intestines of an animal, in NZ Casings Co.'s case, free-range, grass-fed, New Zealand sheep. They are cleaned and calibrated by hand and via machinery using only water. Sea salt is added to act as a natural preserving agent enabling them to survive outside of a fridge for relatively long periods of time.
How do sausage casing sizes work?
Casings are generally sold based on their diameter (often referred to as 'calibre'). Natural sheep casings generally range from 20-30mm (0.8″-1.2″), sold as either 20/22 (as in 20-22mm), 22/24, 24/26 or 26/28. The measurement is the diameter of a casing once stuffed. Hog casings generally fall between 30-45mm/1.2-1.8″ (32/35, 35/38 or 38/42). These sausage casings are 24-26mm/1″-1 1/16″ (or 24/26). This means they range from 24mm diameter to 26mm diameter, and that your sausage will therefore end up between 24-26mm. This is about the same size as an NZ $2 coin or a US quarter. Certain sausages have traditionally used certain sized casings but at NZCC we are not size-ist. Our motto is that it's not the size of your sausage that counts. What's important is the quality of the finished product.
For more FAQ's see NZ Casings Co 'Everything You've Ever Wanted to Know About Sausage Casings'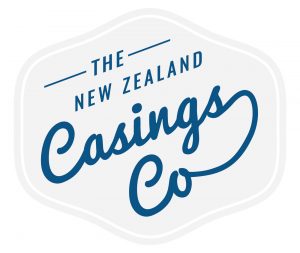 Usage & Storage Instructions:
PLEASE DO NOT REMOVE CASINGS FROM TUBES.
Rinse casings thoroughly on tubes under a cold tap.
Soak casings on tubes in warm water (99F – body temp) for a minimum of 45mins or in cold water overnight.
Transfer from tube to sausage stuffing horn. Please use a 13mm/0.5″ nozzle on your sausage stuffer.
STORAGE INSTRUCTIONS: Please store in the refrigerator. Once opened generously resalt any leftover casings. Wrap in clingfilm and store airtight in the resealable pouch provided or in a container up to the best before date.
SHELF LIFE: This product has a 12-month shelf life from the date of the manufacturer. It will last it's full shelf life, even if product is opened as long as storage instructions are followed.
Only logged in customers who have purchased this product may write a review.