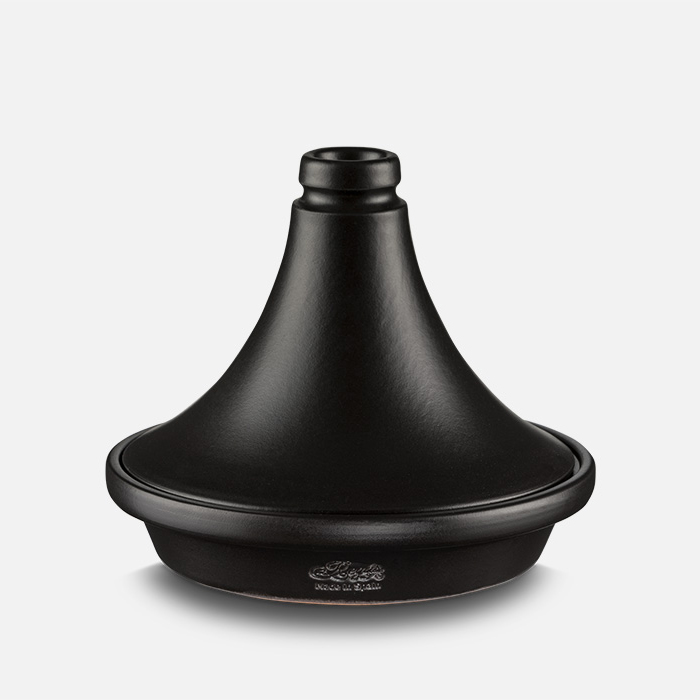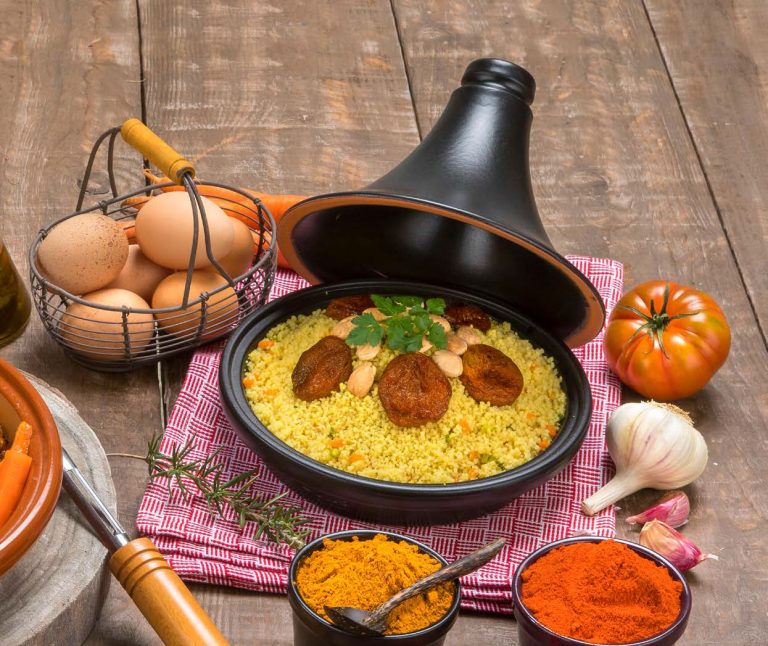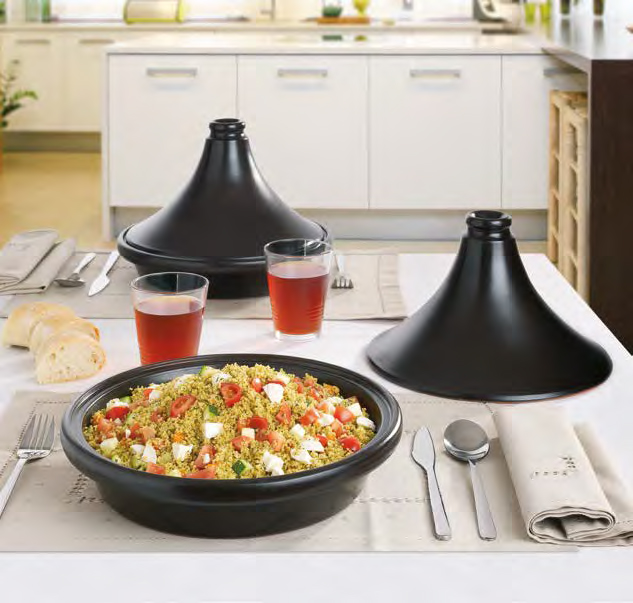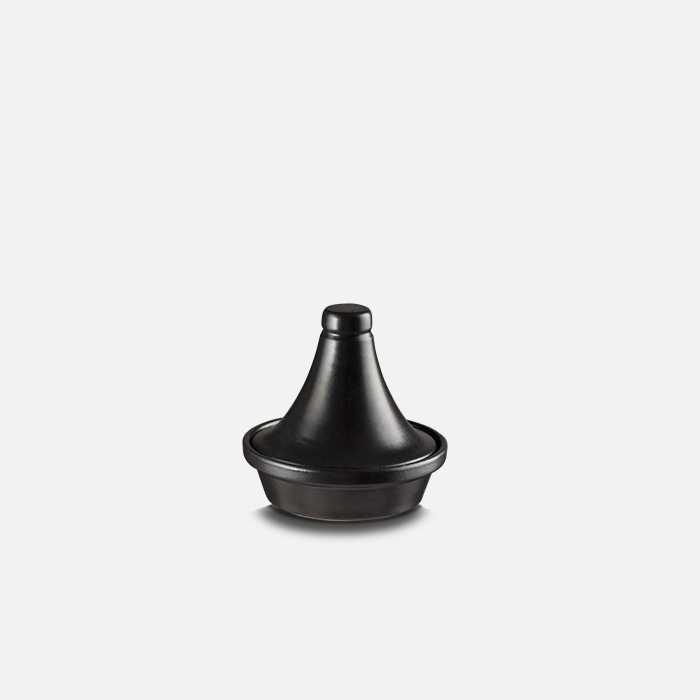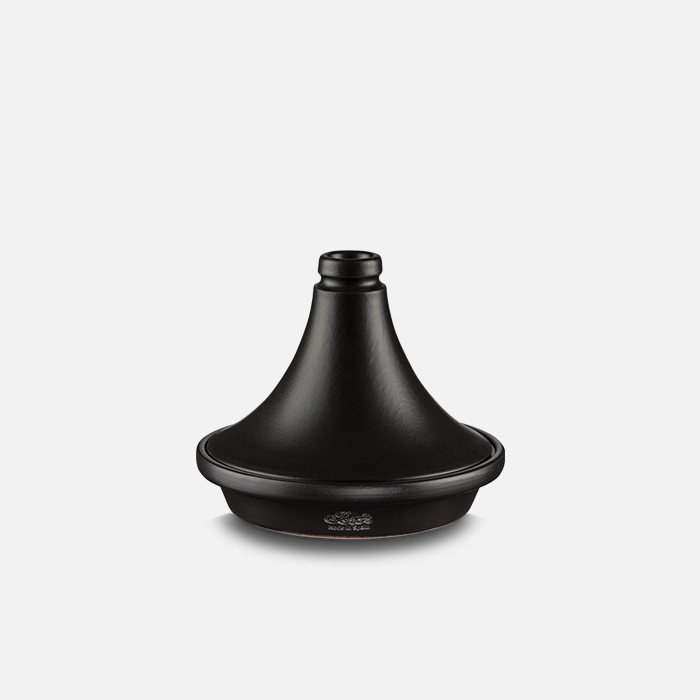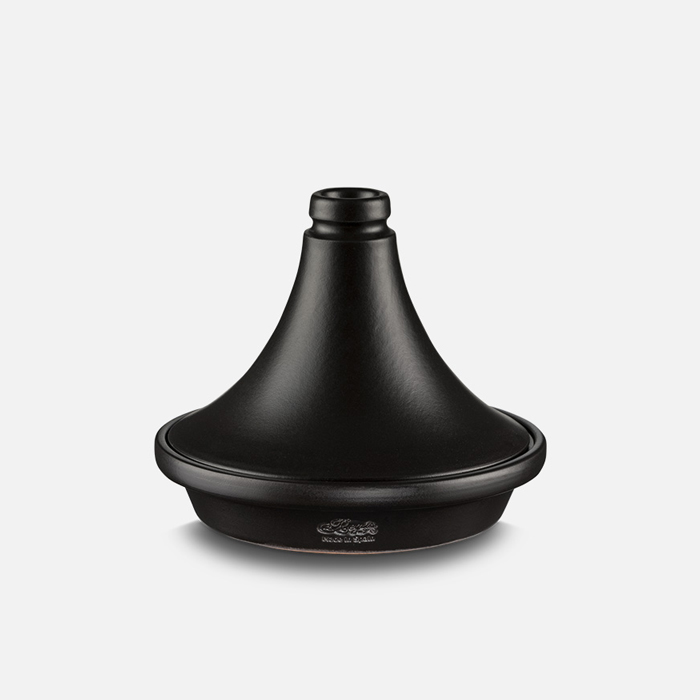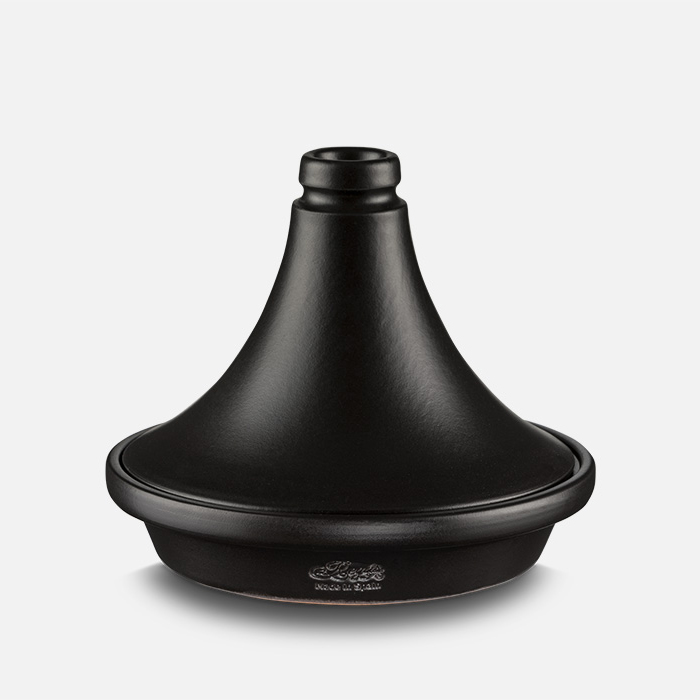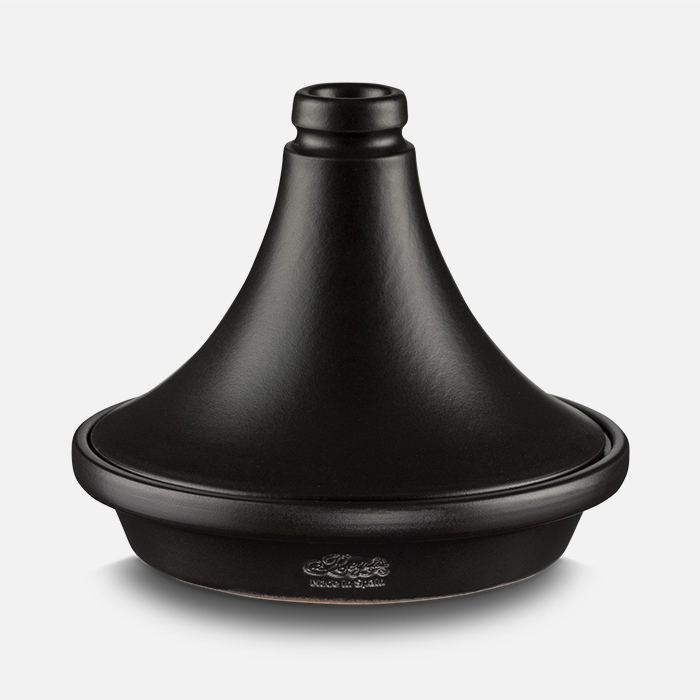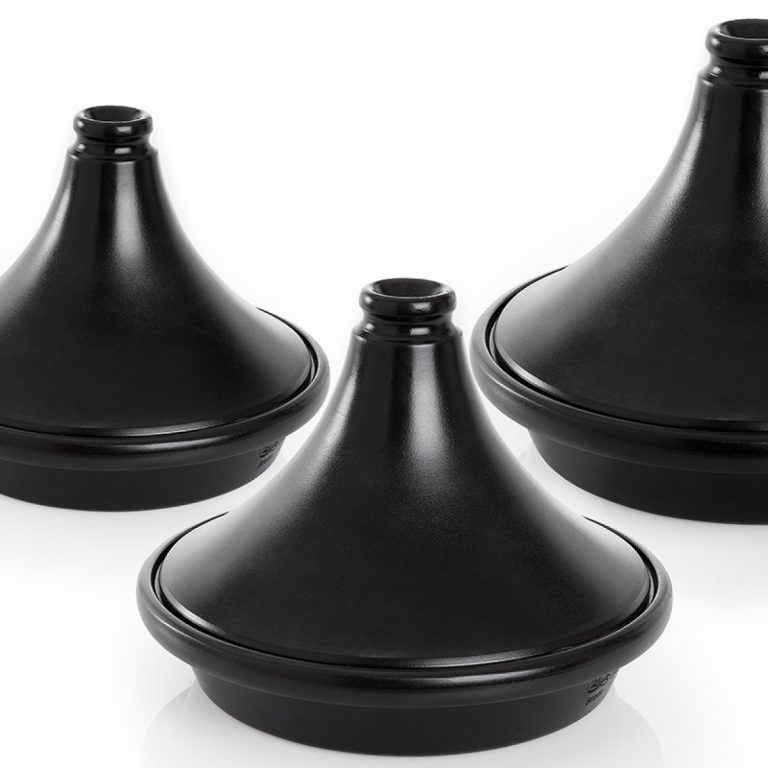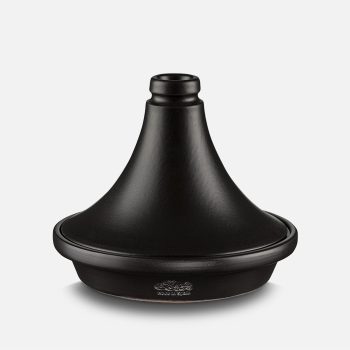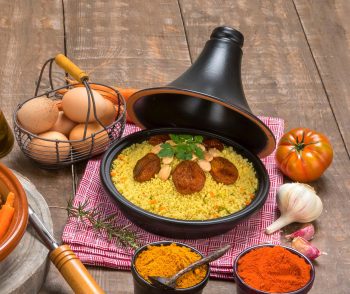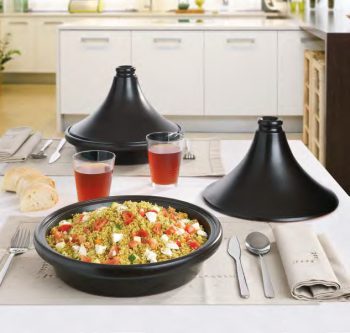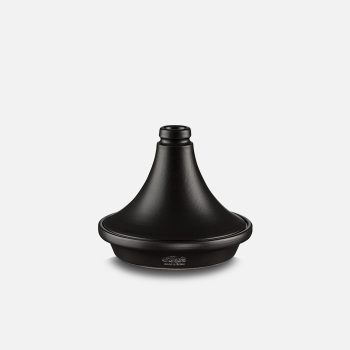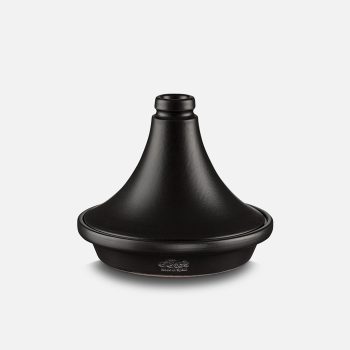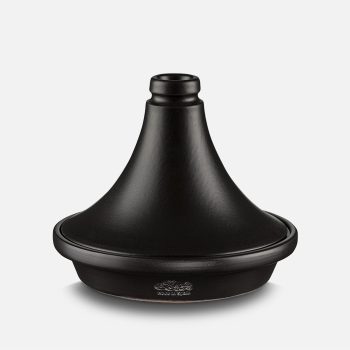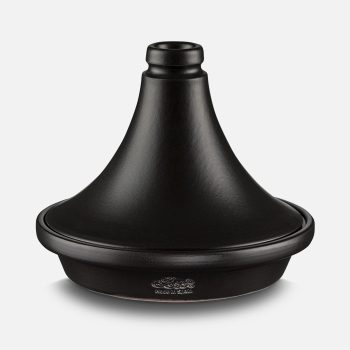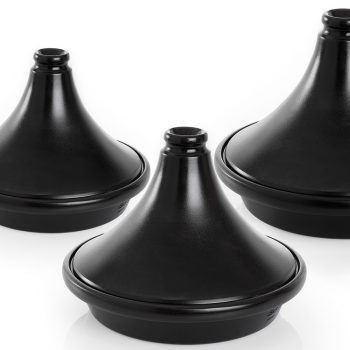 Regás Terracotta Tagine Black Professional Glaze (5 Sizes)
Made in Catalonia, Spain, these terracotta tagines are glazed with a hard-wearing, stick-resistant matt black glaze which helps transfer heat efficiently.
Secured Payment
|
Free shipping over $100 (excludes bulky products)
View On Mobile Open your camera and Scan the QR code to view on your mobile.
These clay vessels, beautiful and full of history, also have a useful purpose. They are the traditional cooking pot of North Africa. The word tagine refers to the conical-lidded vessel and also to the dishes that are cooked inside. Its beauty lies in the lid, which traps moisture and aromas during cooking and turns out food that is moist and succulent. They are designed to be used over direct heat rather than in the oven. The deep cazuela base, typical of Spanish Tagines, can be used without the lid, making this a versatile acquisition.
Made in Catalonia, Spain, these terracotta tagines are glazed with a hard-wearing, stick-resistant matt black glaze which helps transfer heat efficiently. Elegance and simplicity at the table, the tagines design allows the steam to internally circulate. The end result? The most original and exotic recipes will be ever-so-amazing.
Features:
Suitable for use on gas or electric hobs, open fires, barbeques & in the oven. Can be used on direct heat
Microwave, freezer & dishwasher safe
Made in Catalonia, Spain since 1821
Available in multiple sizes
Made with high-quality clays that do not contain lead, cadmium, aluminium or cobalt.
Healthy and eco-friendly cookware – Nothing more natural than earth. Regás products are natural and 100% recyclable.
REGÁS is a company authorized and registered in the sanitary register of industries and food products of Catalonia.
 
Specifications
Size: Ø 11 cm – Height: 10.5cm – Weight: 0.35kg – Capacity: 175ml
Size: Ø 17 cm – Height: 16cm – Weight: 0.80kg – Capacity: 400ml
Size: Ø 20 cm – Height: 19cm – Weight: 1.40kg – Capacity: 800ml
Size: Ø 28 cm – Height: 21cm – Weight: 2.10kg – Capacity: 1600ml
Size: Ø 32 cm – Height: 25.5cm – Weight: 2.40kg – Capacity: 3000ml
Lamb Tagine with Chickpeas – Serves 6 – Recipe by Catherine Bell.
Ingredients
2 tablespoons extra virgin olive oil
800 grams lamb shoulder or leg steaks
sea salt and freshly ground pepper
2 onions, thinly sliced
3 cloves garlic, thinly sliced
1½ teaspoons cumin seeds
pinch saffron, toasted
1-2 tablespoons harissa
2 x 400-gram tins tomatoes, crushed
1 x 300-gram tin cooked chickpeas
1 preserved lemon
Fresh coriander leaves to garnish
Method
Cut the lamb into large pieces, about 5cm. Heat the olive oil in the base of the tagine. Season the lamb and brown well on both sides. Remove and set aside.
Add the onions, garlic and cumin and cook until soft. Add the saffron and harissa and cook for another minute. Add the tomatoes, chickpeas, the finely chopped rind of the preserved lemon and the lamb to the casserole, season well
Cover with the tagine lid and simmer for 1 hour or until the lamb is meltingly tender. The dish should be quite soupy.
Serve on top of hot cooked couscous, garnished with fresh coriander.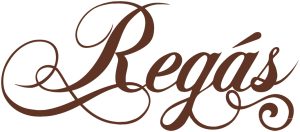 The company was founded by Baltasar Regás in 1821 in Breda (Girona), a town with a long tradition in pottery since the Middle Age and is still family-run. After 200 years of existence, Regás are the result of the evolution and improvement of that know-how. Regás has become a modern company that combines the traditional features in its products with the most modern technology in the production process that help them to guarantee a high standard of quality. 
| | |
| --- | --- |
| Size: | 11cm, 17cm, 20cm, 28cm, 32cm |
Before use:
Soak the Tagine base in water overnight before using it for the first time.
Season the inside of the lid by rubbing with olive oil.
Place the tagine lid into a cold oven, turn the oven to 180°C and leave for 1 1/2 to 2 hours.
Care Instructions:
Do not put the base on the heat empty. (ie add a little oil)
Always begin cooking on a low heat. The heat can be increased once the dish is warm.
Do not subject to abrupt temperature changes.
Cleaning
Wash the tagine by hand with soapy water and rinse well
Dry thoroughly before storing, especially in humid climates
Only logged in customers who have purchased this product may write a review.
You May Also Need
Le Panier Woven Tagine Trivet 20cm

$

16.99