Sale!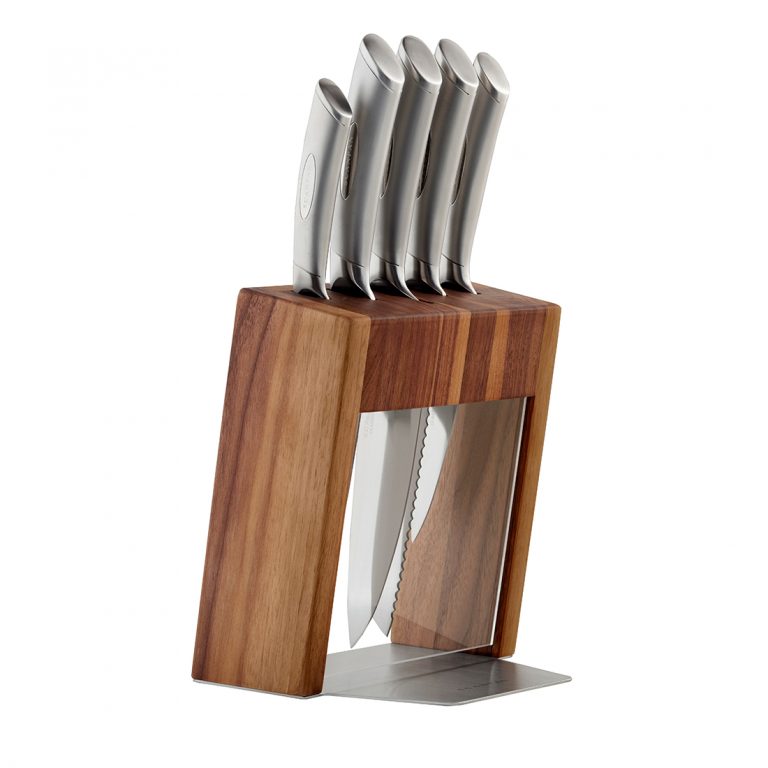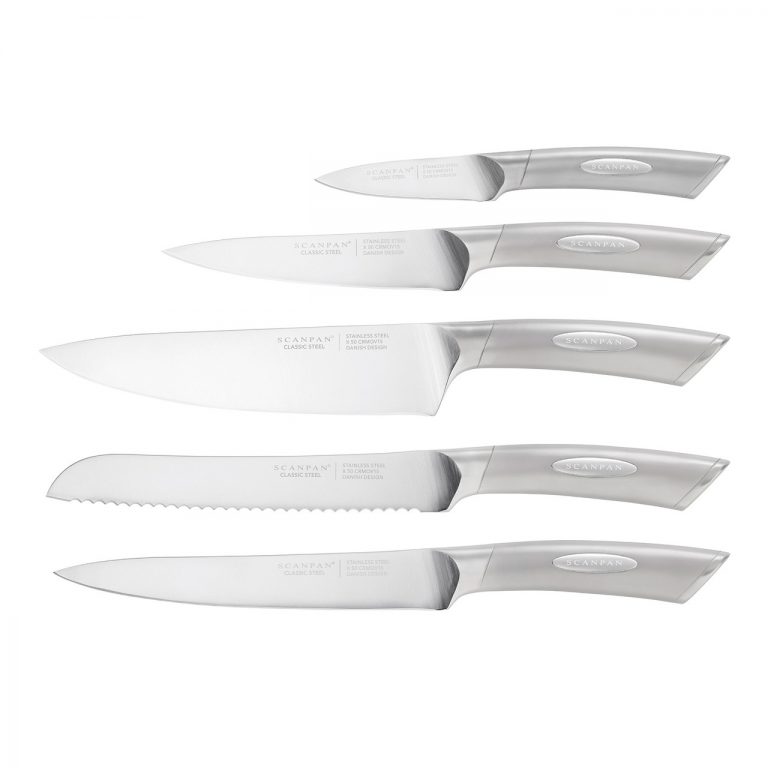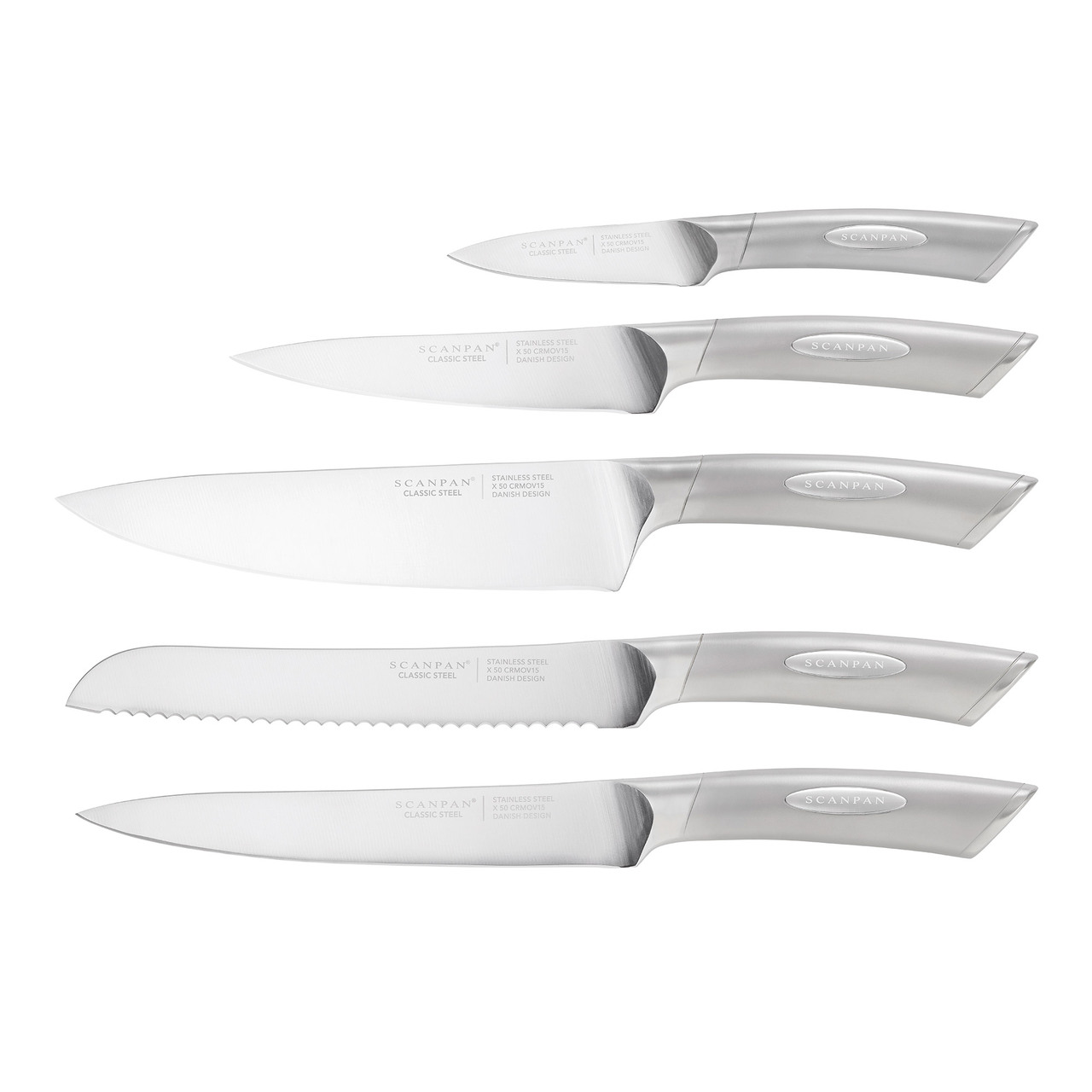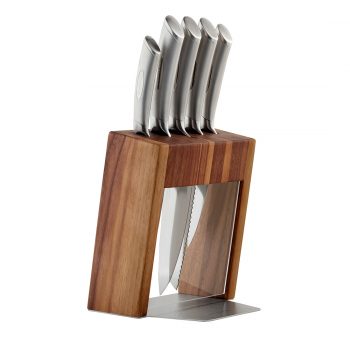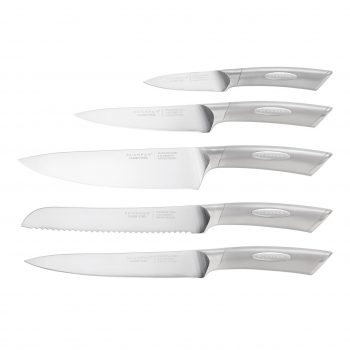 Scanpan Classic Steel Kalø Knife Block 6 Piece Set
This Danish-designed Scanpan Classic Set includes 5 of the Classic range's most used and top-selling knives
Secured Payment
|
Free shipping over $100 (excludes bulky products)
View On Mobile Open your camera and Scan the QR code to view on your mobile.
The Scanpan Classic Kalø Knife Block 6 Piece Set will sit beautifully on any and every countertop with its quality oak block. This Danish-designed Scanpan Classic Set includes 5 of the Classic range's most used and top-selling knives. The 9cm Paring, 15cm Utility, 20cm Bread, 20cm Chef and the 20cm Carving. Inspired by the 700-year-old castle, Kalø, the SCANPAN Kalø block is made from quality Oak. This wood is known for its durability and attractive wood grain. It is less likely to warp when exposed to sunlight and possesses good water-resistant properties. The visibility of the knives is also maximised by its design.
Scanpan Classic Steel Kalø Oak Block Set consists of:
Scanpan Classic Steel Paring Knife 9cm: This 9cm Paring Knife is the perfect knife for paring or any other task which requires precise blade control.
Scanpan Classic Steel Utility 15cm: When it comes to kitchen cutlery, the 15cm Utility Knife is the jack of all trades. It can be used to cut sandwiches, fruit and much more.
Scanpan Classic Steel Bread 20cm: The serrated blade allows easy cuts even through the hardest crust without crushing the loaf. Slices of bread will be neat and not torn or ragged when cutting properly.
Scanpan Classic Steel Chef 20cm: A good Cook's knife is an important essential for any kitchen. From cubing meat to finely mincing herbs, this essential kitchen knife does it all.
Scanpan Classic Steel Carving 20cm: Scanpan's 20cm carving knife is perfect for carving ham, poultry or any other meats.
Danish design and modern production technology are combined in this knife series. Each knife has blades sharpened with a new grinding technique for improved and long-lasting performance. The knives are robust and manufactured with optimum weight and balance around the knife shoulder, with an ergonomically designed handle featuring a rounded back for greater finger comfort.
SCANPAN has launched a new Classic Stainless Steel Knife collection with an elegant and sleek design. SCANPAN Classic Steel Knives are crafted from the finest grade German stainless steel that is tempered and hardened to perfection. Whatever job a SCANPAN Classic Steel Knife is designed to do – be it paring, carving, slicing or peeling – you can rest assured that it will perform the task with absolute precision. They are supremely comfortable, superbly balanced and their edge is surgically sharp. Their pedigree is impeccable having the SCANPAN mark of quality.
Please note: Due to these blocks being made from 100% natural materials, each piece is unique and colour and wood grains will vary to the images shown.
Why Buy Me?
All SCANPAN knives are guaranteed against manufacturing faults and defects for 10 years.
These knives will give you exceptional results every time.
Finest quality German stainless steel.
Superior "Hairline Finish" taper-ground cutting edge.
Hardness-tested to HRC 56.
Genuine Danish design.
Perfectly weighted and balanced.
Ergonomic trilobal handle design.
Rounded back of knife blade for increased finger comfort.
Ergonomic bolster improves chopping grip
All Scanpan knife sets and individual knives are guaranteed for 10 years

Maintainance & Care:
SCANPAN Classic Steel Knives will last a lifetime if afforded proper care. To avoid accidental injury and blade damage, treat knives with respect and always handle with due care. Cutting on a soft, non-abrasive surface such as a timber or plastic cutting board will help prevent premature dulling of the blade. Regular use of a SCANPAN Classic Diamond Sharpening Steel or a SCANPAN Classic 3 step sharpener will ensure that your knives retain their keen razor-sharp edge. All SCANPAN Classic knives are dishwasher safe however due to the harsh nature of the machine cleansing process, we recommend that you hand wash your knife and dry it with a towel. Use a knife block or a knife magnet rack for storing and protecting your knives. Never store your knives loose in a drawer as they will become blunt.
Only logged in customers who have purchased this product may write a review.