WÜSTHOF 2-Stage Knife Sharpener
Safe and easy to use, this two-stage knife sharpener requires nothing but a few easy strokes to keep blades sharp.
Secured Payment
|
Free shipping over $100 (excludes bulky products)
View On Mobile Open your camera and Scan the QR code to view on your mobile.
The easiest way to sharpen knives and to keep them sharp. This 2-stage pull-through, V-shaped Knife Sharpener with tungsten and ceramic steels is particularly suitable for those who do not feel comfortable using Sharpening Steels or Whetstones. With this Sharpener, the knife is simply drawn through the guiding notches a few times – the notch with tungsten steel is used for coarser sharpening (for blunt blades) while the ceramic notch is for fine sharpening (for coarsely sharpened or moderately-sharp blades) – and results are quickly achieved.
The first stage carbide (coarse) sharpens dull edges. The second stage ceramic (fine) provides a polished, razor-sharp edge. A reasonably sharp knife may only require this light honing. Can be used for serrated and scalloped edges (ceramic fine stage only).
Two-stage knife sharpening instructions:
Place sharpener on a flat work surface. Hold the sharpener with one hand as indicated and the knife handle with the other. Insert knife blade fully into the slot at a 90° angle to the sharpener. Apply moderate downward pressure on the blade while pulling the knife toward you through the appropriate notch. Repeat this action, always pulling the blade from heel to tip (never back and forth) through either the carbide or the ceramic notch.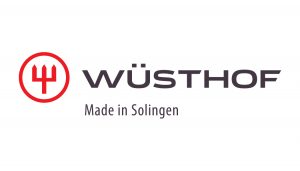 Only logged in customers who have purchased this product may write a review.