Nowadays it is hard to purchase anything without taking into consideration its environmental impact. Choosing organic food and biodegradable detergents to reduce our carbon footprint and toxins in the home are becoming usual eco-friendly choices. But there's also another option we often tend to forget about and that is the cookware we use. Some cookware ranges, (mostly older-style non-stick ones) are covered in chemical coatings that can release dangerous toxins when they are used over high heat or when scratched. Inherently, tri-ply stainless steel and cast-iron cookware have always been good green choices but, while one requires maintenance, the other doesn't always come with the non-stick benefits. Fortunately, we now have options to choose from PFOA and PTFE free non-stick pans or Teflon free cookware sets for our green kitchen.
In order to select the best eco-friendly cookware, you will have to identify your cooking needs and choose the right type of material for the task.
What's cooking?
Do you love grilling at every meal or are stews and braised meat your credo? What about cleaning and maintaining your cookware? Would you consider a non-stick pan that provides less fat to cook and easier cleaning? Identifying your cooking style and needs will help you hone down the appropriate long term cookware choice you need to make. Remember, making a sustainable choice means selecting durable and quality products. Eliminating the need for one task tools and choosing a multi-purpose pot or pan will help you reduce your impact on the planet in the long run. Let's take a look at the best non-toxic cookware available on the market today.
The Best Eco-Friendly Cookware Materials
Carbon Steel – no chemical coating
Cast Iron – sustainable – almost indestructible & naturally non-stick
High-Quality Enameled Cast Iron – Sustainable with Durable Finish / heirloom quality
PFOA and PFTE free non-stick pans – Ease of care and cleaning
Our gold star finalists for best efforts in reducing their impact on the planet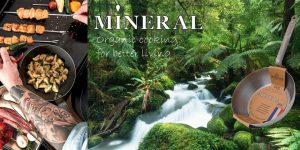 If you enjoy the benefits of cast iron but not so much the weight factor, then carbon steel frying pans are a great alternative for non-toxic, eco-friendly cookware. For high-quality non-toxic cookware, De Buyer sits at the forefront of manufacturers. This French producer of carbon steel frying pans has almost two centuries of traditional techniques that go into creating its products. Their surprisingly affordable carbon steel frying pan offers excellent heat distribution for easy grilling, searing, and browning of foods on the stovetop (including induction), camping stove, barbecue, or in the oven. These frying pans will last a lifetime if cared for properly.
Carbon Steel Cookware Benefits
Lighter than cast iron frying pans and heat up faster
Won't chip, and there's no coating that could scratch or peel off
Safe to use at high temperatures
Ideal for all hobs including induction
Recommended for commercial and domestic use
Grill and oven safe
Cookware Green Features
The pan material is recyclable
Seasoned with beeswax
Guaranteed without any coating (PFOA and PTFE free guaranteed)
No chemicals added – Environment safe production
Green Efforts
Installation of its own industrial water treatment plant as an environmental initiative
A consideration of reintegration of recycled materials in the manufacturing process
Installation of four beehives on natural land close to the company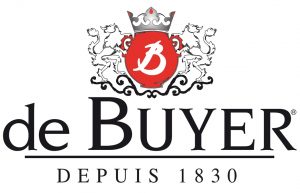 Le Creuset: The French King of Enamelled Cast Iron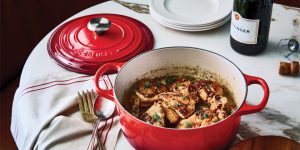 Made of high-quality enamelled cast iron, Le Creuset heirloom quality pieces have long dominated the French cookware landscape. Recognised for their superior heat conductivity, strength and durability, investing in a Le Creuset cast iron product is making a sustainable choice. Handmade in France since 1925, Le Creuset casseroles are famous the world over and come with a lifetime warranty! Individually cast in sand moulds and hand-inspected by 40 French artisans, each piece is completely unique as the mould is broken down after each use. The sand is reused, again and again, to create thousands of pieces. The casseroles one-pot-wonders are truly versatile pieces of cookware, from oven-to-table as well as an elegant centrepiece, transforming every kitchen into a home.
Why Le Creuset?
A Le Creuset Cast Iron Casserole – also known as a Dutch oven – is perfect for all hobs (including induction) and offers outstanding heat distribution and retention. What's more, they are oven-, grill-, and freezer-safe. You can bake, sear, roast and casserole to your heart's desire. Plus the enamelled smooth interior finish prevents stains and makes cleaning up a breeze.
Enamelled Cast Iron Benefits
Superior heat retention keeps food hot at the table while serving
Stovetop to oven to table serving
Ideal for all hobs (including induction)
Grill and oven safe
A light enamel interior helps make cleaning easier
15% lighter than other brands when matching capacity
Cookware Green Features
Durable & long-lasting
Enamelled cast iron cookware is a durable material that does not leach iron,
Naturally non-stick surface without added chemicals (PFOA, PTFE & Cadmium free)
The vibrant and durable finish doesn't discolour or rust
Green Efforts
Le Creuset uses their own secret recipe of metal ingredients to create their cast-iron. A mixture of pure pig iron and 85% recycled steel, iron and other mineral ingredients.
Each mould is broken down after use and the sand is reused again and again

Cast Iron Tradition with Lodge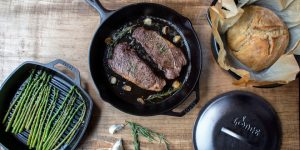 French Cookware isn't your thing? You might find a friend in the Lodge Cast Iron offering. As the sole American manufacturer of cast iron cookware, The Lodge family have been producing heirloom quality pieces at their Tennessee Foundry since 1896. Offering superior heat retention that produces edge-to-edge even cooking resulting in beautiful crusty baked goods, it's no wonder that cast iron cookware has been a favourite of chefs and bakers for generations. With their privately held metal formula, precision moulds, and exacting wall thickness, Lodge offers the finest cast iron cookware available.
Why Lodge?
Similar to the Le Creuset enamelled products, Lodge cast iron is also a great heat conductor but contrary to its counterpart, a bit more care needs to go into the maintenance of your cookware. The maintenance care called seasoning, consisting of occasionally adding cooking oil, fat or lard (according to your taste preference), will provide the benefit of a non-stick coating that you will enjoy for decades. We love Lodge Cast Iron for going the extra green mile when it comes to being eco-responsible and love their many efforts to reduce their footprint on the environment.
Cast Iron Cookware Benefits
Cast iron offers unparalleled even cooking
Superior heat retention
Oven to table serving
Good for all hobs (including induction), camping stove, barbecue, or oven.
Seasoned Cast Iron with 100% natural vegetable oil
Won't dent, bend, or warp at high temperatures
Cookware Green Features
High durability
Sustainable / Heirloom quality
Seasoned Cast Iron with 100% natural vegetable oil
Green Efforts
Biodegradable packaging materials
Foundry equipment investment that reduces pollution and electricity consumption
Reuse of Foundry Sand
Energy Consumption reduction – ENERGY STAR® Partnership achieving an overall 20% reduction since 2011
1994 Governor's Award for Excellence in Hazardous Waste Reduction
Cardboard Recycling Since its conception in 2001, over 190 tons of cardboard has been recycled. The program continues to this day
Constructed three stormwater Settling ponds to support plant & animal life. Their wastewater is now cleaner than the river into which it flows
121 Trees were planted on the Lodge Campus for beautification & ozone attainment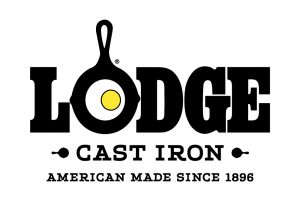 Non-Stick Frying Pans, European Heroes to the rescue
It's no secret that Europeans are leaders when it comes to embracing green initiatives. It seems that any resources considerations and their environmental impact are thoroughly analyzed at every corner. With that philosophy in mind, it makes perfect sense that two of the Teflon-free non-stick pans top brands are from Denmark and Switzerland. Let's take an in-depth look at Scanpan and Swiss Diamond.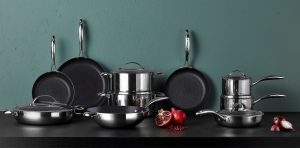 Scanpan were early adopters of the use of recycled materials in the industry. The cast bodies of their non-stick cookware are manufactured from 100% recycled aluminium products – requiring only 10% of the energy and creating 95% less waste as opposed to delivering aluminium through industrial mining. Scanpan was the first to introduce a truly PFOA free non-stick finish which remains PFOA free throughout the entire manufacturing process. They have been producing high-quality cookware for the last three decades. Every pan produced at the purpose-built Scanpan facility in Ryomgård, Denmark passes through human hands eight times during its creation to ensure they satisfy their quality requirements and their customer's culinary needs. This craftsmanship and attention to detail are complemented by technologically advanced manufacturing processes, resulting in high-performance cookware which delivers even, energy-efficient conduction of the heat that is guaranteed not to warp.
Why Scanpan?
All of Scanpan's premium cookware is made with 100% recycled aluminium core. The recycled aluminium is as strong with the same great conduction properties as non-recycled aluminium with the added green-conscious benefit of using recycled aluminium. Their old coating Ceramic Titanium Non-Stick was world-leading and a Scanpan exclusive coating but they have one bettered it with the new SCANPAN STRATANIUM. With the introduction of this new coating, Scanpan once again breaks the boundaries of what a non-stick surface can do, developing a micro-textured surface coating that combines non-stick properties, wear resistance and unique frying properties in one. This allows exceptional searing, food release for easy serving and clean up. The Stratanium coating provides the home chef with an almost indestructible non-stick commercial-grade surface combined with the luxury and durability of the mirror-polished stainless steel exterior.
Scanpan Non-Stick Frying Cookware Benefits
Metal utensil-safe surface
Rapid and even heat distribution to prevent hot spots while cooking
Suitable for all HOB types including Induction
Oven safe to 250°C
Stay cooler for longer, gently curved ergonomic handles are securely riveted
Healthier cooking with oil and fat-free frying
Food release and durability improved by more than 30% on an already world-leading non-stick surface
Remarkably easy to clean
Dishwasher Safe
10 Year Warranty
Cookware Green Features
Completely PFOA and PFOS-free
100% recycled aluminium core, requiring only 10% of the energy and creating 95% less waste as opposed to delivering aluminium through industrial mining
Green Efforts
SCANPAN is a participant in the climate initiative "CO2 neutral websites". The carbon emissions from both the website and the users of the website have been neutralized by the building of new renewable energy sources, various CO2 reducing projects and by the purchase of certified CO2 offsets, which are cleared by the relevant government institutions
All production processes are completely free from harmful substances, PFOS and PFOA
The melted aluminium that is hand-poured into the moulds is carefully selected, environment-friendly and recycled
Scanpan Non-Stick Series comparison chart
These plus points make the Scanpan cookware a good idea for any consumer who is concerned with their impact on the natural world. It could also be what you need to know to make an educated decision if you want to add this beautiful non-stick cookware to your kitchen.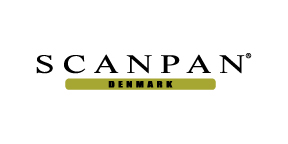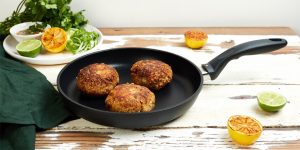 Swiss Diamond can trace its roots back to 1974, Sierre, Switzerland, as a scientific research company exploring new materials and surface coatings. Fast forward a few decades including research and exhaustive testing, Swiss Diamond engineers have developed a method of combining real diamond crystals with a high-quality non-stick composite for superior cookware performance: "XD" nonstick surface coating. While researching for this new coating, the main criteria for improvement were extreme hardness and excellent thermal conductivity, which led straight to diamonds.  Combined with a technologically advanced production process, a commitment to green manufacturing and a unique approach to induction cookware, this innovation puts Swiss Diamond at the top of the industry. To this day, all products designed by Swiss Diamond® are manufactured with this cutting-edge XD coating.
Swiss Diamond XD Cookware Benefits
Even heat distribution to prevent hot spots while cooking

Oven safe to 260°C

Healthier cooking with oil and fat-free frying

Suitable for all cooktops – including induction

Oven safe

High-quality non-stick coating

Easy to clean

Guaranteed not to warp

Pressure-cast Aluminium

Limited Lifetime Warranty
Cookware Green Features 
Completely PFOA and PFOS-free

All products are made of recycled aluminium
Green Efforts
The diamonds originate from reputable European sources, subject to all international regulations, and are explicitly found in conflict-free zones.

Swiss Diamond cookware is manufactured mainly in Switzerland, powered by 100% hydroelectric green power supply from the Swiss Alps in a clean and safe environment and is controlled by the Swiss authorities

Production process is free of PFOA from start to finish. 

An undrinkable water source is used to supply the cooling system and coating lines, and water used in the coating lines is recycled. 

All their products are made with recyclable aluminium; irregular items and scrap leftovers from the factory are recycled within the production process. 

The furnaces are powered by natural gas, and the factory runs 24 hours a day, 7 days a week to ensure that furnaces are fully utilized.