We are very proud to say that Chef's Complements are now a stockist of the amazing, one and only New Zealand-made hand-poured cast iron skillet. The Ironclad Pan. Every Ironclad Pan is unique and just gets better with age. And with the right care, this kitchen centrepiece will be cooking meals for 100 years or more – that's why it comes with a Three Generation Guarantee™️.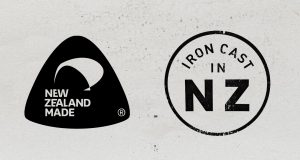 Why is it Ironclad Grey? Your cast iron skillet comes unseasoned – you can season it to your family's taste, and not worry about getting any paint chemicals or enamel chips in your food. Back to the fresh & healthy roots of cast iron cooking.
Your Brand New Pan
Cast iron skillets have been around since forever. You can use any method available to heat them – gas, electric, induction, oven, BBQ, open fire. From caveman to future-humanoid. It will last you at least three generations, which makes it really sustainable and eco-friendly. Your Ironclad Pan comes directly from the foundry in Auckland, New Zealand. Each skillet is hand-poured, not machine made. This unique design has been cast in a raw high-grade recycled iron. The iron is certified, and the design built to last. But like all good things, a little preparation is required. If you're new to the culinary world of iron skillet cooking, the first and most crucial step is called "Pre-Seasoning". It takes a little time, but you only have to do it once. And what's a little prep time for 100 years of joy?
About The Ironclad Pan Company
The Ironclad Pan Company was founded in 2016 by Kate Slavin, Levi Slavin and Joe Carter. All three were working in design, branding and communications, and all three were looking to create a sustainable product that would be a return to beautiful craft and traditional techniques. In an era of disposable products, the team wanted to create a meaningful object that people only had to buy once. Something precious, that could be handed down for generations.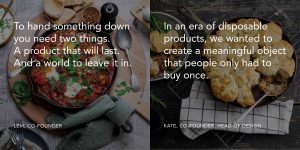 Why cast iron skillets? Levi and Kate had a set at home that they had inherited. Each daily use was a reminder of their family history. And when traditional family recipes were prepared in the original skillets—splashing oil where they had splashed oil, carefully placing fish where they had placed fish—something magical seemed to happen; it was a true connection through time. But to hand something down, you need two things: a product that will last and a world to leave it in. As their family grew, like all parents, so did their desire to leave a healthier planet for their children. Kate, a designer by trade, began to sketch designs for a new skillet. One that would be sustainably manufactured here in New Zealand and last for generations. Levi and Joe set out to find a way to prove their belief. If it was designed to last, what better way to prove it than to offer a guarantee. One that would last longer than any on the market. They settled on a modest 100 years, and cast that contract in iron on the base of every single skillet.
Next, Felicity Morgan-Rhind joined the team. A chef and director, Felicity elevated the vision of the Ironclad Pan Company to a larger audience. Helping share the founding principles of a locally made, sustainable product with an international audience. The more stories we collected, and the higher our pile of family recipes grew, we realised we needed to invent a contemporary way to store and share recipes. The result was The Ironclad Family Recipe Vault—a closed social platform designed to store, share and save family recipes for generations.
PRE (OR RE) SEASONING
What you'll need: An Ironclad Pan. Fine steel wool. Mild dish soap. Running water. An oven. Two to three cups of tea. Grapeseed oil. A dry cloth. Elbow grease.
1. WASH: Scrub your pan with steel wool, mild dish soap, and hot water. This is the only time you'll ever use soap, a scourer and real elbow grease for the entire lifecycle of your Ironclad Pan.
2. RINSE AND DRY THOROUGHLY: Rinse with cold water, then dry. We mean bone-dry.
3. PRE-HEAT: Set your oven to 100°C. At full heat, place your skillet in the oven for 10 minutes. Exposing your new Ironclad Pan to this temperature and time will open the pores in the high-grade iron, allowing the iron to better absorb each seasoning for the rest of its long life. This is where the first cup of tea will come in handy.
4. OIL: Using a clean cloth, or paper towel, rub a teaspoon of grapeseed oil over the warm skillet, inside and out, including the bottom. Try the Ironclad Conditioning Balm! You're rubbing oil into the surface, not onto it. Wipe off any excess. The end result should be a thin coat of oil across the entire surface. Your Ironclad Pan should now have a dull matte finish and look dry.
5. BAKE Turn the oven up to 180°C. At full heat, place the skillet upside-down in the middle of your oven. Bake for another 10 minutes, remove from the heat, and wipe off any excess oil.
6. CRANK THE HEAT Return your Ironclad Pan upside-down to the middle of your oven. And turn up the heat to 220°C. Leave it to bake for an hour.
7. COOL Turn off the heat and allow your Ironclad Pan to cool completely in the oven. Once cool, you're ready to go!
DAILY USE & CARE
Once your skillet has been pre-seasoned, it's simple to care for – no dishwasher required and preferably no soap. Easy-peasy.
1. WASH Rinse with hot water, ideally when the skillet is still warm from cooking. If you get hard to remove food, use a cloth or soft brush. Don't forget, heat will do a deeper clean than any harsh cleaning product.
2. DRY Ensure your skillet is bone dry after each use.
3. OIL Before returning the skillet to its bag, apply a teaspoon of grapeseed oil to the entire surface with a dry cloth or paper towel.
The older your Ironclad Pan gets, the better it gets. Register here for your Ironclad, Three Generation Guarantee™ and take good care of it so that it will last the distance.
IRONCLAD PAN: THREE GENERATION GUARANTEE™
This is IT. The one thing that you can use daily, literally imbibe with your knowledge of great taste and pass down as a family heirloom for generations. We can guarantee you it will last the distance. We are so confident that our Ironclad Pan will only get better with age (and with proper use and care) that we will give you a replacement or your money back as part of your Three Generation Guarantee™ (approx. 100 years from the date of purchase). All you need to do is follow the super simple care instructions above and register for your guarantee after you purchase your skillet.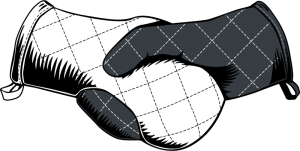 THE ACTUAL IRONCLAD GUARANTEE
This contract outlines Ironclad Pan Company Ltd.'s commitment to replace your Ironclad Pan for three generations, or 100 years, from the date of purchase. As it turns out, offering a genuine 100-year guarantee was almost as difficult as making a product that would last that long. But we're proud to say we did it. Now imagine you're holding your freshly cast Ironclad Pan and reading this.
ARTICLE I. YOUR IRONCLAD PAN
Your Ironclad Pan is yours. There is no other like it. It has been hand-poured, and hand-finished, to ensure it can be handed down for generations.
I. a) Will the pan really last 100 years?
Yep. Our trademark design is the result of lots of love, lots of cooking, and some pretty punishing research. The cooking surface is large enough to prepare family meals, yet small enough to be lifted with a single hand. It has two pouring lips for left and right-handers and comes with a counter handle at the front for transporting large meals. All additions to the product have been engineered to survive 100 years of daily use (based on three meals per day, for three generations).
I. b) What if I lose the guarantee in the next 100 years?
We are so confident in the quality of every Ironclad Pan, we have cast the details of your three generation guarantee in iron. Check the underside of your pan. That's just in case you lose this contract.
I. c) Why doesn't it look like other cast iron pans?
Every Ironclad Pan comes unseasoned. This is what all other cast iron skillets look like before they have had any factory treatments. Often those treatments include chemicals and dyes. And, no surprise, they make their way into the food you prepare. By providing an unseasoned pan, you get the chance to see and control what goes into the preparation. We have included all you'll need to season it, and have provided instructions above. It only has to be done once for the lifetime of the pan. Then, like a fine wine, your Ironclad Pan will naturally get better with age.
I. d) Is my pan solid iron or ironclad?
The pan is 100% cast iron. 'Ironclad' is just a clever name we came up with that we now have to explain a lot. The high-grade iron was selected based on its weight and ability to age. With the right preparation and some daily care, the T100 iron will change from a golden bronze, to a rich dark black. And become more uniquely receptive to your style of cooking.
ARTICLE II. YOUR FAMILY RECIPE VAULT
To help collect and protect your family recipes, you have automatic access to a Family Recipe Vault. There is no obligation to use it, but it's a handy way to share meals, recipes, and tips with your existing family, and the ones to come. Once you have set up your Family Recipe Vault, we will safely store your stories, videos, photos, cooking tips, and secret family recipes for the next generation. You can even publish a family cookbook directly from your Family Recipe Vault.
II. a) What happens to the data from my Family Recipe Vault?
All recipes stored will only be made available to the people you choose to share them with. We will not share your data without your permission. Any recipe you upload will be locked away unless you choose to make it public, or invite friends or family to access your Family Recipe Vault.
II. b) How many Family Recipe Vaults do I need?
We recommend one Family Recipe Vault for your entire extended family. Even if everyone in your family has an Ironclad Pan—which would be tremendous—one Family Recipe Vault is ideal. It's a great daily resource for meal planning, cooking tips, and go-to recipes. And, most importantly, it's a great way for everyone in your family to collate and archive your entire culinary history for future generations.
II. c) Who pays for storing our Family Recipe Vault?
Every pan comes with three generations of paid storage. If your family has more than one Ironclad Pan, you can bundle your storage — up to 100 years per Family Recipe Vault. Essentially, it will always be free.
II. d) What happens to my Family Recipe Vault if Ironclad closes?
If, for whatever reason, Ironclad Pan Company Ltd. shuts its doors, storage will be covered for your Family Recipe Vault for the duration you have subscribed to. This will give you ample time to print your culinary family history into a cookbook, or transition to another storage provider.
II. e) What happens to my Family Recipe Vault if Google shuts down?
If, for whatever reason, Google, or their holding company Alphabet, shuts their doors, storage of your Family Recipe Vault will be transitioned to another storage provider.
ARTICLE III. YOUR IRONCLAD GUARANTEE
When you receive your Ironclad Pan, you can activate your Ironclad Three Generation Guarantee™ online. You will be asked to input your unique pan number and some contact details. This product number is all you, or your grandchildren, or your great-great-grandchildren, will ever need to fulfil the guarantee. So if, through no fault of your own, your Ironclad Pan should warp, crack, or lose its integrity in any way, Ironclad Pan Company Ltd. will replace your pan for up to 100 years from the date of purchase.
III. a) Is this three-generation guarantee thing for real?
Should any of the founders decide to sell Ironclad Pan Company Ltd., our contract with the purchasers will be dependent upon the new owners honouring all existing customer guarantees. Once agreed, you will be notified of the sale and will receive any new contact information required to fulfil your guarantee.
III. b) What happens to my Ironclad Guarantee if Ironclad Pan Company Ltd. closes?
Although production would stop, your Three Generation Guarantee™ would remain. Should a guarantee be redeemed after the life of Ironclad Pan Company Ltd., a replacement pan from our storage unit at the foundry would still be available. If no stock remains, a refund will be arranged by an appointed guardian prior to closure.
III. c) What happens to my Ironclad Guarantee if the foundry closes?
While our foundry has been a leading New Zealand manufacturer for 50 years, things change. Should Ironclad Pan Company Ltd. still exist, but the foundry not be in business we will appoint a new foundry to manufacture Ironclad Pans. If, both the Ironclad Pan Company Ltd. and our partner foundry no longer exist, your guarantee will be facilitated by an appointed guardian. This guardian will take over both the claim and redemption of your guarantee.
III. d) What is an eligible claim?
Cast iron is one of the most durable and reliable ingredients for cookware. It can withstand decades and decades of standard daily use. Standard daily use, for the purposes of this guarantee, includes all cooking activities where the user is using the pan for its intended purpose — to prepare a meal in an oven, on a stovetop, barbeque or small campfire. Basically, we'll cover you if you drop it during cooking, but not if you drop it off a building. We'll cover you if your pan cracks or warps in a standard kitchen oven, not if you drop it into a volcano. If you have any further queries about what constitutes 'standard daily use', or have found an active volcano and no longer know what to throw into it, contact us at [email protected].
III. e) How will my great-great-grandchildren know about the guarantee?
If you forget to tell them about the guarantee during your long and happy life, we have forged the details of our guarantee in the bottom of the pan. So whoever you leave your Ironclad Pan to, will see it.
III. f) How will my great-great-grandchildren contact you if the internet doesn't exist in the future?
[email protected] and ironcladpan.com will remain in use until future generations update how people communicate. When those platforms are implemented, we will notify you of our new details via your Family Recipe Vault or the email we have on file.
III. g) Will you share my contact information?
No. The contact information you share with us is securely stored and can be accessed, removed, or updated by you at any time. This information will only be used in the very unlikely event that your pan is no longer functional. We will track down the date of purchase to help you, or your descendants, get a replacement pan or refund.
III. h) Can I get a refund if future humans no longer cook with pans?
No. In the event that civilisation has evolved beyond using cast iron to prepare delicious meals, this will not, unfortunately, qualify as grounds for a refund. In this event, our recommendation is to put your Ironclad Pan into storage. As humanity will eventually grow tired of roast beef capsules and virtual reality desserts and return to more traditional cooking methods. Then you can pull out your Ironclad Pan and be all like, "Hey, I've got an idea!"
III. i) How will my descendants get a refund if future humans no longer use money?
In the event that humans have stopped using money, we will refund you in whatever currency future humans are using. If, for example, future civilisations are using hugs, you, or your descendants, would be paid in hugs — minus standard inflation rates from the date of purchase.
A FEW TIPS
KEEP THE HEAT LOW TO START WITH
In the early life of a cast-iron skillet, your food may stick a little. It is a good idea to be generous with your cooking oils and fats to build up a non-stick base. Keep the heat to low or medium as your initial layers of seasoning develop. Some dishes are better to break your skillet in with; caramelising onions or frying chicken.
AVOID ACIDIC OR LONG SIMMERED FOODS IN THE BEGINNING
Acidic foods like tomatoes, wine, citrus, and vinegar can eat away at the skillet's seasoning. So until your Ironclad Pan is better established, it's best to avoid heavily tomato-based sauces. You'll know your skillet is broken in once your layer of seasoning has become reliably non-stick. Then a little acid here and there isn't an issue.