Worldwide, there are over 500 grape varieties of which wine is produced from. Grape varieties and their own distinctive properties are the most important flavour characteristics from which you can recognise a wine. The aromas and flavours of different grape varieties forms a wine to what it is. You could be charmed by a wine and characteristics of a grape variety or quiver because it doesn't suit your pallet.
Whenever you're in a supermarket and indecisive about what kind of wine to purchase, think of this guideline and let it help you in the decision making process.
CHARDONNAY
Chardonnay is the main reason why white wine is popular with the general public. High quality and delicious burgundies are responsible for the distribution of Chardonnay wines all over the world. Well-known names from Burgundy are the Chablis (very dry) and Meursault (tropical fruity, full-bodied). The Chardonnay grape was first discovered in the 16th century in France, but only got registered at the end of the 17th century. The name of the grape is derived from the village Chardonnay in Burgundy. In the past, the Chardonnay grape often got mixed up with the Pinot Blanc.
The Chardonnay thrives in cooler as in warmer climates and is perfectly suited for all types of soil. The grape is, besides France, planted with great success in Italy, Spain and especially in the "new world" wine countries. Nowadays, California, Australia, South-Africa, Chili and New-Zealand produce excellent and affordable Chardonnay.
The Chardonnay grape matures fairly early in the season, has a thin skin and has a very profitable return on investment percentage. The thing that sets the Chardonnays apart is their full-bodied flavour, even more so than the Sauvignon Blanc wines. The grape is so versatile, that wine flavours can vary from fresh and fruity to full and creamy. The popular oak matured wines often have aromas of tropical fruit, honey, butter, toast, nuts, vanilla and are mostly supple, soft and full-bodied. The wines that are not oak matured have a more fresh flavour due to the presence of hints of citrus fruits, pineapple, apple, melon and peach. The colour of Chardonnay wine varies light green-yellow to intense yellow.
CABERNET SAUVIGNON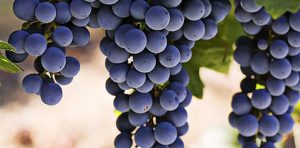 Cabernet Sauvignon is planted almost everywhere in Europe. As a late-growing grape variety, the Cabernet Sauvignon acclimates perfectly in warmer climates, delivering quality wine in France, California, Australia, South Africa, Chile, Italy and Spain. It is one of the best known and most cultivated red wine grape variety. In the Bordeaux region and especially the Médoc region, it is the most important grape for the production of red wine. The cabernet sauvignon can flourish on many soil types, except on very fertile soils, where growth is too strong.
The cabernet sauvignon is a small dull dark blue grape with a thick peel and very aromatic juice. The grape is resistant to winter frost. Only in spring, night frost can damage the grape. The resistance to diseases is high, the cabernet sauvignon is only susceptible to mildew. It has a long grow season, so the vineyards need to be planted in a slightly warmer place. The harvest is generally low and the harvest period is fairly late, from mid-October and later.
The cabernet sauvignon grape generally produces very good and tannin-rich red wines, which can be stored for a long time. During this storage period, the red wine will continue to develop inside the bottle and will change of flavour pallet. Cabernet Sauvignon is known for its strength and deep colour, with many tannins. It can mature for a long time and then achieve a high level of complexity. The flavour often displays cassis and cherries combined with a pleasant spice.
MERLOT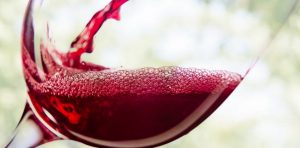 The Merlot grape belongs to the classic grapes of which red wine is produced from in Bordeaux and it's the most important grape in Saint-Emilion and Pomerol. Merlot was first mentioned in 1784 as one of the superior varieties in the region of Libourne. The name is supposedly derived from the French word merle (blackbird). Merlot grape planting has increased significantly in recent years. Worldwide, Merlot is very popular and wanted for the production of red wine. Merlot is to be grown in a fairly cool vineyard, this ensures a deliciously fruity and intense flavour. Merlot is often blended with the Cabernet Sauvignon grape but is more and more used as an independent grape variety. The characteristics of a Merlot wine are; soft, spicy, fruity, blackberries, plums, mulberry, blackberry, chocolate, truffles and tobacco.
Merlot adds a certain softness to red wine and ensures that the wine develops quicker and is ready to be drunk earlier. In Bordeaux and especially in Saint Emilion and Pomerol, a red wine is mainly produced from Merlot. Because of its low acidity level, the red wine of Merlot can easily be used as a table grape. Merlot is a productive, early matured, fruity dark blue grape variety. The juice is lush, fruity and can be either sultry or almost sweet. The grape doesn't have a too thick skin and has a relatively high sugar level.
SAUVIGNON BLANC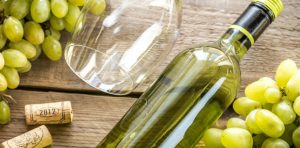 The Sauvignon Blanc grape is an aromatic grape variety for white wine, it produces wines that are dry, fresh and quick to drink. There are many wine regions in the world that produce Sauvignon Blanc, but it's originally planted first in France. With great brands such as Pouilly-Fumé and Sancerre from the Loire valley, it's the most important region for the Sauvignon Blanc. The Sauvignon Blanc grape has contributed to the success of the New-Zealand wine, which stands out because of its unique freshness and certain grassiness, a typical New-Zealand wine flavour feature. Oak matured Sauvignon Blanc is usually called Blanc Fumé. Early picked Sauvignon Blanc has an expressive aroma of buxus, citrus fruit, grass, asparagus, flowers and nettle. The sauvignon is sensitive for extreme heat and thrives best in cool vineyards.
The Sauvignon Blanc grape can be picked in several stages of ripeness, this way the grassy aromas can be combined with mature elements of fruit. One can recognise the following flavours in a Sauvignon Blanc; green apple, gooseberries, grapefruit, pineapple, asparagus and mowed grass.