---
Kugelhopf Cake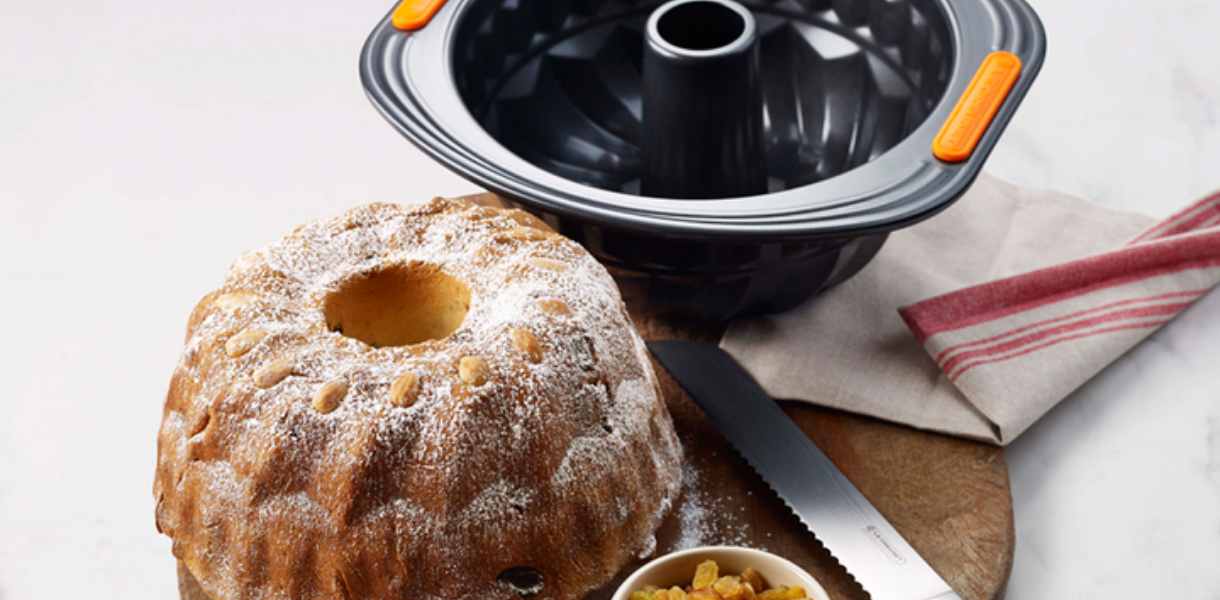 Main Ingredient: Flour
Cook Time: under 30 Min.
Serves: 8-10
Recipe by: Le Creuset
Ingredients
1 ½ tsp active dry yeast
2 Tbsp (30ml) warm water
1 cup (250ml) whole milk
7 Tbsp (105ml) unsalted butter
6 Tbsp (90ml) sugar
3 ¾ cups (930ml) unbleached all purpose flour
1 tsp (5ml) salt
2 eggs
1 ½ cups (375ml) golden raisins
1 Tbsp (15ml) orange zest
20 whole blanched almonds
2 Tbsp (30ml) icing sugar
Share
PRINT RECIPE
Main Ingredient: Flour
Cook Time: under 30 Min.
Serves: 8-10
Recipe by: Le Creuset
Stir together yeast and water in a small bowl and let stand until foamy, 5-10 minutes.
Heat milk with 6 tablespoons butter and sugar over low heat, stirring, until mixture is warm (105 to 115°F) and dissolved.
Sift together flour and salt into the bowl of a standing mixer. Make a well in the flour and add yeast mixture. Add warm milk in a slow stream, mixing at low speed with the paddle attachment. Increase speed to medium and beat in eggs 1 at a time, then beat in raisins and zest. Continue to beat until dough is smooth and elastic, about 5-7 minutes. (Dough will be very sticky.)
Butter Bundt tin with remaining butter. Put 1 almond in each depression in the bottom of the mould, then scrape spoonful's of dough evenly into the mould. Cover the top of mold with oiled plastic wrap and a kitchen towel and let the dough rise in a warm place until it fills the pan, about 2 hours.
Preheat oven to 205 C.
Remove towel and gently peel off plastic wrap. Bake in the middle of the oven for 15 minutes, then loosely cover mould with foil and continue to bake until golden and a tester inserted in centre comes out clean, 20 – 25 minutes.
Cool in pan 2 minutes, then invert cake onto a cooling rack, about 1 hour. Dust with icing sugar.