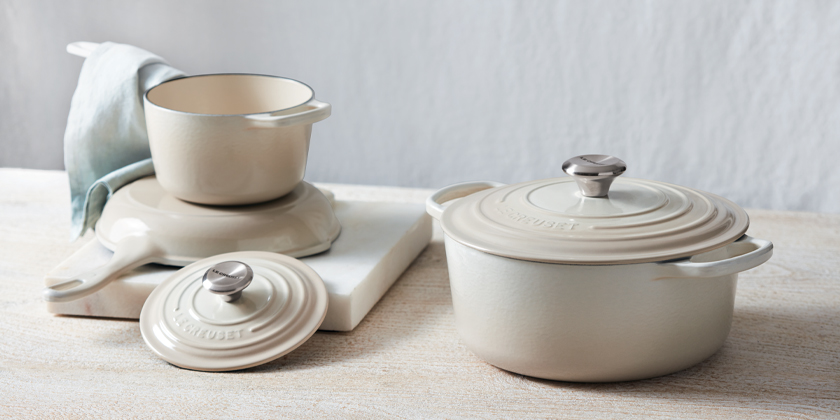 Le Creuset's Cast Iron, in its extensive array of signature colours, has been the world's benchmark of quality and design for close to one century. Everything you stew, braise, roast or bake will taste even better than you can possibly imagine because Le Creuset's cast-iron distributes and retains heat exceptionally evenly. The uniform thickness throughout the base, wall and lid doesn't only ensure an optimum all-round cooking performance, it also results in the lightest cast iron on the market and ensures faster heat-up times with great heat control and no hot spots.
Le Creuset Cast Iron offers the versatility to cook on any heat source, including induction. It will produce delicious results on the hob, in the oven or under the grill and thanks to its exceptional heat retention your meals will stay warmer for longer when presented at the table. All Cast Iron comes with a lifetime guarantee to give you peace of mind for a lifetime of delicious cooking.
Available in an extensive range of inspiring colours including the iconic Volcanic, the bold and vibrant Marseille Blue, as well as the continuing new additions, you can complement your kitchen and dining room décors beautifully. These one-pot-wonders are truly a versatile piece of cookware, from oven-to-table as well as an elegant centrepiece, transforming every kitchen into a home.
Cast individually in sand moulds, then hand-inspected by French artisans, each cast iron piece features a rich heritage design, as well as ergonomic knobs and handles. Molten iron is poured into these sand moulds from a large cauldron called a 'Creuset' then enamelled and fired at extremely high temperatures to create a vibrant and durable finish.
Le Creuset's iconic cast iron cookware is beloved for both its chip-resistant enamel exterior and heat and moisture-locking recessed-edge lid that locks in flavour and keeps foods moist and tender. The durable, non-reactive sand-coloured interior assists with the heat distribution and superior heat retention.
Viewing 1–12 of 47 results
Le Creuset Casserole Heart Shaped Cerise 20cm

$

489.00

Le Creuset Cast Iron Balti Dish 24cm (3 Colours)

$

379.00

Le Creuset Cast Iron Bistro Grill 32cm Marseille Blue

$

380.00

Le Creuset Cast Iron Casserole Pumpkin Shaped 22cm

$

689.00

Le Creuset Cast Iron Cocotte Every 18cm / 2L (5 Colours)

$

520.00 –

$

539.00

Le Creuset Cast Iron Crepe Pan 27cm Rateau & Spatula (2 Colours)

$

329.00

Le Creuset Cast Iron Crepe Pan 27cm Rateau & Spatula Indigo

21% OFF


Le Creuset Cast Iron Crepe Pan 27cm Rateau & Spatula White

21% OFF


Le Creuset Cast Iron Giant Reversible Grill 40cm

$

539.00

Le Creuset Cast Iron Panini Press 23cm

$

250.00

Le Creuset Cast Iron Tagine 27cm Cerise

$

600.00

Le Creuset Cast Iron Tarte Tatin Cerise 25cm

$

320.00