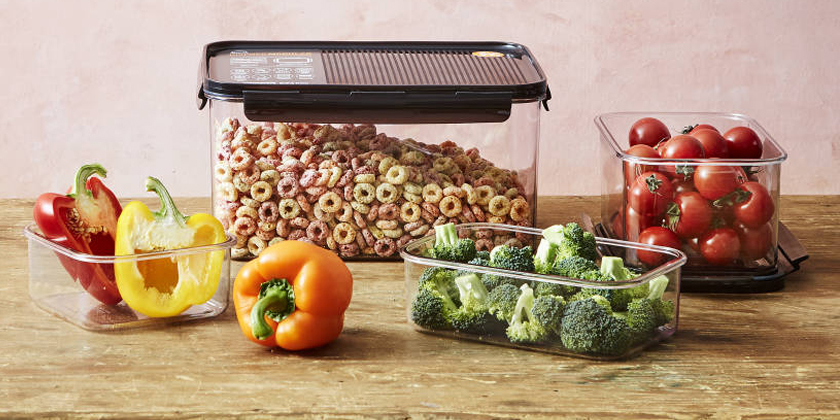 For BPA-free plastic and glass containers, you gotta lock in LocknLock!
There are many food containers on the market, but when it comes to being watertight and airtight, nothing compares to Lock & Lock food storage. With super-strong latches, Lock & Lock BPA-free products are exceptionally well-made and durable. Their ranges are a great choice for restaurants/cafés and home kitchens alike.
Apart from plastic pantry storage, we stock Lock & Lock glass containers and ovenproof containers, complemented by sports and water bottles, travel mugs and insulated flasks.
What's so special about LocknLock food storage?
20 years ago, Lock & Lock launched their 4-side patented locking system, introducing a durable, truly airtight plastic container to kitchens all over the world. The hinge wings of the entire product range have passed 3 million (!!!) times when tested. But durability is not all this brand has to offer. Lock & Lock food storage is also BPA free and uses eco-conscious materials. The stackable range includes many shapes and sizes. Apart from boxes, regular you'll find pickle containers and ingenious rice boxes which can be used for so much more.
Chef's Complements also carry Lock & Lock glass containers in various shapes and sizes. These storage vessels are heat-resistant so they can be used in the oven and freezer alike.
For your microwave, there's a modern steam range. Constructed from borosilicate glass, they are safe to use from oven to table and heat-resistant to 400 °C.
So whether it's BPA-free plastic or glass, you can't go past Lock & Lock.
Viewing 1–12 of 19 results
LocknLock Bisfree Modular Rectangular Container 260ml

$

9.99

LocknLock Bisfree Modular Rectangular Container 4.8L

$

49.99

LocknLock Bisfree Modular Rectangular Container Long Wave Base 1.1L

$

24.99

LocknLock Bisfree Modular Rectangular Container Long Wave Base 1.8L

$

29.99

LocknLock Bisfree Modular Rectangular Container Tall 1.2L

$

19.99

LocknLock Bisfree Modular Rectangular Container Wave Base 2.1L

$

29.99

LocknLock Bisfree Modular Rectangular Container with Handle 4.8L

$

54.99

LocknLock Bisfree Modular Square Container 260ml

$

9.99

LocknLock Euro Glass Heat-Resistant 10 Piece Starter Set

$

199.00

LocknLock Euro Glass Heat-Resistant Rectangular Container 1L

$

29.99

LocknLock Euro Glass Heat-Resistant Rectangular Container 2L

$

39.99

LocknLock Euro Glass Heat-Resistant Rectangular Container 630ml

$

19.99