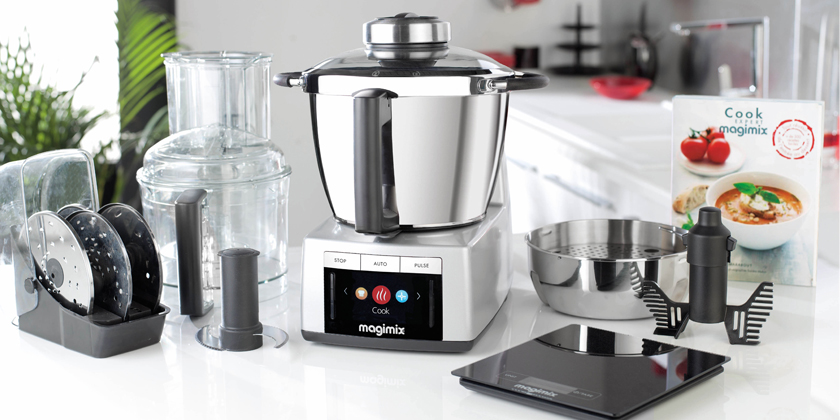 Introducing the grandfather of food processors: Magimix.
Ever wondered who invented the food processor? Magimix! In 1963, Robot-Coupe launched what you might call the first Magimix Food Processor. Half a century later, Magimix appliances feature in kitchens around the world and are top sellers at Chef's Complements.
Whether it's the Blendermix, Cook Expert or one of their food processors, Magimix make your life in the kitchen so much easier. But what distinguishes the Blendermix from similar products; what makes a Magimix food processor stand out? The answer is 'quality'. Made in France, most Magimix appliances have their roots in professional products designed for commercial use—they are built to last longer.
Ranging from the Cook Expert through to ice cream machines, all products feature the latest technology, are supported by strong domestic-use guarantees and after-sales service.
Here at Chef's Complements, we stock a range of Magimix food processors and other appliances, as well as various attachments and accessories such as slicing and grating discs. Ask us about different models and colour choices!
Viewing 25–36 of 48 results
Magimix Disc Support

$

25.99

Magimix Dough Bowl Kit (3 Sizes)

$

189.00

Magimix Food Processor Disc – 2mm Grating

$

99.00

Magimix Food Processor Disc – 2mm Slicing

$

99.00

Magimix Food Processor Disc – 4mm Grating

$

99.00

Magimix Food Processor Disc – 4mm Slicing

$

99.00

Magimix Food Processor Disc – 6mm Grating

$

99.00

Magimix Food Processor Disc – 6mm Slicing

$

99.00

Magimix Food Processor Disc – Julienne

$

99.00

Magimix Food Processor Dough Blade

$

51.99

Magimix Gelato Expert Satin

$

1,499.00

Magimix Grinder Attachment for Blender

$

219.00