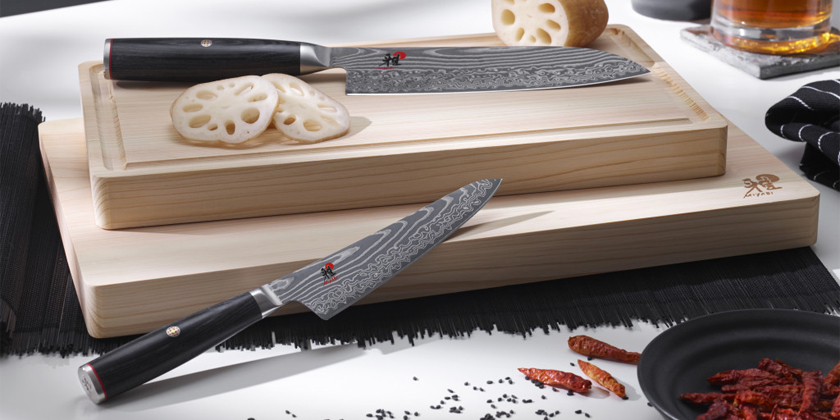 The Kaizen II collection boasts traditional Japanese craftsmanship combined with the best hardening technology and beautiful modern design.
The Miyabi 5000FCD Series will delight lovers of the Japanese cuisine with their perfect balance and comfortable handle. The blade core, constructed from FC61 Fine Carbide steel holds its sharp edge and is incredibly durable, surrounded by 48 layers of Damask steel. FRIODUR ice-hardened to a 61 Rockwell hardness ensures extreme hardness, corrosion resistance and material elasticity of the knives. The sleek floral damask pattern on the blade is a result of the special blade treatment which alters the surface structure of each layer, giving each blade its individual floral damask pattern.
A traditional Japanese Honbazuke (a three-stage grinding, sharpening and polishing process) v-edge honing gives the 19° symmetrical blade incomparable sharpness (not single bevel) so it's suitable for both right and left-handed use. There is no finger guard so the whole length of the cutting edge can be used. The ergonomic black Pakka Wood handle seamlessly joins the half-bolster and is comfortable to hold, balanced with a steel end cap and decorative pin, completing the sophisticated design. The smooth join helps to prevent calluses from forming on the thumb and forefinger.
Viewing 1–12 of 13 results
Miyabi Kaizen II (Chutoh) Chef's Knife 16cm

11% OFF


Miyabi Kaizen II (Gyutoh & Shotoh) 2 Piece Gift Set

24% OFF


Miyabi Kaizen II (Gyutoh) Chef's Knife 20cm

11% OFF


Miyabi Kaizen II (Gyutoh) Chef's Knife 24cm

11% OFF


Miyabi Kaizen II (Nakiri & Shotoh) 2 Piece Knife Set

$

739.00

Miyabi Kaizen II (Santoku & Shotoh) 2 Piece Knife Set

$

738.00

Miyabi Kaizen II (Shotoh) Paring Knife 9cm

11% OFF


Miyabi Kaizen II (Shotoh) Utility Knife 13cm

11% OFF


Miyabi Kaizen II (Sujihiki) Slicing Knife 24cm

11% OFF


Miyabi Kaizen II 3 Piece Knife Set

26% OFF


Miyabi Kaizen II Bread Knife 24cm

11% OFF


Miyabi Kaizen II Nakiri Knife 17cm

$

439.00