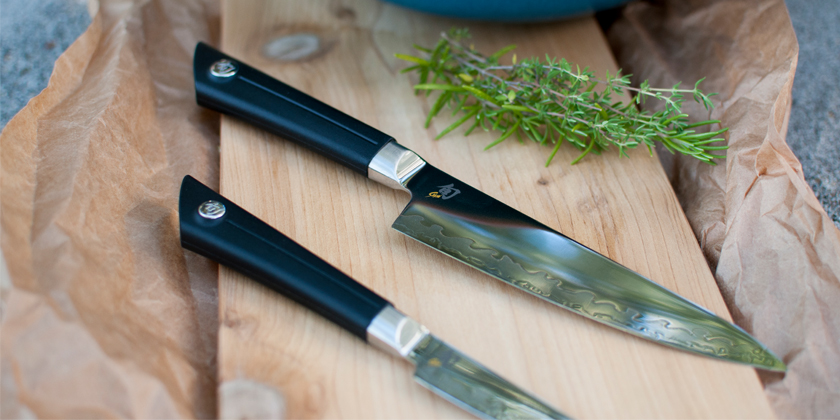 In Japanese, Sora means "sky". With Sora's proprietary Composite Blade Technology, this beautiful series offers sky-high value by bringing together a VG10 three-layer san mai cutting edge with a polished Japanese 420J stainless steel upper. This technology puts high-performance material exactly where it's needed most, on the cutting edge.
The two blade sections are laser cut, then fit together like pieces of a jigsaw puzzle. Braze welding permanently joins them.
The attractive wavy pattern at the joint is based on traditional Japanese sword hamon lines. While Sora's blade shapes and handle design are traditional Japanese, the textured PP/TPE polymer blend handle material provides a contemporary look, secure grip and balance, and is easy to maintain.
Blade Material
VG10 is clad with one layer of stainless steel on each side to create the san mai edge and provide stain resistance. Mirror-polished Japanese 420J blade upper. Featuring a modern 'hamon' design.
Cutting Angle
Double bevelled 16° cutting angle each side.
Hardness
60 HRC.
Handle Material
Traditional handle design in easy-care textured TPE/PP blend. Featuring Shun's signature emblem. Rabbet tang.
Viewing all 6 results
Kai Shun Sora 3 Piece Knife Set

10% OFF


Kai Shun Sora Bread Knife 23cm

10% OFF


Kai Shun Sora Chefs Knife 20cm

11% OFF


Kai Shun Sora Paring Knife 8.5cm

11% OFF


Kai Shun Sora Santoku Knife 18cm

10% OFF


Kai Shun Sora Utility Knife 15cm

11% OFF