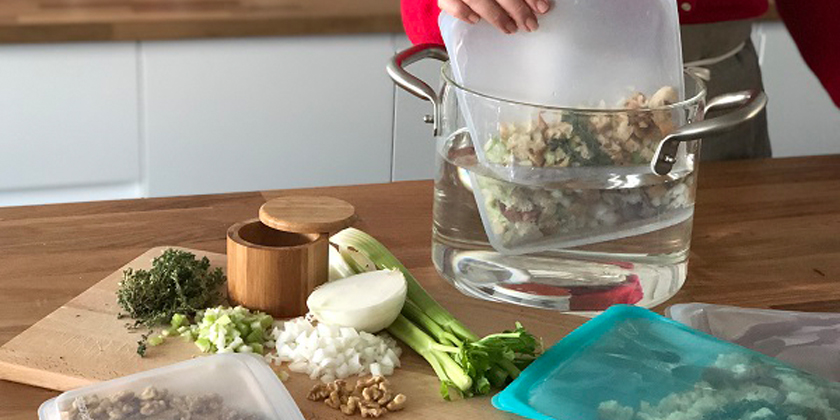 100% Pure Platinum Silicone Storage Bags
Fun. Functional. Reusable. Responsible. Stasher's 100% pure platinum food-grade silicone bags are a healthy alternative to plastic.
100% pure platinum silicone
Non-toxic
Pinch-loc™ seal
Dishwasher safe – Place in upper rack for best results or hand wash with soap & warm water. Do not turn inside out as the seal may be compromised.
Microwave safe – To do so, place inside the microwave with the Stasher open.
Freezer safe – Make meals ahead of time & store in Stashers.
Stovetop and sous vide usable – 'Burp' first, press the seal firmly closed before placing into the water to heat or cook.
Endlessly reusable
Write on it!
Use soap + water or upper rack of dishwasher. Do not turn the bag inside out, as this can compromise the bag's sealed edges.
Check out the Stasher blog for the latest about Stasher
Viewing 1–12 of 16 results
Stasher 2 Pack Pocket Storage Bag Clear & Aqua

$

26.99

Stasher Half Gallon Bag Clear

$

39.99

Stasher Sandwich Bag Jade

$

24.99

Stasher Sandwich Bag Moonstone

$

24.99

Stasher Sandwich Bag Raspberry

$

24.99

Stasher Sandwich Bag Rose Quartz

$

24.99

Stasher Sandwich Bag Stardust

$

24.99

Stasher Sandwich Bag Waterfall

$

24.99

Stasher Sandwich Storage Bag Aqua

$

24.99

Stasher Sandwich Storage Bag Arctic

$

24.99

Stasher Sandwich Storage Bag Clear

$

24.99

Stasher Sandwich Storage Bag Coral Triangle

$

24.99