Chef'sChoice Diamond Hone FlexHone Sharpener Model 320
For 20-degree class straight edge and serrated knives. Perfect for Chef's knives, Santoku knives, Bread knives, Hunting knives, Filet knives, even pocket knives.
Secured Payment
|
Free shipping over $100 (excludes bulky products)
View On Mobile Open your camera and Scan the QR code to view on your mobile.
Engineered To Perform
Create the world's best knife sharpener, that was Chef'sChoice's goal back in 1985. Since then, Chef'sChoice sharpeners have become synonymous with unparalleled quality, and premier technology. Today, they continue to only offer pinnacle products for those passionate about the kitchen.
Over time, a knife's edge dulls under the stress of cutting. The overall performance can be significantly improved if sharpened and maintained correctly. Good sharpening systems shape the knife edge with a coarse abrasive and polish with a finer abrasive.
Compact and lightning-fast, this professional sharpener uses advanced technology to sharpen both fine edge (straight edge) and serrated knives. 2-Stage sharpening provides arch-shaped edges, which are stronger and longer lasting than hollow ground or conventional "V" edges. Stage 1 uses 100% fine diamond abrasives to create the first bevel and Stage 2 ultra-hones the edge using advanced micron size 100% diamond abrasives to complete the second bevel. The precisely formed conical diamond abrasive disks gently apply optimal sharpening pressure, guaranteed to never detemper the edge. Highly precise knife guides automatically position and stabilize the knife as you sharpen for fast, foolproof results.
The Model 320 is ideal for sharpening all types of knives, including kitchen, household, sporting and pocket knives. This compact unit features resilient elastomeric feet that hold the unit securely to the work surface. Engineered and assembled in the USA. This professional electric 2-Stage knife sharpener sharpens both straight edge and serrated knives to better than factory edges, in just minutes.
Features:
For 20-degree class straight edge and serrated knives
2-Stage sharpener with precision angle control
100% diamond abrasives in Stage 1
Unique stropping and polishing disks in Stage 2 for hairsplitting sharpness
Fast, foolproof results and highly durable edges
Sharpener Capabilities:
Double Bevel
20-Degree Edge
Single-Sided
Sharpens straight edge and serrated knives
Knife Guide
Can Sharpen:
Chef's Knives
Santoku Knives
Bread Knives
Hunting Knives
Filet Knives
Pocket Knives
Can't Sharpen
Scissors
Ceramic knives
Machete / Axe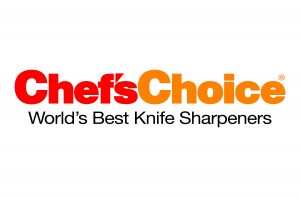 Only logged in customers who have purchased this product may write a review.