Stylish design and superb cooking results are at the heart of Le Creuset's 3-ply Stainless Steel cookware. Using the latest multi-layering technology, where premium-grade stainless steel and aluminium are bonded together to form a special 3-layer material, heat spreads evenly and gently throughout the entire pan from base to rim. Helpful design features, such as capacity markings, helper handles and an all-round pouring rim to prevent drips, means cooking with our 3-ply Stainless Steel cookware is easy and enjoyable. The range is suitable for use on all heat sources, including induction, is oven and dishwasher safe and comes with a reassuring lifetime guarantee.
Le Creuset's 3-ply Stainless Steel Deep Casserole is ideal for cooking a wide variety of recipes including homemade soups and stews to chilli, curry and casseroles. The close-fitting lid helps to retain the moisture and flavour in your cooking, while the secure stainless steel handles ensure the pan is easy and safe to lift even when full. Ideal to take from the kitchen to the table for serving.
Features:
24cm | 6.0L
Ceramic, Electric, Gas, Gas & Induction Hob Safe. Oven Safe
Dishwasher Safe
Lifetime Guarantee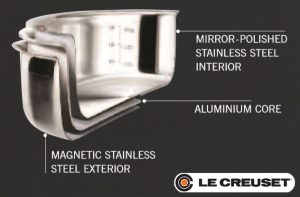 Multi-Layer Technology
This cleverly combines the cooking benefits of stainless steel and aluminium; heat spreads evenly and gently throughout the entire pan – from base to rim.
Heat Sources
Suitable for use on all types of hob, including induction, the pans are also oven safe to 260°C and dishwasher safe.
Ultimate Non-Stick
Selected products feature an ultimate non-stick coating – a tough, metal-utensil safe surface ideal for healthier cooking with little or no added oil or fat
Lifetime Guarantee
With a Lifetime Guarantee to give you peace of mind for a lifetime of delicious cooking.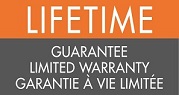 For more information on how to use and care for your Le Creuset products visit our Le Creuset Guide for a more in-depth understanding. Find out how these pieces are made, what makes them unique and why you should invest in Le Creuset!
See what other Le Creuset products we offer.