In 1925 the first Le Creuset casserole was cast from the raw materials of coke, iron and sand at their foundry in Fresnoy-le-Grand, France. This same foundry is still handcrafting the enamelled cast iron cookware applying the same skills and rigorous standards to produce each individual item for their customers in much the same way today. Almost 100 years on and Le Creuset is now regarded as one of the World's premier brands and is used by professional chefs and keen cooks throughout the world. Using the same skills and expertise, Le Creuset has developed and introduced many new ranges such as 3-ply Stainless Steel, Toughened Non-Stick and Stoneware. The Le Creuset cookware range will give a lifetime of pleasure and culinary adventure to those who appreciate outstanding design and quality. Le Creuset is focused on inspiring and empowering people everywhere to make joy through cooking.
Synonymous with enduring quality, timeless style and great tasting food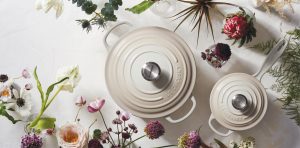 Le Creuset's Cast Iron, in its extensive array of signature colours, has been the world's benchmark of quality and design for close to one century. Everything you stew, braise, roast or bake will taste even better than you can possibly imagine because Le Creuset's cast-iron distributes and retains heat exceptionally evenly. The uniform thickness throughout the base, wall and lid doesn't only ensure an optimum all-round cooking performance, it also results in the lightest cast iron on the market and ensures faster heat-up times with great heat control and no hot spots. Le Creuset Cast Iron offers the versatility to cook on any heat source, including induction. It will produce delicious results on the hob, in the oven or under the grill and thanks to its exceptional heat retention your meals will stay warmer for longer when presented at the table. All Cast Iron comes with a lifetime guarantee to give you peace of mind for a lifetime of delicious cooking. Available in an extensive range of inspiring colours including the iconic Volcanic, the bold and vibrant Marseille Blue, as well as the continuing new additions, you can complement your kitchen and dining room décors beautifully. These one-pot-wonders are truly a versatile piece of cookware, from oven-to-table as well as an elegant centrepiece, transforming every kitchen into a home.
Cast individually in sand moulds, then hand-inspected by French artisans, each cast iron piece features a rich heritage design, as well as ergonomic knobs and handles. Molten iron is poured into these sand moulds from a large cauldron called a 'Creuset' then enamelled and fired at extremely high temperatures to create a vibrant and durable finish. Le Creuset's iconic cast iron cookware is beloved for both its chip-resistant enamel exterior and heat and moisture-locking recessed-edge lid that locks in flavour and keeps foods moist and tender. The durable, non-reactive sand-coloured interior assists with the heat distribution and superior heat retention.
COOKING WITH CAST IRON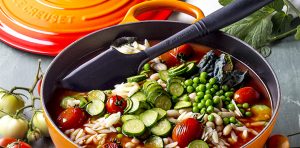 Enameled cast iron is a remarkable and robust material that performs well with modern requirements for food preparation and cooking. Whether you choose to stir-fry, slow-cook a casserole, sear a steak or bake a cake, there is a shape that is suitable. Cast iron performs well for either slow cooking or high-temperature searing. Cast iron can be used reliably on any heat source, including induction, and with any oven or grill. It has the ability to retain heat efficiently, which allows for use of lower heat settings in stovetop and oven cooking. On the table, a hot covered dish will keep food hot for second servings. Cast iron should not be used in microwave ovens. Cast iron can also be used to keep foods cold. A chilled dish becomes an ideal cold food server on a hot summer day. It can also be placed in the freezer for food storage or advanced food preparation.
Cooking Heat
Le Creuset cast iron cookware can be used on all heat sources including gas, electric solid plate or radiant ring, vitro-ceramic glass, induction, and ovens fired by gas, oil, coal or wood. Cast iron should not be used in microwave ovens. Always match the pan's base size to the stovetop heat zone to maximize efficiency, and to prevent overheating of the pan sides or damage to the handles. Gas flames must always be confined to the base area, and must never extend around the sidewalls of the pan. Long handles should be positioned safely where they do not hang over the front of the stove or other heat zones. Medium or low heat will provide the best results for cooking, including frying and searing. Allow the pan to heat gradually and thoroughly for even and efficient cooking results. Once the pan is hot, almost all cooking can be continued on lower settings. High heat temperatures should only be used for boiling water for vegetables or pasta, or for reducing the consistency of stocks or sauces. High heats should never be used to preheat a pan before lowering the heat for cooking. Cast iron retains heat so efficiently that overheating will cause food to burn or stick.
Oils & Fats
With the exception of Grills, the enamel surface is not ideal for dry cooking. Your choice of liquid, oil, fat or butter should completely cover the base before heating begins. Do not leave the pan unattended, and do not allow a pan to boil dry, as this may permanently damage the enamel. For deep frying, the maximum oil level must not exceed 1/3 full. This depth allows sufficient height above the oil for it to rise once foods are added. An oil frying thermometer should be used for safety, and a lid should be readily available in case of overheating or flaring.
Oven Use
The black phenolic lid knobs on our Signature range of enamelled cast iron are heat-resistant to 480°F / 250°C. Products with integral cast iron handles or stainless steel knobs (almost all of what we stock at Chef's Complements) can be used at any oven temperature. Pans with wooden handles or knobs such as the Cast Iron Sauteuse must not be placed in the oven. Do not place any cookware on the floors of ovens with cast iron linings. This will increase the cooking temperature inside the oven, resulting in an increased cooking rate with detrimental effects on food. Do not drag cookware across the floor of the liners. For best results always place on a shelf or rack.
Grilling
Grills may be preheated to reach a hot surface temperature for searing and caramelization. This advice does not apply to any other products. For correct grilling and searing, it is important that the cooking surface is sufficiently hot before cooking begins. Sear lines from ribbed grills will not be produced if the pan surface is too cool, or if the food is too wet. Place the empty pan on medium heat and allow it to heat for several minutes. Do not add oil to the cold pan—the oil may become too hot and smoke. Take a few drops of water on your fingers and scatter over the hot surface. If they sizzle and evaporate almost immediately it is hot and ready for use. If the water produces steam and has no sizzle, heat the pan a little longer and repeat the water test again. When the surface is hot enough, lightly oil it with cooking spray or brush it with oil using a Le Creuset Silicone Basting Brush. Vegetable, ground nut or corn oils are recommended. Olive oil may cause excessive smoking. Once a patina covers the cooking surface very little oil will be necessary. For distinct sear lines, leave the food undisturbed on the surface for several minutes. If the food is moved too quickly the lines will be poor, and steam from the food may be released onto the surface. Any food for grilling or searing must be quite dry before it is placed on the hot surface. Wet foods will not achieve good sear lines and may result in a steamed appearance and flavour. Use paper towels to pat off excess moisture from foods. Oil can then be brushed over the food if desired. Foods that have been marinated should also have excess moisture removed with paper towels.
Shallow Frying & Sauteing
For frying and sauteing, the fat should be hot before adding food. Bring the pan and fat or oil to the correct temperature together. Oil is hot enough when there is a gentle ripple in its surface. For butter and other fats, bubbling or foaming indicates the correct temperature. If either begins smoking or if butter begins browning, it is too hot and should be cooled slightly before proceeding. The quickest way to do this is to remove the pan from the heat source for a few moments. For longer shallow frying a mixture of oil and butter gives excellent results.
USE & CARE
Tools to Use
For stirring comfort and surface protection, Le Creuset silicone tools are recommended. Wooden or heat-resistant plastic tools may also be used. Metal tools, spoons or balloon whisks may be used, but require special care – they should not be scraped over the enamel surface. Do not knock these on the rim of the pan. Hand-held electric or battery-operated beaters should not be used. Their blades will damage the enamel. Knives or utensils with sharp edges should not be used to cut foods inside a pan.
Satin Black
Satin Black enamel can be found on skillets, grills, frying pans, saute pans, woks, tagines and a number of other speciality dishes. Satin Black enamel has a smooth feel but is not as glossy as other light-coloured interior enamel finishes. It has been specially designed for higher surface temperature cooking, which is not the same as simply using a piece on high heat. With cast iron, higher surface temperatures can be achieved by allowing any piece to heat thoroughly on a medium setting. This makes the satin black interior ideal for frying, grilling and searing. Satin Black enamel will keep its good looks and allow a patina to build on its surface with continued use. A patina is the result of the natural oils and fats from foods baking on to the hot surface. The patina should not be cleaned off, as it enhances the cooking performance and the release of foods. It also reduces the need for surface oiling. With the higher surface temperatures achieved during frying, grilling and searing, sugars and some enzymes will cause caramelization. This not only aids in the retention of moisture and flavour but also produces the sear lines and crusty exterior on grilled meats.
General Care
Always cool a hot pan for a few minutes before washing. Do not plunge a hot pan into cold water. While Le Creuset's enamel is designed to be the most durable on the market, thermal shock may still occur, resulting in cracking or loss of enamel.
If there are food residues, fill the pan with warm water and let soak for 15 to 20 minutes before washing. A brush can be useful for removing small food deposits, or for cleaning between the ribs on grills. Do not use scourers or abrasive cleaners on the cooking surface. Nylon or soft abrasive pads or brushes can be used to remove stubborn residues. To avoid damaging the enamel, do not use metallic pads or harsh abrasive cleaning agents. Try the Le Creuset Nylon Cleaning Brush.
Light stains or metal marks caused by metal tools can be removed with Le Creuset Cookware Cleaner. Occasional cleaning with this product will also retain the new appearance of your pans.
Never store pans while they are still damp. Store pans in a dry cupboard or airy space away from steam.
Maintain the tightness of all handles and knobs by checking and retightening them regularly.
When using any glass-topped stove, always lift the pan when moving it; never slide it, as this may damage the stovetop or the base of the pan.
Always place a hot pan on a wooden board, trivet or Le Creuset silicone mat—never on an unprotected surface.
Cast iron handles, stainless steel knobs and phenolic knobs will become hot during stovetop and oven use. Always use a dry thick cloth or oven mitts when lifting.
Le Creuset enamelled cast iron is extremely durable but it may be damaged if accidentally dropped or knocked against a hard surface. Please note that this is not covered by our Lifetime Warranty.
Before First Use
Remove all packaging and labels. Wash the pan in hot, soapy water, then rinse and dry thoroughly. Your pan is now ready to be used and does not require any further preparation.
Dishwasher Use
All pans with integral cast iron, phenolic handles or stainless steel knobs can be washed in the dishwasher. However, constant dishwashing may lead to some dulling of the enamel finish. This is not harmful and will not impair performance. When using the dishwasher always allow the cycle to finish before opening the door. This will ensure the pans are dried thoroughly. Pans with metal handles can be washed in the dishwasher, but this greatly reduces the development of a patina; as a result, grills and skillets will require oiling for a longer period. Pans with wooden handles are not dishwasher-safe.
Lifetime Limited Warranty
Le Creuset is proud of the workmanship in its products and guarantees its enamelled Cast Iron cookware, from the date of purchase, for the lifetime of the original owner, whether a self-purchase or received as a gift. The lifetime warranty covers faulty workmanship and/or materials when the product is used in normal, domestic conditions and in accordance with the care and use instructions provided. It does not cover normal wear and tear, commercial use or misuse of the product. If the defect is deemed to have been caused by a manufacturing fault, the defective cookware will be replaced free of charge with a similar product or one of equivalent value if the original product is no longer in production. Please note that in the case of a set, only the faulty item will be replaced.
A versatile collection of colour co-ordinated oven-to-table pieces. 
A choice of everyday baking dishes, delightful mini casseroles and versatile ramekins. In addition, the collection of preparation shapes includes everything that is needed to make the perfect bake. From neat storage pieces such as the Salt Pig or Garlic Keeper to baking essentials like mixing jugs and round dishes, all made from enamelled stoneware. Made from specialist clays and fired at the highest temperatures, all Le Creuset stoneware is strong and durable, so much so that they offer a 5-year guarantee on each piece. Thanks to their enamelling expertise, the stoneware is easy to clean and scratch-resistant. All the products are suitable to prepare and cook a wide range of recipes from fridge, freezer, oven (to 260°C) or microwave. The range is also dishwasher safe.
Add character to contemporary kitchens, whether paired with Le Creuset's family of products or featured as a stand-alone collection.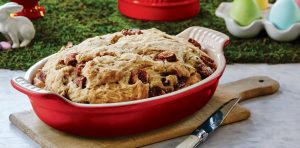 What distinguishes Heritage Stoneware is the vintage design that imbues each piece with rich French character, from delicately scalloped handles to smooth lids. The entire Heritage Collection celebrates Le Creuset's long tradition of passion. Like all Le Creuset Stoneware, the Heritage Range is made from the finest materials. A French tradition. Inspired by the vintage designs that first defined Le Creuset, the Heritage Stoneware Range celebrates archival Le Creuset shapes and details from the 1920's, 30's and 40's.
Perfect for mixing or matching at home.  The range is complemented with serving pieces and colourful gift sets.  
The collection of colourful Storage Canisters with wooden lids in a range of 4 sizes, are perfect for keeping sugar, tea, coffee or biscuits fresh and stack neatly to save space.  Le Creuset's Stoneware collection also includes a small Preserving Collection. The Gift Sets are presented in colour gift boxes, these premium gifts are the ideal way to give Le Creuset to those you love.  Whether it be a token thank you, housewarming or wedding, there are plenty of choices to ensure the perfect present. Serving your favourite tea or coffee is a real pleasure in the colour-coordinated Coffee & Tea Collection.  Classic teapots with infusers, stylish mugs in different sizes, teabag holders, together with the sugar bowl and milk jug lines will make your experience a more enjoyable one.   
Stoneware Use & Care
All items in the Le Creuset stoneware range are original ceramic designs and have been hand-crafted, making each piece unique. Due to this uniqueness, there may be slight variations from piece to piece. Le Creuset Stoneware is safe for use in the microwave, freezer, refrigerator, dishwasher, oven and under the grill (at a minimum distance of 6.5cm/2 ½ inches from the heating element). The maximum oven-safe temperature is 260°C/500°F. The glazed surface is easy to clean, scratch-resistant and does not absorb colours or flavours. Le Creuset Stoneware is extremely strong and durable, and resists staining, chipping and cracking. The handles, knobs and rims have been designed for a secure, easy-to-hold grip.
DO NOT use any Stoneware piece on the stovetop or any other direct heat source.
OVEN: Maximum oven-safe temperature is 500°F / 260°C. Use oven mitts for lifting at all times.
GRILL: When using under a grill, allow a gap of no less than 6.5cm | 2 ½ inches between the rim of the dish and the heat source.
MICROWAVE: Handles may become hot during prolonged microwave use, especially if the handles are enclosed with plastic wrap. Cover just the open top of the dish, leaving the handles exposed.
FREEZER-TO-OVEN USE: Do not place a frozen dish of food in a preheated oven. Place the frozen dish in a cold oven and set the temperature, allowing the dish and oven to heat together. Before serving always check that the centre of the food is completely and uniformly hot.
Cleaning
Before the first use, wash the dish in hot, soapy water, and rinse and dry thoroughly. For most day-to-day cleaning, cool the dish for a few minutes before washing and drying, or wash in the dishwasher, allowing the full cycle to complete. Never leave a dish fully immersed in water. For removal of stubborn residues allow the dish to cool, fill with warm, soapy water and allow it to soak for 10 to 20 minutes. Wash in the usual way using a plastic brush or scouring pad if necessary. Over time, it is normal for metal utensils to leave deposits on glazed stoneware. To remove metal markings, clean with an agent such as Le Creuset's Cookware Cleaner or Bar Keeper's Friend and use according to manufacturer's directions.
Warranty
Le Creuset offers a 5-year Warranty on its Stoneware products. The warranty applies from the date of purchase of the original owner, whether a self-purchase or received as a gift. The warranty covers faulty workmanship and/or materials when the product is used in normal, domestic conditions and in accordance with the care and use instructions provided. It does not cover normal wear and tear, commercial use or misuse of the product. If the defect is deemed to have been caused by a manufacturing fault, the defective cookware will be replaced free of charge with a similar product or one of equivalent value if the original product is no longer in production. Please note that in the case of a set, only the faulty item will be replaced.
ENAMEL KETTLES
Le Creuset offers a 5-year warranty on its stovetop Kettles. The warranty applies from the date of purchase of the original owner, whether a self-purchase or received as a gift. The warranty covers defects in materials or manufacturing for 5 years when the product is used in normal, domestic conditions and in accordance with the care and use instructions provided. It does not cover normal wear and tear, commercial use or misuse of the product.
If the defect is deemed to have been caused by a manufacturing fault, the defective Kettle will be replaced free of charge with a similar product or one of equivalent value if the original product is no longer in production. Le Creuset Kettles comply with EN13750 when used under normal domestic circumstances. The Kettle must be removed from the heat source once it has reached boiling point and not be left simmering.
The following are excluded from the warranty:
Damage caused by normal wear and tear, accident, misuse, abuse or commercial use.
Scratches, stains, discolouration, corrosion or damage from overheating to the interior or exterior of the Kettle
Damage to either the hob/cooker or kettle as a result of allowing the kettle to boil dry or from over-heating following use of the boost function on an induction hob. Le Creuset will not accept liability for any damage that occurs as a result of allowing either of these to occur.
Consequential damage is expressly excluded from this warranty.