Stylish design and superb cooking results are at the heart of Le Creuset's 3-ply Stainless Steel cookware. Using the latest multi-layering technology, where premium-grade stainless steel and aluminium are bonded together to form a special 3-layer material, heat spreads evenly and gently throughout the entire pan from base to rim. Helpful design features, such as capacity markings, helper handles and an all-round pouring rim to prevent drips, means cooking with our 3-ply Stainless Steel cookware is easy and enjoyable. The range is suitable for use on all heat sources, including induction, is oven and dishwasher safe and comes with a reassuring lifetime guarantee.
A true kitchen essential. Practical and versatile, Le Creuset's 3-ply Stainless Steel Saucepans with Lid are perfect for everyday use from cooking vegetables, rice or pasta to fresh sauces and soups. The close-fitting lid helps to retain moisture and flavour, while the secure stainless steel handles ensure the pans are easy to lift even when full. A true kitchen essential, the 3 Piece Saucepan Set contains a 16cm Saucepan, 18cm Saucepan and 20cm Saucepan – all with lids and helper handles.
Features:
Ceramic, Electric, Gas, Gas & Induction Hob Safe. Oven Safe
Dishwasher Safe
Lifetime Guarantee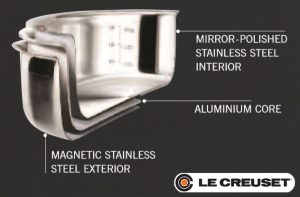 Multi-Layer Technology
This cleverly combines the cooking benefits of stainless steel and aluminium; heat spreads evenly and gently throughout the entire pan – from base to rim.
Heat Sources
Suitable for use on all types of hob, including induction, the pans are also oven safe to 260°C and dishwasher safe.
Ultimate Non-Stick
Selected products feature an ultimate non-stick coating – a tough, metal-utensil safe surface ideal for healthier cooking with little or no added oil or fat
Lifetime Guarantee
With a Lifetime Guarantee to give you peace of mind for a lifetime of delicious cooking.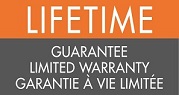 For more information on how to use and care for your Le Creuset products visit our Le Creuset Guide for a more in-depth understanding. Find out how these pieces are made, what makes them unique and why you should invest in Le Creuset!
See what other Le Creuset products we offer.