Proudly made by Japanese Craftsman since 1985
Chopping, paring, slicing, dicing—when it comes to prep work in the kitchen, Global knives are the household name. Everyone recognises a Global kitchen knife with its unique dots on the handle, an iconic design which hasn't changed since 1985.
Here at Chef's Complements, we have 8 metres of knife cabinets and so it's a given, that we carry a wide range of Global knives, both the Classic range and the SAI knives with their ergonomic thumb rest which eases the cutting motion. What's more, we also offer the popular Minosharp knife sharpeners alongside Global knife blocks and rolls as well as Global-branded magnetic knife racks.
You'll find Global knives and the Minosharp anywhere from home kitchens through to high-end restaurants and cooking shows. But what's so special about this brand? Global knives are hand-forged and ice tempered by Japanese craftsmen from CROMOVA 18 stainless steel. They are then hardened to Rockwell C56˚- 58˚, which holds a razor-sharp edge longer than any other steel and resists rust, stains and corrosion. What's more, Global knives are carefully weighted to ensure perfect balance in the hand—like Samurai swords. With their smooth contours and seamless construction, there's no room for dirt/food traps which means a Global kitchen knife gives you the ultimate in safety and hygiene.
So whether you just need a bread knife or a whole set of kitchen knives, Minosharp and Global knife block, our website and Taupo retail destination have you covered.
THE STORY
'A thousand years ago, Japanese sword-smiths developed the high art of sword making to provide strong, sharp blades for the Samurai, the feared warrior caste. GLOBAL knives have been handcrafted in Japan using the same tradition for over 30 years and are developed using the best raw materials available. Like the Samurai swords before them, each knife is carefully weighted to ensure perfect balance in the hand. Global kitchen knives were first designed in 1985 by the creative visionary, Komin Yamada. When Yamada was commissioned for this task, his mandate was to develop a range of knives that was truly new and revolutionary, using the best materials available and the latest manufacturing techniques. He was to fashion a series of kitchen knives which would appeal to the professional and amateur chef alike, be comfortable and easy to handle, and meet their most demanding requirement.'
EXPERTLY CRAFTED WITH CROMOVA 18
Global knives are made from the finest high-carbon stainless steel available for producing professional quality kitchen knives, ice tempered and hardened to Rockwell C56-58 degrees which holds a razor-sharp edge longer and resists rust, stains and corrosion. Yoshikin uses its own proprietary stainless steel which it calls CROMOVA 18 Stainless Steel. This steel is hard enough for Global knives to keep their edge for a long time, but soft enough so that it is not too difficult to sharpen the knives.
To you and I, CROMOVA 18 sounds very fancy but what exactly does it mean?
The CRO in CROMOVA 18 stands for chromium and the 18 is the percentage of chromium in the steel. This high percentage of chromium contributes to Global good stain resistance. The MO and VA in CROMOVA 18 stand for molybdenum and vanadium. These two elements give Global knives their excellent edge retention.
ROCKWELL TESTING
Stanley P. Rockwell invented the Rockwell hardness test. He was a metallurgist for a large ball bearing Vickers, Brinell and colg races The only hard company and he wanted a fast non-destructive way to determine if the heat treatment process they were doing on the bearing races was successful. The only hardness tests he had available at the time were Vickers, Brinell and Scleroscope. The Vickers test was too time-consuming, Brinell indents were too big for his parts and the Scleroscope was difficult to use, especially on his small parts. To satisfy his needs he invented the Rockwell test method. This simple sequence of test force application proved to be a major advance in the world of hardness testing. It enabled the user to perform an accurate hardness test on a variety of sized parts in just a few seconds.
GET TO KNOW THE RANGE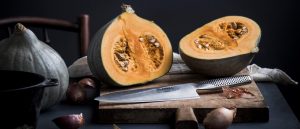 The Global G series of knives are Global's classic collection of larger, longer bladed knives with weighted hollow handles. The Global G range knives all have Global's famous Chromova 18 blades and are sharpened to an acute 15-degree angle. The Global G range contains extremely diverse knives. There are a number of different sizes and shapes including the award-winning G-2, which has been a feature in numerous publications and won many awards. Within the G range, you will also find; vegetable choppers, Santoku knives, filleters, bread and slicing knives. There is a knife literally for any and every purpose. Many of these knives have multiple size options available and fluted varieties. The Global Classic collection has remained unchanged since 1985 as a true testament to its quality and unique construction. This original collection designed by Komin Yamada promises durability, quality and timeless design that captures the spirit of Global's philosophy and insistence on excellence.
Features:
CROMOVA 18 steel blade retains its edge longer than any major knife brand.
Unique convex edge of the GLOBAL blade makes cuts smoother, requiring less energy.
Ergonomic, stainless-steel hygienic handles with signature dimple pattern offer a bolster-less, comfortable and slip-resistant grip.
Perfectly balanced handles precisely calibrated to offset the weight of the blade.
In the Classic range, there are 4 different series available. These are the G, GS, GF, and the GSF.
G Series:
The G Series is a classic and the most popular collection of large knives, these knives can be used for general preparation and also for the more adventurous chef.
GS Series:
The GS Series is a classic collection of small to medium-sized knives for general preparation.
GF Series:
The GF Series is a classic collection of larger, drop forged knives for general preparation. This range, being more durable for heavy use, is favoured by professional chefs.
GSF Series:
The GSF Series is made up of smaller forged knives with solid handles. These knives are perfect for peeling, paring and chopping all those smaller food items.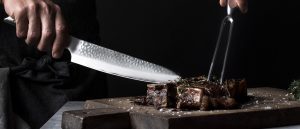 Global SAI sit as Global's premium knife range with superior cutting performance and edge retention. Designed by renowned industrial designer Komin Yamada, Global SAI is the first new line from Global in 25 years and pays homage to the Samurai tradition of sword making. The slightly longer curved ergonomic handle provides a comfortable grip and features 7 signature black dots which represent the 7 noble virtues of the Samurai's code of honour; Integrity, Courage, Compassion, Respect, Honesty, Honour and Loyalty. The handles as with all Global Knives are hollow and weighted; the handle has an ergonomic thumb rest for a smooth, efficient cutting motion and comfortable grip. The blades themselves are sharpened to a 12.5-degree edge, which has been mirror-polished by hand for extra-long lasting sharpness. The beautiful hammered finish applied to the patented CROMOVA 18 produces air pockets which help release food while cutting, giving the blade non-stick properties.
Features:
Special three-ply blade construction made from corrosion-resistant CROMOVA 18 Sanso stainless steel, sandwiched between two layers of softer SUS410 stainless steel material.
The blades are honed to a fine edge to give a superb cutting performance which helps to protect the blade against chipping, rusting and staining.
Unique convex edge of the blade makes cuts smoother, requiring less energy.
Perfectly balanced, sand-filled ergonomic handles designed in the traditional Japanese bushido way of the Samurai.
Handcrafted in Japan using artisanal techniques with modern technology in the tradition of the samurai sword.
THE DIFFERENCES AMONG THE SERIES
USE & CARE
Find all information on how to clean, wash, store and sharpen your Global knives HERE.
THE GLOBAL GUARANTEE
Global knives come with a lifetime guarantee from the manufacturer, against breakage and manufacturing defects.
The following problems are COVERED by warranty:
Knives with cracks in the blade or knives where the blade has broken into two pieces. Sometimes, during manufacturing, a knife can develop a crack that is not visible on the surface. Over time, such a crack will worsen and become visible or the knife will crack in two.
Knives with black pits caused by rust.

 

If, during manufacture, a knife is inadvertently heated over 1000°C, the stainless steel will lose its stain resistant qualities and eventually rust and pit.
The following problems are NOT COVERED by warranty:
Black or brown spots. Like all good knives, these contain carbon. Carbon softens the steel enough to allow for easy sharpening and for maintaining a razor-sharp edge. Oils, acidic foods and water can react with the carbon and cause black or brown spots in these and any good knives. These are not manufacturing defects and can easily be removed with a cleanser or stainless steel cleaner. The best way to prevent these spots is to thoroughly clean the knives with soap and water and then towel dry them after each use.
Bent tips or bent and broken tips. These are usually caused by trying to pry open something with a knife or dropping the knife into the kitchen sink or on the floor, as strong impacts may cause blade chipping or snapping. (If a tip breaks and it is a clean crack, it may be covered.)
Damaged edges. The edges are razor sharp and razor-thin, and, as with all good knives, if not sharpened regularly, or if used on a hard surface (on dishes or Formica, for example), the edge may develop a roll.
Ceramic Products and Whetstones
Global does not guarantee the other ceramic products or the whetstones that it sells. These items will chip or break if accidentally dropped or hit against a solid object or surface. These items will also wear out after a period of time. Their life expectancy will vary according to the frequency of use. In most instances, we sell replacements for these items.