Lodge, America's Original Cookware
In 1896, in the tiny town of South Pittsburg, Tennessee, U.S.A., Joseph Lodge began a cast iron cookware foundry, quickly creating an enduring standard of quality. The resulting privately held metal formula, precision moulds, and exacting wall thickness produce the finest cast iron cookware available.  Not even the most expensive stainless or aluminium cookware can rival the even heating, heat retention, durability, and value of Lodge Cast Iron. 2002 saw the introduction of Lodge Logic: revolutionary pre-seasoned, ready-to-use cast iron cookware.
This set a new standard for the cast iron cookware industry and has earned Lodge many industry accolades and awards. Seasoned Lodge Cast Iron Cookware offers a healthy alternative to non-stick cooking, eliminates the time and effort of home seasoning, and is Ready-To-Use right out of the box. 
Whether you're frying, simmering, sautéing, baking, braising, or slow roasting you'll find what you need with Lodge's extensive range of skillets, grills, dutch ovens, woks, pizza pans and outdoor grills. Truly versatile, Lodge Cast Iron cookware is at home in the oven, on the stovetop (including induction), on the grill or over the campfire.
Now coming out of the Lodge foundry is the newest line, Blacklock, going back to the companies origins and beginnings.
Lodge Cast Iron – a lifetime of cooking.
Table of Contents
Ranges :

Skillets
Dutch Ovens
Griddles & Grill Pans
Specialty
Bakeware (soon to come)

Cooking Tips
Use & Care
The Ranges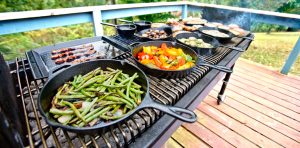 The Lodge 26cm Skillet was rated one of the 20 most essential tools in the kitchen.  With the largest selection of cast iron skillets, Lodge has a size and shape to meet any of your cooking needs – on the stovetop, in the oven, or on the campfire. No other skillet can match the legendary performance, durability, and value of Lodge Cast Iron. Whether it be searing, sautéing, frying, stir-frying or baking your skillets are your go-to.
The Chicago Tribune said it best: " To our surprise, higher cost didn't automatically equal best performance.  While the most expensive skillets certainly performed well, the skillet we liked the best cost the least: the Lodge pre-seasoned cast-iron skillet."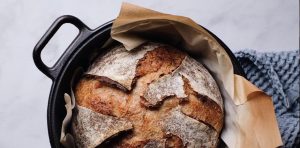 Lodge set the standard for cast iron cookware.  Lodge's tightly controlled metallurgy and exacting mould tolerances deliver even heating and superior cooking performance, garnering Cooks Illustrated "Best Buy Award".  The original slow cooker, Lodge Cast Iron Dutch Oven's have been a kitchen staple in American homes for over two centuries. The Lodge Dutch Oven is an extremely versatile vessel, perfect for savoury stews and winter casseroles, roasts and on the outdoor BBQ. They are equally useful for crispy breads and cobblers.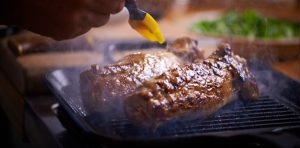 An even heating cast iron griddle is essential for those big breakfasts of pancakes, bacon and eggs, and portabellas.  Use the grill pans to give a professional sear effect to your favourite steak and to take away the excess fat. See
Lodge Grill Pans here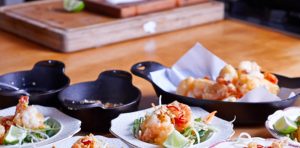 For golden crust pizzeria-style pizza, try your favourite dough recipe and toppings on Lodge's Cast Iron Pizza Pan (also great for roasting veges). Or for your next Asian inspired meal try Lodge's generously sized cast iron wok.  Also, check out Lodge's new patented heat-treated (inhibits rust) Mini Servers and skillets designed especially for the demanding hospitality sector, but also perfect in the home kitchen.
Cooking Tips!
Cast iron comes seasoned and ready to use! Just give it a quick rinse and hand dry, and you're ready to start cooking.
Use any utensils you like, even metal. There is no chemical coating to damage.
Cast iron can be used on all stovetops, from induction to electric to gas, even on the grill! It also works great on glass top stoves.
Cast iron performs best when heated and cooled gradually, so give it a few minutes to pre-heat before adding your food.
Cast iron retains heat very well, so using a lower heat setting can prevent food from sticking. And don't forget to use a Lodge Silicone Hot Handle!
Use & Care
Keep it dry. Keep it oiled (seasoned). Keep it 100 years.
Steps:
Hand wash with a stiff nylon brush and hot water. Using soap is not recommended, and harsh detergents should never be used. DO NOT put in the dishwasher! (Avoid putting a hot dish into cold water. Thermal shock can occur causing the metal to warp or crack).

Dry immediately.

Rub with a light coat of vegetable oil after every use until the sheen is restored. This keeps the iron seasoned and protected from moisture
TIPS:
If you are having trouble removing stuck-on food, boil some water in your pan for a few minutes to loosen residue, making it easier to remove.
Do not let your cast iron air dry, as this can promote rust. Store in a cool, dry place. If you have a cover or lid, for your cast iron, place a folded paper towel in between lid and the base allowing air to circulate. This prevents moisture from collecting inside the vessel, which can cause rust.
"Seasoning" is a coat of vegetable oil baked onto the iron at high temperature. The Lodge Seasoning is not a chemical non-stick coating. The resulting black patina provides easy release properties.  The more you cook, the better it gets. You may experience some sticking with new cookware so use a little oil when cooking. Seasoning also provides the iron with a necessary barrier from moisture to prevent rust. Because YOU create, maintain, and even repair the "seasoning", your cookware can last 100 years or more.  
If washing with no soap is too scary, consider that most cookware is 200C in 4 minutes on medium heat.  It's sterile at 100C. However, mild soapy water is fine, if you dry and oil immediately.
Without protective seasoning, iron can rust. It's really easy to fix. Scour the rust, rinse and dry, rub with a little vegetable oil. Lots of rust?  You may have to re-season.  Reseasoning directions are down below, it's easy!
WHEN IT'S HOT, IT'S HOT
Lodge cast iron keeps the heat, so turn down the temperature and save energy. Lodge seasoned cast iron is right at home on any heat source, except the microwave. Feel free to use induction, ceramic, electric, gas cooktops, the grill or even the campfire.
The Glass Lids feature hi-temp plastic knobs which are oven safe to 200°C. The glass cover is dishwasher safe. Do not use in the microwave.
Lodge Reseasoning
While maintaining the seasoning should keep your cast iron in good condition, at some point you may need to repeat the seasoning process. If food sticks to the surface or you notice a dull, grey colour, repeat the seasoning process.

Wash the cookware with hot, soapy water and a stiff brush. (It is okay to use soap this time because you are preparing to re-season the cookware).

Rinse and

dry

completely.

Apply a thin, even coating of cooking oil of your choice to the cookware (inside and out).

Place aluminium foil on the bottom rack of the oven to catch any dripping.

Set oven temperature to 175-200C.

Place cookware upside down on the top rack of the oven.

Bake the cookware for at least one hour. After the hour, turn the oven off and let the cookware cool in the oven.

Store the cookware uncovered, in a dry place when cooled.

Congratulations, your cast iron is now re-seasoned and ready for use!