Brace yourselves: Stasher bags aren't just for meal prep
Stasher Bags are great at storing foods, freezing and even cooking in, but don't limit your Stasher expectations to just the kitchen. Imagine storing charging cords, organising papers in the glove box, packing essentials while travelling such as toiletries or socks, carrying food while on a hike and then using it to store the litter. There are virtually unlimited purposes for these bags, so let's take a look at many of the versatile ways we can use our Stasher bags
In the Kitchen
Soup in a Stasher
We love soup, and soup is soup-er easy to make with a Stasher bag: just toss all of your ingredients in and cook. Bonus: whatever you don't use can be frozen and reheated in the same bag. Talk about easy clean-up!
Sous Vide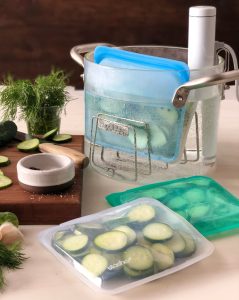 Sous vide is a cooking method that uses a vacuum-sealed bag submerged in water and cooked over a longer period of time (longer than you're probably used to) in low temperatures. You can sous vide in a vacuum-sealed bag, a reusable silicone bag, or a jar. Stasher bags are perfect to sous vide in and are reusable time and time again. Sous vide a salmon, pickles, chicken and so much more!
Steaming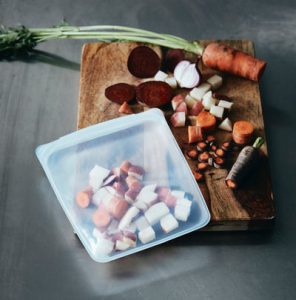 No surprise, but steaming is one of the healthiest and simplest ways to prepare vegetables. Veggies plus water equals maximum nutrition. Instead of using oil or fat, the boiling water outside and the water vapours produced inside gently cook your veggies, preserving most of the nutrients within the food. Check out this Stasher blog for how to steam all sorts of vegetables including carrots, green beans, broccoli and more.
Baking a salmon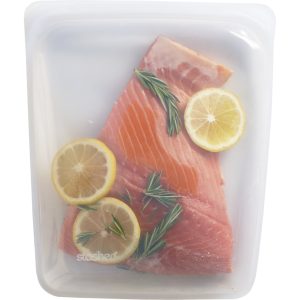 This Roasted Salmon with Honey Clove Balsamic Glaze is so simple to throw together and super delicious. It's a little sweet, a little tangy, with just a hint of spice from ground cloves. Roasting the salmon inside of a stasher bag keeps the fish perfectly moist!
Microwave Cooking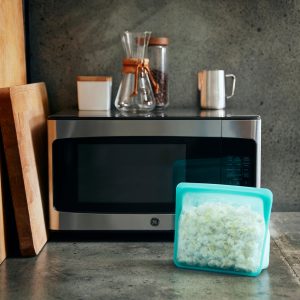 One of the easiest and quickest ways to make a meal is by tossing some ingredients in a Stasher and popping it in the microwave. Even a college student in the smallest of dorms can pull off a meal like that. Make an egg omelette, warm oatmeal, steam rice, cook noodles and so much more!
Baby Food
Storing Puree baby food in the freezer has never been easier with the introduction of Stasher bags. You can easily bulk produce a range of different purees and store them portioned and ready to go inside of your bags.
Stasher makes Popcorn
Rather than buying those individual packages of popcorn, buy kernels in bulk and use a microwave-safe Stasher bag, instead. Not only will you save some money (and eliminate waste) but you can easily customize your popcorn flavors to suit your tastebuds.
Let's make Guac!
Guacamole—every chip's favourite dip—can be made mess-free right in your reusable, plastic-free stasher bag. This innovative guac-making method is quick, easy and even therapeutic. So break out the margaritas and get ready to stash and mash! We've got 3 memorable guacamole recipes for you below.
Store leftovers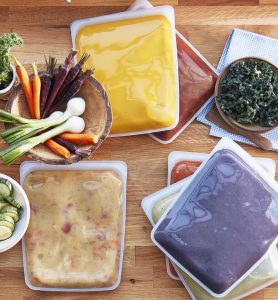 With the versatility of being able to store in a freezer, Stasher bags make storing leftovers or meal-prep super simple. Toss your food in the bag, seal it and store it.
Marinate
Marinate meat, fish, or veggies easily inside a Stasher bag, check out these 4 Marvelous Marinades for Grilling
On-the-go
Zero-waste food storage
Gone are the days of taking single-use ziplock bags for your snacks and lunch. Using a stasher is endlessly reusable and great for the environment. Also, once you're done with your trail mix or jerky, you're left with an empty bag you can use for other purposes while out on the go.
Bulk food shopping!
Take your bags with you to your favourite bulk food shop and start fillin'! Once you take everything you've bought home, it's already perfectly stored so there's no need for emptying from one bag into a container like you'd usually do.
In the School Bag!
Stasher bags can make super cool stationary cases. They're see-through so you can see exactly what's inside. Just make sure you don't store your sharp items such as pencils in here. Erasers, glue sticks, highlighters etc. are good to go! Stasher bags are obviously also great for storing your lunch and snacks in as well. Just don't pull out your stationary stasher at lunchtime.
Phone Protector
Lounging by the pool? Keep your phone safe from splashes or from soaking by simply putting it inside your Stasher Snack Bag. Also great for keeping sand away at the beach.
Store your wet clothing
Have a wet bikini you don't want to put back into your backpack? Simply store it inside a stasher and be free from a wet backpack or suitcase. Problem solver!
Travel buddy
Passport, phone chargers, phones, or battery-packs are easily stored together and right at hand when you use a stasher. They're also convenient to painlessly get your liquids through airport security if you have a clear Stasher bag.
In the gym bag
Storing your hand wraps, gloves, ropes, and other gym essentials in a Stasher keeps your bag neat and tidy, and can even help you keep your bag fresh by stashing dirty gym clothes in them when you're done.
Coins for all uses
Parking meters, toll booths or donations, it's good to keep coins at the ready but they're not always easy to find rolling around in the bottom of your purse. Keep them together in a Stasher Pocket Bag
Doggie Treats!
Going for a walk to the park? Keep your dog snacks all sealed up and at hand.
Around the house
Luxurious Body Scrubs
Mix together a few ingredients inside your Stasher, leave it to harden then break it down and store it all in one bag. Check out a DIY Natural Coconut Lavender Body Scrub guide here
First Aid Kit
Store all your medical supplies together at home or to take on the go for a camping trip in a Stasher bag
Store photos
Keep all your old photos stored neatly together and free from wrinkles and folds
Ice pack / heat pad
Fill your stasher bag with ice and use it as a ice pack for injuries, alternatively fill it with rice and stick it in the oven or microwave to make a heat pad which is great for muscle pains and cramps.
Different Sizes, different uses.
Across all the different sizes of Stashers, each offers its own benefits and storage options. Here are a few of our favourites for each size!
Pocket / Snack Stasher
Snacks, Supplements, Medicine, Tampons and/or period cup, Bobby pins & hair ties, Jewelry, Make-up, Cards, Cash & Coins, Earbuds/phone charger, Essential oils, Crystals, Travel soap, Mini first aid, Matches storage, condiment storage for picnics, a festival kit, misc. nuts & bolts, golf tees, batteries, rubber bands, paper clips, the list goes on and on!
Sandwich / Half Gallon / Stand Up Stasher
Dry goods, salad, herbs, freezer foods, slow cooker meals, liquids, marinate meats, save leftovers, meal-prep, pop popcorn, save compost, collect citrus peels to make a cleaning solution, Toys – action figures, hot wheels, legos, etc., Pacifiers, bottles & teethers, Cosmetics, hair accessories, cords/chargers, sunscreen, wet clothes, art supplies