Nuova, the new range of tableware accessories with a modern stylish design and presented in a quality gift box. The serving set includes salad servers, a serving spoon and a serving fork. With this Nuova set, a multi-course meal can be served and served perfectly. In combination with the cutlery collection, this set complements the festive or everyday table. For the Nuova collection, designer Jutta Keil designed special cutlery for delicious moments.
Features:
Cromargan stainless steel 18/10
Dishwasher safe
Rust-free, dimensionally stable, sanitary, acid resistant and indestructible
German Design
WMF cutlery made from Cromargan protect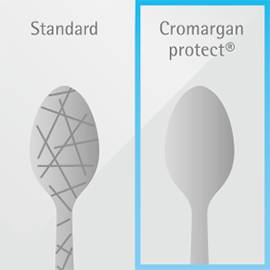 Extremely resistant to all signs of wear and tear.
Polished surfaces stay shiny, matt finishes stay matt.
Rustproof and dishwasher safe.
Unique WMF design that gives you pleasure every day.