This cute children's cutlery set from WMF features embossed sloth motifs on the handle. The sloth is a cosy companion when discovering different dishes and trying things out when using a knife, fork and spoon. With the children's cutlery from WMF, the little ones learn to use knives, spoons and forks in a playful way.
More than 130 years of experience have gone into the child-friendly cutlery made of stainless steel, which also inspires with lovingly designed motifs and coloured pictures. Each 4-piece set consists of a children's knife, a large and small children's spoon and a children's fork. The sizes of the cutlery and the strong handles are particularly suitable for small hands and children's motor skills. The knives of all WMF children's cutlery in the 3+ age group have a child-friendly serrated edge. The spoon edge of the spoon has rounded edges and the short blunt prongs of the child's fork adapt to the mouths of small children.
The children's cutlery for the 3+ age group is made of Cromargan® stainless steel 18/10 and therefore extremely durable and dishwasher-safe.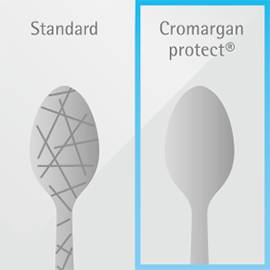 Contents:
1x children's fork 16.5cm
1x children's knife 18.5cm
1x children's spoon 16.5cm
1x small spoon 13cm
Gorgeous gift box set
Features:
Ergonomically adapted to small children's hands
Cromargan stainless steel 18/10 polished
Rust-free, dishwasher-safe, dimensionally stable, hygienic and acid-proof
Made in Germany
Please note: Children can injure themselves on knife blades and fork prongs if they are used improperly.