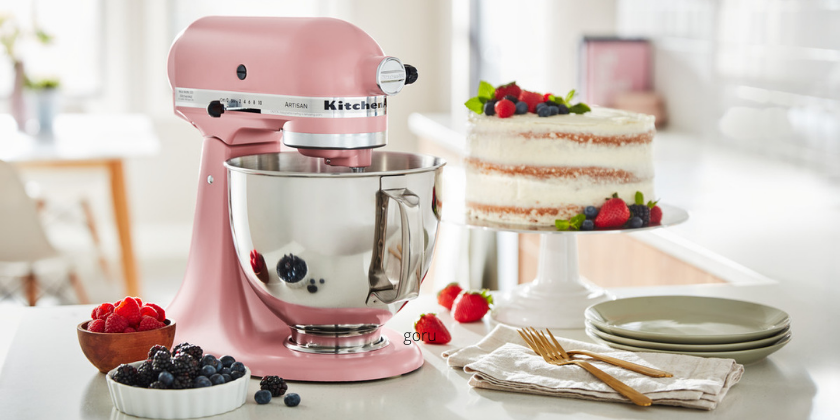 From stand up mixers, food processors or blenders – we have the whole range!
This brand, in one word, is quite simply iconic!
KitchenAid stand-up mixers have been made since 1919. The design for these classic stand mixers might have changed over the years, but not the quality: this product range lasts the test of time.
Whether it's a KitchenAid food processor, toaster or kettle – the brand can be found on any wedding wish list. The best thing is: you can slowly style your entire kitchen around one of their many colour schemes, with so many small kitchen appliances available!
KitchenAid Colours
You'll find KitchenAid blenders, beverage makers, multi-cookers and other appliances in their traditional colours of Empire Red, Onyx Black, Contour Silver, White and Almond Cream.
From time to time, they introduce additional trendsetting colours such as this contemporary Black Matte, vintage pistachio, fresh blue velvet or the vibrant Ice, all perfect for a wedding or housewarming gift.
Want to make a bold statement in your kitchen? One of these eye-catching ceramic or metallic finish bowls will do the trick! You might also be interested in the Pink which KitchenAid makes a donation to the Breast Cancer Network Australia and NZ for every symbolic colour purchase.
Whichever KitchenAid colour you choose – from design-forward limited edition to iconic colour hues, you can find one to match your personality and your chef's heart.
And ultimately, that's what KitchenAid products are about: cooking from the heart.
Viewing 157–168 of 168 results
KitchenAid Tilt-Head Mixer Pastry Beater & Scraper

$

59.00

KitchenAid Tilt-Head Mixer Stainless Steel Bowl 4.8L

$

149.00

KitchenAid Tilt-Head Mixer Stainless Steel Dough Hook

$

99.00

KitchenAid Tilt-Head Mixer Stainless Steel Flat Beater

$

99.00

KitchenAid Tilt-Head Mixer Stainless Steel Wire Whisk

$

99.90

KitchenAid Tilt-Head Mixer Wire Whisk

$

44.99

KitchenAid Tilt-Head Mixers Bowl 2.85L

$

79.99

KitchenAid Tropical Floral Ceramic Bowl

$

229.00

KitchenAid Vegetable Sheet Cutter Attachment for Stand Mixer

KitchenAid Vegetable Slicer/Shredder Attachment for Stand Mixer

KitchenAid Whispering Floral Ceramic Bowl

$

249.00

KitchenAid White Shell Ceramic Bowl

$

199.00