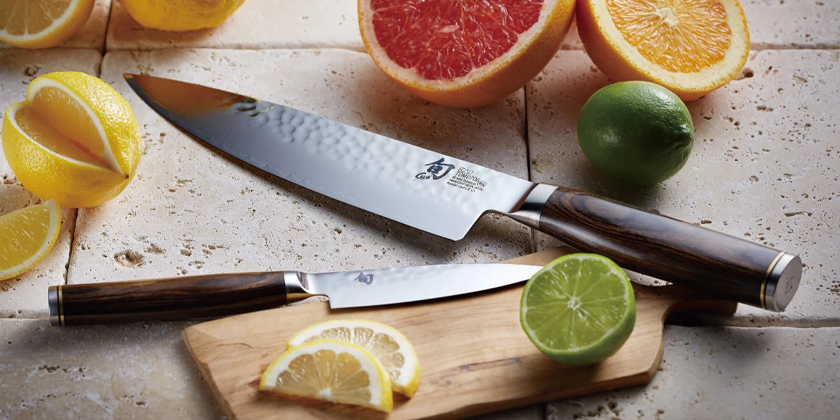 Shun Premier calls to mind the handcrafting techniques of ancient Japan yet offers performance born from the latest advances in knife design and technology. Premier blades are thinner and lighter for fast and agile handling, while the blade design – with wide weight distribution from the tip to end cap – ensures stability and strength.
Shun Premier blades are made of VG-MAX steel, clad with stainless Damascus. Where the steels meet, an attractive wavy line called a hamon is formed. Premier blades are ground to a quick taper edge that helps move food away from the blade quickly. The beautiful hand-hammered finish – tsuchime (tsoo-CHEE-may) in Japanese – also improves food release when cutting. The two-position handle, in rich walnut PakkaWood, offers a trigger grip for pull cuts as well as the perfect balance point for a pinch grip.
NSF Certified for use in commercial kitchens. Shun knives are provided with a limited warranty from manufacturing defects.
Blade Material
Proprietary VG-MAX hardened Japanese steel cutting core, each side with 34 layers (69 total including core) of SUS410/SUS431 pattern stainless steel Damascus cladding
Cutting Edge
Hand-sharpened 16° double-bevel blade
Hardness
60 HRC
Blade Finish
Hammered tsuchime finish helps release food easily when cutting
Handle Material
Contoured, ambidextrous walnut coloured PakkaWood (premium, resin-impregnated hardwood)
Handcrafted in Japan
Viewing all 11 results
Kai Shun Premier 3 Piece Knife Set

10% OFF


Kai Shun Premier Bread Knife 23cm

10% OFF


Kai Shun Premier Chefs Knife 15cm

10% OFF


Kai Shun Premier Chefs Knife 20cm

10% OFF


Kai Shun Premier Chefs Knife 25cm

10% OFF


Kai Shun Premier Nakiri Knife 14cm

10% OFF


Kai Shun Premier Paring Knife 10cm

10% OFF


Kai Shun Premier Santoku Knife 14cm

10% OFF


Kai Shun Premier Santoku Knife 18cm

10% OFF


Kai Shun Premier Slicing Knife 24cm

10% OFF


Kai Shun Premier Utility Knife 16cm

10% OFF