Sale!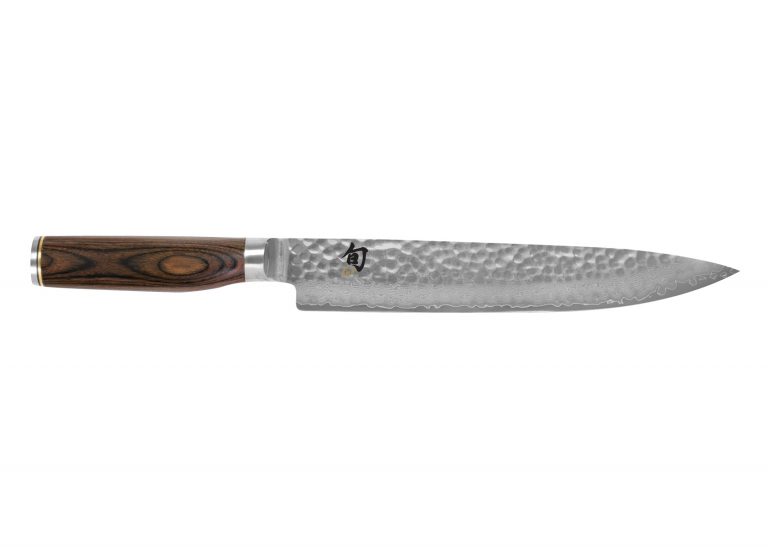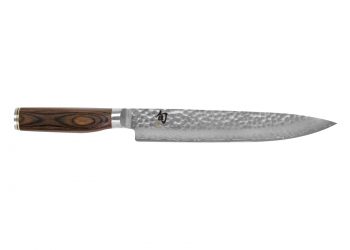 Kai Shun Premier Slicing Knife 24cm
The long and extremely sharp blade enables thin slicing of meat, ham and fish with a single slice.
Secured Payment
|
Free shipping over $100 (excludes bulky products)
View On Mobile Open your camera and Scan the QR code to view on your mobile.
The Shun Premier Slicing Knife's long and extremely sharp blade enables thin slicing of meat, ham and fish with a single slice. Perfect for sashimi. The Shun Premier Slicing Knife enables you to cut thin, even slices. With the Shun Premier Slicing Knife's longer length, narrower blade, and Shun-sharp edge you can make long, even slices without tearing or sawing. This kind of clean cut keeps more of the meat juices—and thus more of the flavour—inside the meat, rather than pooling on the cutting board. The Shun Premier Slicing Knife's 24cm blade means you can cut slices with a single, long stroke. The narrow profile and razor-sharp Shun edge let the blade glide through the meat with less friction so each slice is perfect. Ideal for slicing a wide variety of meats and fish with a single slice.
Shun Premier calls to mind the handcrafting techniques of ancient Japan yet offers performance born from the latest advances in knife design and technology. Premier blades are thinner and lighter for fast and agile handling, while the blade design – with wide weight distribution from the tip to end cap – ensures stability and strength. Shun Premier blades are made of VG-MAX steel, clad with stainless Damascus. Where the steels meet, an attractive wavy line called a hamon is formed. Premier blades are ground to a quick taper edge that helps move food away from the blade quickly. The beautiful hand-hammered finish – tsuchime (tsoo-CHEE-may) in Japanese – also improves food release when cutting. The two-position handle, in rich walnut PakkaWood, offers a trigger grip for pull cuts as well as the perfect balance point for a pinch grip.
Blade Material: Proprietary VG-MAX hardened Japanese steel cutting core, each side with 34 layers (69 total including core) of SUS410/SUS431 pattern stainless steel Damascus cladding
Cutting Angle: Double bevelled 16° cutting angle on each side.
Hardness: 60 HRC.
Blade Finish: Hammered tsuchime finish helps release food easily when cutting
Handle Material: Contoured, ambidextrous walnut coloured PakkaWood (premium, resin-impregnated hardwood)
Blade length: 24cm
Handcrafted in Japan
NSF Certified for use in commercial kitchens. Shun knives are provided with a limited warranty from manufacturing defects.

All Shun Premier Knives are presented in an attractive gift box.
Read through our Shun Blog to find out more information about this top-end brand and the differences between their ranges. See all Chef's Complements Shun Knives here.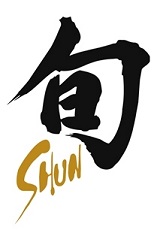 Only logged in customers who have purchased this product may write a review.