Bar Keepers Friend Cookware Cleanser & Polish 340g Can
BKF Cookware Cleanser contains 50% more surfactants than our classic BKF Cleanser & Polish.
Secured Payment
|
Free shipping over $100 (excludes bulky products)
View On Mobile Open your camera and Scan the QR code to view on your mobile.
In 1882, an Indianapolis chemist noticed how clean and shiny his tarnished pot was after cooking rhubarb. Using an active ingredient that's found in the plant he formulated a talcum-smooth cleanser and sold it to the city's taverns. So pleased were his customers with how well it worked on bar fixtures, the product was dubbed the "Bar Keepers Friend"
BKF Cookware Cleanser was specifically created to remove tenacious cooked-on, baked-on residues from both metal and glass cookware.  It is the best option for keeping your pots and pans looking like new.  After all, a good pot or pan is built to last a lifetime.  BKF Cookware is a must for those who hang their pots and pans in the kitchen.  Its ability to remove tarnish from stainless steel is unsurpassed. BKF Cookware Cleanser contains 50% more surfactants than our classic BKF Cleanser & Polish.  This allows you to remove food-based residues and metal tarnish from your cookware using less elbow grease, and the added surfactant makes rinsing faster.
Read our Guide to Bar Keepers Friend Blog to see how to use this amazing product, where you can use it and the results.
How to use BKF Cookware Cleanser & Polish
Sprinkle BKF onto a wet sponge or surface.
Add more or less to adjust strength.
Rub gently.
Rinse thoroughly within a minute of application.
Wipe surface dry.
Where to use your Bar Keepers Friend Cookware Cleanser & Polish 
Bar Keepers Friend Cookware Cleanser & Polish works on most surfaces used for cooking.
In the Kitchen:
Stainless Steel pots and pans
Glass casserole dishes
Baking sheets
Oven door interior (don't apply anywhere you can't rinse well)
Outdoors:
Stainless steel grills
Grill tools
Camping cookware
Where NOT to use BKF
Non-stick cookware or bakeware
Gold or Silver (Sterling silver is OK)
Polished stone, such as marble or granite. (There is a granite & stone cleanser polish specifically for this now!)
Lacquered, painted, or mirrored surfaces.
A Word of Caution about BKF
Because our Cookware Cleanser & Polish is acidic and contains polishing compounds, BKF may etch or dull delicate surfaces. Before applying to fibreglass, plastics, anodized aluminium or brushed metal surfaces, such as appliance exteriors, test in a small, hidden area first.  Do not use on non-stick cookware.
BKF Cookware Cleanser & Polish
The active ingredient in Bar Keepers Friend Cleanser & Polish is Oxalic Acid.
Product Warning
DO NOT INGEST, INHALE, OR GET IN EYES. KEEP AWAY FROM CHILDREN. HARMFUL IF SWALLOWED.
If accidentally ingested, drink milk (or water) and call a doctor. If in eyes, flush eyes with water for 15 minutes. Do not mix with other chemicals, such as bleach, or ammonia. For prolonged use (or sensitive skin) use gloves. Do not inhale BKF dust. Wet BKF powder immediately after dispensing. BKF is safe for septic systems.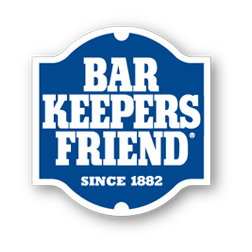 Only logged in customers who have purchased this product may write a review.