Whether you are an experienced home-baker or baking for the very first time, the Toughened Non-Stick Bakeware range from Le Creuset will help you to enjoy the delights of home baking. 
Le Creuset Toughened Non-Stick Bakeware is made from heavy-gauge carbon steel, perfect for all types of baking as heat spreads gently and efficiently for an even bake without burning. Each tin has an ultra-smooth and slippery non-stick surface so that even the most delicate or sticky mixture slides out with ease. Their ultimate non-stick coating is produced without the use of PFOA and is tough, durable and metal-utensil safe. Each tin is oven-safe to 240˚C/Gas Mark 9 and is covered by a reassuring Lifetime Guarantee; a truly worthy investment.
Le Creuset Toughened Non-Stick Bakeware bakes evenly and gently and our ultimate non-stick coating ensures excellent food release and a perfect finish. Simply release the silicone-covered clip to allow the sides to expand, freeing the base so the tin can be easily lifted away for a perfect finish. The rippled design of the funnel insert adds extra finesse to a bake for a special occasion. A Fluted Springform Pan is a kitchen essential, perfect for a wide array of sweet cakes and desserts. The funnel exposes more of the batter to heat, for a cake that cooks quickly and evenly.
Features:
Heavy-gauge carbon steel maintains heat, spreading it gently and efficiently for an even bake while preventing hot-spots and scorching
Durable, PFOA-free nonstick coating on interior and exterior surfaces
Provides superb release of food and easy cleanup
Won't twist, bend or warp
Heat-resistant silicone trim for added grip
Freezer and Oven Safe
Metal-Utensil Safe
Internal: 25.6cm x 6.75cm
Handwash
Lifetime Guarantee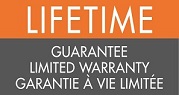 For more information on how to use and care for your Le Creuset products visit our Le Creuset Guide for a more in-depth understanding. Find out how these pieces are made, what makes them unique and why you should invest in Le Creuset!
See what other Le Creuset products we offer.