The steak knife has a particularly sharp cutting edge made of special blade steel with a serrated edge and is a pleasure to hold and use. Serrated blade guarantees years of sustained perfect sharpness. The prongs of the fork are especially long and sharp. Using the widened outer edge you can cut up jacket potatoes, vegetables or salad. This set of 6 steak knives and 6 steak forks comes beautifully presented in a wooden box and is a great idea for a gift.
Features:
Cromargan stainless steel 18/10
Dishwasher safe
Rust-free, dimensionally stable, sanitary, acid resistant and indestructible
German Design
WMF cutlery made from Cromargan protect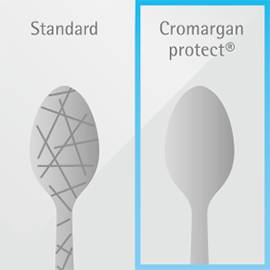 Extremely resistant to all signs of wear and tear.
Polished surfaces stay shiny, matt finishes stay matt.
Rustproof and dishwasher safe.
Knife blades made of high-grade special blade steel stay sharp for longer.
Unique WMF design that gives you pleasure every day.